Tweets of the Week: Angel Locsin, Luis Manzano + more
Lucky Manzano tries to "kill" Mariel Rodriguez, Bianca Gonzalez replaces Kris Aquino on SNN, and Angel Locsin celebrates her voluptuous body.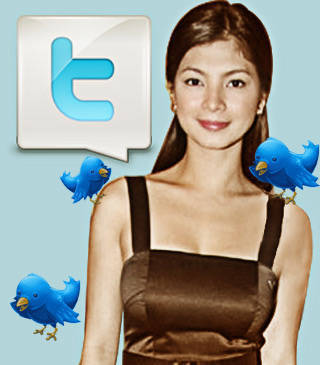 Angel Locsin, actress and recently declared FHM Sexiest Woman of the World 2010: God made a very obvious choice when he made me voluptuous; why would I go against what he decided for me? My limbs work, so I'm not going to complain about the way my body is shaped☺
ADVERTISEMENT - CONTINUE READING BELOW
Tweet exchange between host-actor Luis "Lucky" Manzano and TV host Mariel Rodriguez:
Rodriguez: @luckymanzano wants to kill me :( gusto pa ako laslasin ah!!!! http://tweetphoto.com/29739830
Manzano: @itsmemarielt - dahil nagbago ka, hindi na ikaw dating mt ko, kung di ka mapapasaakin, tatapusin ko buhay mo
Rodriguez: BALIW KA??
Rodriguez: AAaaawww bumawi na si @luckymanzano for trying to kill me ☺ he bought me lunch today :) http://tweetphoto.com/29753649
Cherie Gil, actress: Don't you just love it when the [football] games are over? They all start changing their sweaty shirts for all of us to see!!
Bianca Gonzalez, new host of SNN, taking over Kris Aquino's position: reading all your tweets, really, THANK YOU. no one will EVER be able to replace THE kris aquino but we all promise to do our very best!!!! ♥
Sarah Meier-Albano, model and radio host: The one place I do not appreciate you coming up to me & asking for my picture is post-shower in the gym locker room. Beezy, I'm in a TOWEL.
ADVERTISEMENT - CONTINUE READING BELOW
Paolo Bediones, newscaster: My lips are peeling from d heat n m about to buy some lipbalm or chapstick 1 of the crew offers to get it for me n returns...with chopsticks
Donita Rose, TV host: Had a mushroom (yuck) omelette & coffee. To make up 4 it, I threw in 5 m&ms. Funnier cheat tho was cheetos in a seafood salad the other day!
Model Will Devaughn in Palawan: Not enough time to see the underwater river but I did manage to lock lips with a crocodile...
PCOS Machine a.k.a. Yves Gonzalez: Last 24hrs of Arroyo Presidency. Heard her last official act is 2 announce a new National Hero: Gloria Macapagal-Arroyo.
Artwork by Warren Espejo, photos by Noel Orsal of PEP.ph.

Recommended Videos
Load More Stories