Benigno Simeon "Noynoy" Aquino III is the country's 15th president. Though he's been familiar with the limelight for most of his life-courtesy of his parents Senator Benigno "Ninoy" Aquino, Jr. and President Corazon "Cory" Aquino, as well as celebrity sister Kris--he's still quite hard to figure out. Even when he became a senator later on, he remained low-key about his personal life. He only liked to talk shop. Now that he's President, will he be more forthcoming? Chances are, he'll remain all business. That being said, we've come up with a list of things that give us a clue to what makes him tick. (Or so we hope.)
Nice roots. Noynoy Aquino talks about his family.
1. He's an Aquarian. Born on February 8, 1960 he falls under the zodiac sign Aquarius. That means he's supposed to have good communication skills. He is expected to be eccentric, sociable, and tactless. He's an idealist who "desires change" but hates being emotional. He also detests being "pinned down."
ADVERTISEMENT - CONTINUE READING BELOW
2. He's a Rat. In Chinese astrology, his birthdate makes him a Metal Rat. This is what a matchmaking site (how ironic) says about Metal Rats: "Of all the Rats, these are the toughest and most resolute. They are visionary and possess an emotional intensity that can lead to feelings of rage, envy, or possessiveness. They like to be in charge, and can act selfishly to get what they want. In relationships, business or personal, they can be obstinate."
3. He's a middle child. He's sandwiched between two pairs of girls: older sisters Maria Elena "Ballsy" Aquino-Cruz and Aurora Corazon "Pinky" Aquino-Abellada and younger sisters Victoria Eliza "Viel" Aquino-Dee and Kristina Bernadette "Kris" Aquino. An online article analyzes middle children: "Being a middle child would mean they are loners. Not liking to take the limelight for anything, they are not overachievers and just simply work enough work to get by, and typically that goes with school as well as a career. They are however very artistic and creative. If forced to use abilities they will work well, but do not work well under pressure."
ADVERTISEMENT - CONTINUE READING BELOW
Recommended Videos
4. He's the only son. One can only imagine the pressure that Noynoy had to live with as the only son of an overachieving father. Among other things, Ninoy had been the youngest elected senator at age 34. Noynoy himself has often recalled how his father had told him to take care of his mother and his sisters. Being the only son in a Pinoy family practically means, you're supposed to be in charge when your father's not around. Arguably, Noynoy has been in charge since he was 23.
5. He's a "taste hunter." According to a Psychology Today article, people like Noynoy who have eclectic tastes in music are called "taste hunters." The article likewise quoted Stephen Dollinger, a psychologist at Southern Illinois University, who explained: "These individuals are more cultured and have a greater conception of what makes great and interesting art."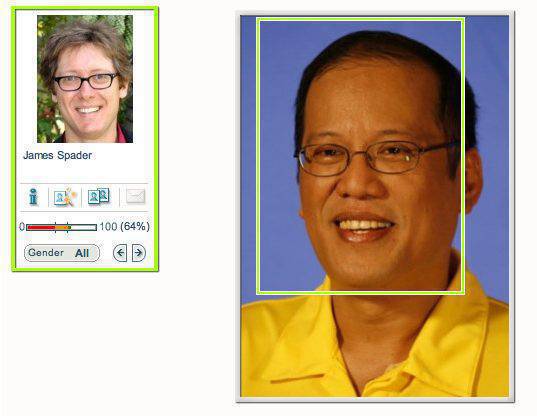 ADVERTISEMENT - CONTINUE READING BELOW
Lookalikes? A president who's 64 percent James Spader? Uh...sure.
6. He looks like James Spader and Bill Gates. According to the results of My Heritage's face recognition test, Noynoy resembles actor Spader (star of Wolf, Crash, and Two Days in the Valley) by 64 percent (and Bill Gates by 57 percent). No wonder Noynoy doesn't mind being slammed for the remaining 36 percent of his looks.
7. His lucky number is 15. Inspired by The Daily Tribune writer Dinah S. Ventura's numerologically-inclined article on Noynoy, we found out that "15 reduces to 6, which means service to self and others." And, as Ventura pointed out, Noynoy got more than 15 million votes in the elections.
8. He's an Atenista.These Jesuit-trained alumni are have a strong "men for others" bent. In fact, Noynoy can blend in as a Jesuit priest if he had to. On the other hand, in a forum thread on Atenista stereotypes, user KCM88 wrote: "Stereotype ng Atenista? Yung 3M's: mayabang, mayaman, matalino. Sabi naman ng employers (I got this from the Placement Office several years back): idealistic [and] too concerned with what others think about them."
ADVERTISEMENT - CONTINUE READING BELOW
9. He's a Nelson Mandela fan. According to TIME magazine, Nelson Mandela met Noynoy and praised him by saying: "You chose your parents well." In turn, according to Philippine Daily Inquirer writer Benjamin Pimentel, Noynoy had stated in a campaign speech: "When our brothers led by Nelson Mandela ended apartheid, he was so euphoric that he could not help himself but dance. I think I'd be euphoric, too, if we end our Calvary under Mrs. Arroyo and I would dance." He can skip the dancing (and the singing or rapping) but we sure won't mind if he emulates Mandela's leadership style.
10. He's in the "Generativity versus Stagnation" stage. According to psychologist Erik Ericson's stages of human development, Noynoy is at the point where he is more concerned about "establishing and guiding the next generation." Not that he's itching to procreate. Ericson explains that this has more to do with doing "socially-valued work" and that "simply having or wanting children does not in and of itself achieve generativity." In other words, he's in the "perfect age" for being president. No need to be perfect, though. We just want a damn good president.
ADVERTISEMENT - CONTINUE READING BELOW
Art by Warren Espejo and photos from the Benigno Simeon "Noynoy" Aquino III Facebook page.
Share this story with your friends!
---
Help us make Spot.ph better!
Take the short survey
Load More Stories