Ria Limjap on Mario O' Hara'sTatlong Taong Walang Diyos: Must-Watch
Ria Limjap on Mario O' Hara's <em>Tatlong Taong Walang Dios</em>: "If you have the chance to see this film, watch it."
In 1976-the year I was born-Mario O'Hara directed Tatlong Taong Walang Diyos, with superstar Nora Aunor cast in the lead role. The film is an epic period piece, a full on war drama starring the biggest actors of the era; it had both box office appeal and compelling content. Apparently that tumultuous time under Martial Law was terrible for politics but really good for Filipino film. (Will this golden era ever happen again, I wonder.)
The story-which Mario O'Hara also wrote-is set in idyllic small town Laguna on the eve of the Japanese occupation in World War II. Rosario (a radiant Nora Aunor in her early twenties) is an innocent barrio girl saying goodbye to her sweetheart Crispin (Bembol Roco) who is a soldier going off to war. Rosario and her family stubbornly refuse to flee their small town for the mountains, where many hid during the war. They cling to the belief that the United State of America and God will not forsake them-even if their daughter is raped by a Japanese-Filipino officer named Masugi (Christopher de Leon) and the townspeople massacred en masse in church.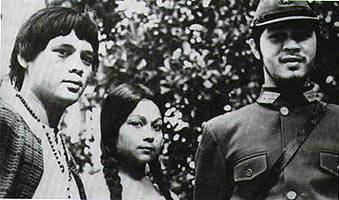 Nora Aunor, with her dusky skin and unfathomable eyes, is fiercely luminous in her portrayal of Rosario. She makes post partum depression, post traumatic stress disorder, tragedy, grief, and anger seem like a mystical experience. She embodies Sisa from Noli as she walks around in her white dress and her flowing black hair, clutching her baby like a madwoman. The palpable chemistry between Nora Aunor and Christopher de Leon-who was her husband at the time-is pitch perfect for the hate/love relationship between Rosario and Masugi.
ADVERTISEMENT - CONTINUE READING BELOW
And that's just the tip of the iceberg-Tatlong Taong Walang Dios is a masterpiece that juxtaposes the horrors of war and the peacefully lush Laguna countryside, with dead bodies in the batis and little schoolchildren singing "Jingle Bells" as the war raged on. This was a war was not just between Filipinos and the Imperial Japanese Army, it was also between a woman and her rapist, and also between fellow Filipinos who betrayed and killed each other in the end, as American bombs fell from the sky.
Some say the country never recovered from World War II. Maybe it's just taking longer than expected.
If you have the chance to see this film, watch it. And yes, it is available on DVD.
***
In 1946, thirty years before Mario O'Hara made his film, a man named Teodulo Protomartir took his camera and photographed the ruins of Manila on 35 mm.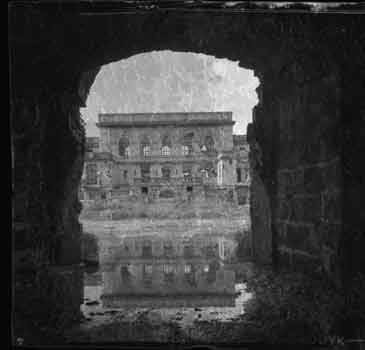 See more of these images from "Being There 1946: The Legacy of Teodulo Protomartir", an exhibition at Silverlens Gallery, 2320 Pasong Tamo Extension, Makati City. It runs until July 3rd.
Poster from pelikulaatbp.blogspot.com. Protomartir photo from Carlos Celdran/Silverlens Gallery.

Load More Stories