Lourd de Veyra campaigns for the separation of Kris and State
Against his will, Lourd de Veyra talks about President Noynoy Aquino's tactless little sister. (Need we say her name?)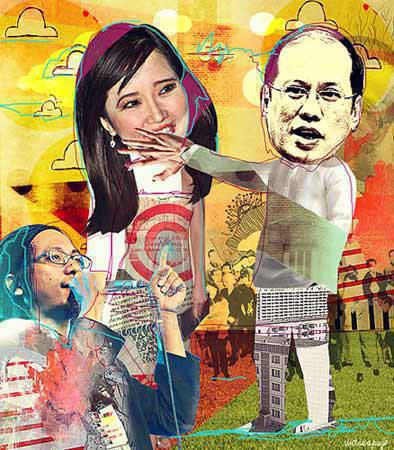 Only three definite things in this world: death, taxes, and a Kris Aquino controversy.
Three days before President Noynoy Aquino's inauguration, she did the inevitable: almost steal the limelight away from his brother's inauguration, in a tearful farewell announcement on The Buzz, which should receive an award for propagating cultural enlightenment. And for fuck's sake, how many times have she delivered lachrymose farewells on that show already?
In the second to the last week, her name came up in the front pages of newspapers, allegedly for having a hand in trying selecting the next senate president. She was reportedly calling up senators one by one to support Sen. Francis Pangilinan. One of the candidates for the post Franklin Drilon admitted he-a Cory loyalist through and through-was deeply hurt. A week after... kaboom! She will not be eclipsed by her elder brother's shindig. And she will never understand the real joys and values of privacy.
Now it was impossible to watch the June 30 festivities without the camera zooming in on Kris Aquino and Baby James and the viewer thinking: so where's the husband? And did the kid really flash the filthy finger?
Kris Aquino talks about her troubled love life for the nth time.
The president called the crowd "Kayo ang aking lakas." If "you"-his people-are his strength, then she is the chink in his armor, the iceberg to his Titanic. "Eto na po ang umpisa ng kalbaryo ko," he said in his speech. He may also be referring to his youngest sister's antics. The world appreciates the virtues of frankness and honesty but there is such a thing as limits. She is an albatross around the president's neck. She is to the Aquinos what Ted is to the Kennedy family. Our apologies to the Kennedys. Maybe it's also President Aquino's fault for reprimanding Kris to stop tweeting anymore. Which she did, but he didn't tell her to stop opening her mouth on TV.
ADVERTISEMENT - CONTINUE READING BELOW
"That's why I kept my silence on The Buzz last Sunday. At three years old, my son is vulnerable and can be emotionally and psychologically damaged," Kris said in an astonishingly epic text message to Ricky Lo. Just two things: If that's her idea of silence, I'd hate to know her definition of loud and brash. Next: Broadcasting the tiniest of your most private grief is not the best way to cushion the impact on the emotions of the kid, who since he was a fetus had been forced in front of the camera. After the grueling campaign season, where the kid was subjected to humiliating ads and inhumanely paced sorties-DOLE alert! Remember that the kid, perhaps out of spite, chanted "Villar! Villar!" into the microphone. ABS-CBN had such a field day playing the clip over and over again that she called the news department "evil people." But what is evil? Evil is declaring that your innocent, defenseless, choice-less baby will be an artista, a fashion model, and recording artist. The kid is so overexposed that I will not be surprised if he grows up one day a Trappist monk or a jihadist suicide bomber. I do hope that his trust fund-including the P1.2-million talent fee he got from endorsing a diapers brand-would be donated to something like Amnesty International or Oxfam. As reparations for psychological damage inflicted on the Philippine populace.
Kris, after all, is not called the Queen of All Media for nothing. The next six years should prove interesting. Do not believe her when she promises to shut her pie-hole forever. She always does that on a regular basis it's almost like the calm before the storm. It's only a promise of some bigger, juicier scandal to come.
ADVERTISEMENT - CONTINUE READING BELOW
Granted, trumpeting marital problems to the world may not be as grave as coddling murderous warlords and engaging in multi-billion dollar scams. But these things have their effects on the national psyche are about as damaging. Little children will grow up thinking that such behavior is acceptable-because, "look, she endorses corned beef, bread, iced tea, malls, and all the nice stuff in the world."
Her brother ran on the slogan of "Kung walang corrupt, walang mahirap." Now that the corrupt has been swept all the way to Lubao, Pampanga, maybe it's time for an update. Maybe they should consider: "Kung walang madaldal, walang gulo."
Having a sister who likes giving people a piece of her mind is both a blessing and a curse. (Well, maybe more of the latter than the former.
It's dangerously pathological: maybe she'll have seizures in the event of a failure to divulge anything about her personal life. Maybe she'll have massive internal bleeding, her optic veins will burst, and her muscles will immediately atrophy. It's a dangerous disease: the desperate need to be in the center of attention all the time. In the hands of personalities like this, Twitter is an evil piece of technology worse than nuclear warheads in the hands of North Koreans. She will always defend: but the people have the right to know. True. But some people also have the right to be spared crap from like this. To decide for yourself to purposely stay away from showbiz talk shows and the tabloids is simply impossible. As we've said before, it's her world-we only live in it. When she opens her mouth, the ground cracks, mountains move, animals raise their heads in fear, and TV ratings and blood pressures soar. It's so easy to keep quiet. But that's only applicable to us mortals.
ADVERTISEMENT - CONTINUE READING BELOW
I know I had promised myself not to write about her anymore, but that's like ignoring the presence of oxygen and sunlight-an inappropriate metaphor but you get the point.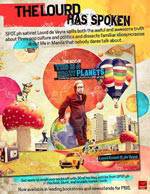 This is a Crazy Planets is available in newsstands, bookstores and supermarkets nationwide for only P195. For more information, click here.
Artwork by Warren Espejo.
Load More Stories