JJ Yulo on Le Bistro Vert: The Future of Food
Will Le Bistro Vert disprove the notion that healthy, sustainable eating is bland, boring and no fun? SPOT.ph's resident foodie finds out.
Le Bistro Vert
G/F Forbes Tower, Fraser Place Manila, Valero St., Salcedo Village, Makati City
Tel. 403-1481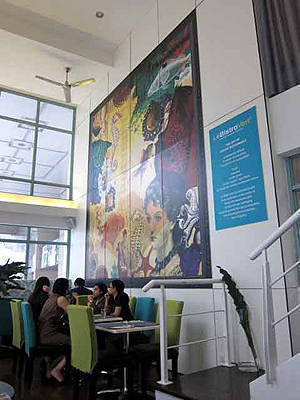 As I sat watching the inauguration of our President, I was thinking of the plethora of issues that he and his people have to tackle. Better infrastructure, more jobs, education, keeping the peace… the list is endless. The world of food, of course, is not spared. Among other things, we need to import less, eat more local, say no to chemicals and deadly preservatives, leave less of a carbon footprint, and support our farmers. Right now, the buzz phrase is "sustainable eating": In a nutshell: if we eat from our "backyards" then we help the farmers grow their business by buying all our produce from them, we use up less fossil fuels (because we don't have to fly in vegetables from, say, China), the farmers progress further, and everyone is happy. So it's a great turn for us that there are people in our city who are insightful enough to go in this direction–one of them is Le Bistro Vert. I remember getting a text message to go try this place when it first opened. It read that all their produce is organic and sustainable, and that was essentially what piqued my interest. I wanted to see how they were going to pull this off.
I was amused to find that Le Bistro Vert is housed in what was once a bar in Salcedo Village where I had spent many a night in various states of inebriation. Talk about a total turnaround. At lunch hour, it looked very airy and pleasant, and serene even–it seemed spacious with its high ceiling. On the main wall was a multi-hued mural (apparently symbols of the sea, according to their website), the bistro's chairs are done in limes and a sort of aqua blue, with bamboo and flowers stenciled on the walls. To me, these very feminine touches totally says "yoga," which, funnily enough, is practiced in the second floor function rooms every Saturday morning. This just sets the tone for healthy eating, which usually gets bad press (it's bland, boring and just no fun)–can they disprove all that? We were about to find out.
ADVERTISEMENT - CONTINUE READING BELOW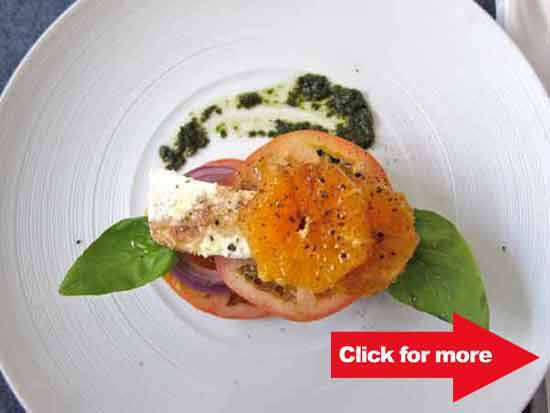 Le Bistro Vert Gallery. Click for more photos.
The menu was created by Sau del Rosario, he of the celebrity chef ice cream flavor circuit. Interesting items dotted the list, and the best part was that the food was priced very reasonably for a swanky little Makati location, with mains averaging at about P200 and below.
My soup–a spiced pumpkin with a swish of lime yogurt (P90)–was surprising. It was very flavorful, with great consistency, and the touch of yogurt wasn't just an afterthought–it actually enhanced everything. An engaging twist–it is served with small, Pringles sized pappadums (salty, smoky Indian flatbread), a complementing condiment to the sweet tones of pumpkin. It's a perky, classy starter, in stark contrast to my lunch mate's onion soup, which was way too sweet for any of our tastes.
A salad item caught my eye, so I ordered it–one of Sagada oranges (hmm…I wonder how this was going to make me feel, considering what Sagada is known for…coffee, you stoner!), carabao's milk cheese, red onions tomatoes and a bit of pesto (P175)- a Pinoy riff on the classic caprese salad. The orange was no great shakes, though sweet enough-but it was comforting to know it wasn't imported all the way from Florida or some Chinese grove. With all the elements taken in all together, it was refreshingly tasty, light and good for you-pretty much spot on with the philosophy behind Le Bistro.
ADVERTISEMENT - CONTINUE READING BELOW
A very healthful main of sole fillet-thankfully not that poor, abused fish du jour dory-was encrusted with cashews and herbs and some burnt lemon butter sauce (P295). I'm sure this dish flies out the kitchen, but it sounds better than it tastes, at least for that day–I found the crust (which was meant to have all the flavor) was greatly under-seasoned, and perhaps could have benefited from a bit more acidity in the sauce. Not to say it was a total loss-it was moist still, and actually cooked quite well, and worth another investigation, for sure.
Funnily enough, the revelation of the day came with the desserts. Considering that I'm not really a desert kind of guy, the calamansi pie (P175) made me tingle a bit. It was luscious, and filled with citrus flavor that only our beloved local lime can give off. Topped with a candied calamansi (eat it!), it's a must.
Another would be their Valrhona sans rival (P195). This revered chocolate is the good stuff, indeed, and quite pricey. Okay, okay, I know what you're thinking-there's all this talk about sustainability and all that, and here they are with this pastry made of chocolate flown in from half way around the globe. The chef told us that apparently he gets this comment all the time. To that I say live a little! One little item ain't that bad-and your taste buds will thank you for it. It's KILLER.
Is it all really that sustainable? Well, I'm inclined to believe them. We were able to chat with the chef a bit, and he mentioned the difficulties he has to go through to keep up the integrity of the restaurant-traveling to all these farms and suppliers to see if everything is indeed up to their standards–a mark of dedication, for sure.
The people who run this place try and make sure there are no chemicals in your food, that animals are treated humanely and allowed to move (which adds to overall flavor), and that farmers are paid well for their excellent produce. If for these reasons alone, I recommend you visit them. This is where the future of the restaurant business should be going-actually, more like the future of food.
ADVERTISEMENT - CONTINUE READING BELOW
RATING: ••• 3 Spots.
Photographs by JJ Yulo.

Load More Stories