10 Things to Do this Weekend + the Club & Bar Scene
Ogle hotties at Bench Undercut, watch Japanese films for free, and bid for art masterpieces.
What's happening in Manila this weekend? SPOT.ph zeroes in on the events and happenings you shouldn't miss.
1. OGLE HOT CELEBS IN THE NAME OF, ER, UNDERFASHIONS.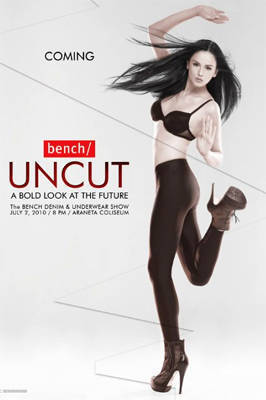 It's that time of the year again-Bench is back at the Big Dome for their yearly revealing fashion show on July 2, 8 p.m. Georgina Wilson, Katrina Halili, Jake Cuenca, Diether Ocampo, Carla Abellana, Shaina Magdayao, Coco Martin, Enchong Dee, Iya Villania and more stars walk the runway in Uncut: A Bold Look at the Future at the Araneta Coliseum.
To get in, shop at selected Bench Body, Bench, Herbench, and Super Bench branches. Every single receipt purchase: of P800 gets you one General Admission ticket; of P1,200 gets you one Upper Box B ticket; of P2,000 gets you one Upper Box A ticket. Promo runs until July 2.
2. WATCH JAPANESE FILMS FOR FREE.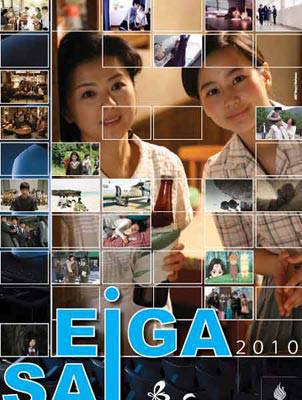 Say konnichiwa to eight contemporary films and two anime films at the Japanese Film Festival (Eiga Sai) 2010 from July 2 to 11 at the Shangri-la Cineplex. Now on its 12th year, the festival is still free for all. The films will also be screened at the University of the Philippines Film Institute from August 18 to 21. Check out the synopses and schedule.
The Bandage Club trailer
3. LISTEN TO YOUR LIBIDO.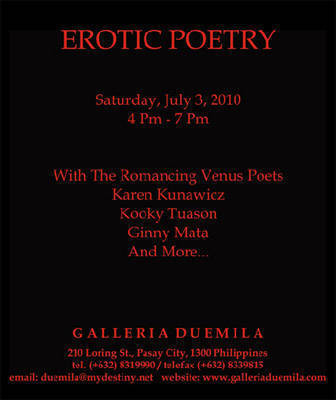 To heighten all your senses on a Saturday night, check out Erotic Poetry at the Galeria Duemila featuring the Romancing Venus poets on July 3, 4 p.m. to 7 p.m. A group that advocates healing through creative expression, Romancing Venus is composed of Karen Kunawicz, Kooky Tuason, Ginny Mata and Monique Obligacion, among others.
ADVERTISEMENT - CONTINUE READING BELOW
4. RUN SO KIDS CAN RUN TOO.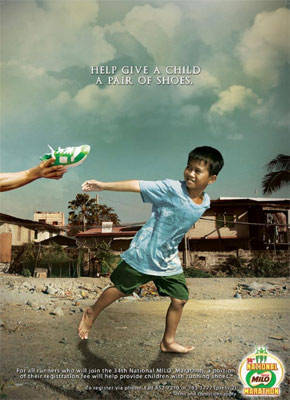 Join the 34th National Milo Marathon's Manila race on July 4 and help give underprivileged children their own pairs of running shoes. The 42K run starts at 4 a.m.; 21K at 5:30 a.m.; 10K at 6 a.m.; 3K at 6:02 a.m.; and 5K at 6:05 a.m. Registered participants are advised to check the race route map.
5. SWOON LIKE IT'S THE '80S.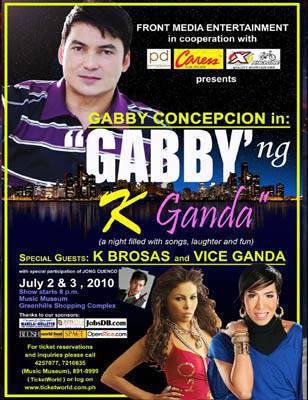 One of the ultimate '80s heartthrobs, Gabby Concepcion is set to charm audiences again for two nights in a row. "'Gabby' ng K Ganda" features Concepcion with comedians K Brosas and Vice Ganda on July 2 and 3, 8 p.m. at the Music Museum. For tickets, click here.
6. BID FOR ART'S SAKE.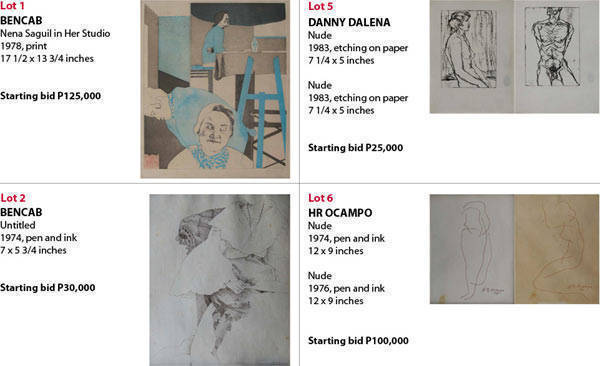 Looking to buy works of art? The Finale Art Gallery will hold a silent and public auction on pieces by Bencab, Vicente Manansala, Fernando Amorsolo and more artists. The silent bid is from 10 a.m. to 7 p.m. on July 1 and 2, and 10 a.m. to 2 p.m. on July 3. The public auction is on July 3, 4 p.m. For the artwork catalogue and house rules, click here.
7. TALK MAKEUP AND SEX.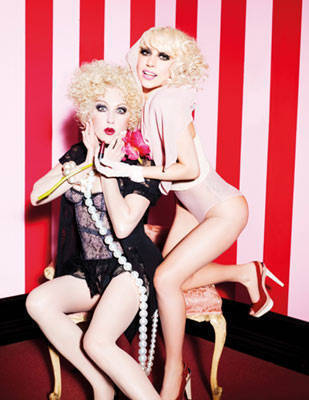 Taking off from their HIV/AIDS awareness campaign, MAC holds a makeup and sexual health workshop with Sex and Sensibilities, a positive sexuality website for young women. Writer Wanggo Gallaga talks about sexual health, and a Babae Plus representative discusses living with HIV. Entitled "From Our Lips," the workshop is on July 3, 2 p.m. at Rustan's Makati. It's free but reservations are required since slots are limited.
ADVERTISEMENT - CONTINUE READING BELOW
8. MAKE SATURDAYS YOUR YOGA DAY.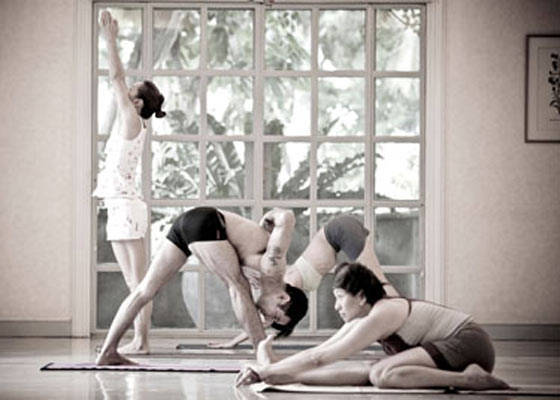 Start your weekend right with Yoga Manila's Saturday classes this month. Take your pick from Ashtanga Vinyasa Yoga, Slow Flow Yoga, and even Kids Yoga for the little ones, among others. For the complete schedule and rates, click here.
9. WATCH A TIMELESS BALLET.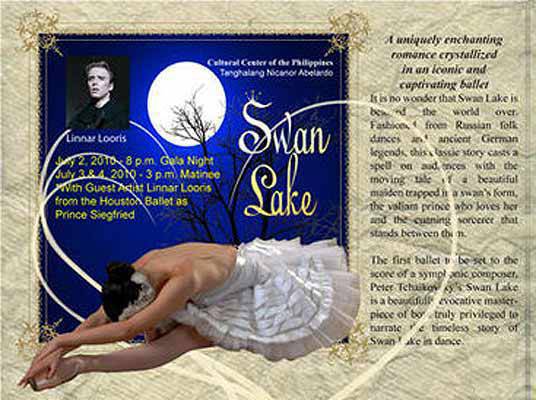 The Philippine Ballet Theatre opens the season with the classic Swan Lake, a "tale of a beautiful maiden trapped in a swan's form, the valiant prince who loves her and the cunning sorcerer that stands between them." It features guest artist Linnar Looris of the Houston Ballet as Prince Siegfried. The ballet runs from July 1 to 3 at the Cultural Center of the Philippines. See the show times and ticket prices.
10. REVEL IN THE RURAL.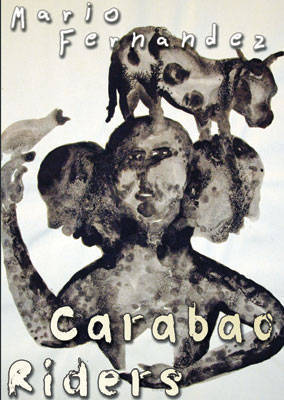 Artist Mario V. Fernandez incorporates agriculture, endangered animals and rare fauna of the rural life in the exhibit, Carabao Riders. It runs from July 3 to 31 at NOVA Gallery. The gallery is open Tuesdays to Saturdays, 11 a.m. to 7 p.m. For more information, call 392-7797 or email gallerynova@gmail.com.
THE BAR SCENE THIS WEEK
Fillet Production at B-Side on July 2.
Friday, July 2

19 East - True Faith, 10 p.m.
Al's Bar - 4th Draztik, Prologo Pilipinas, Lochness, Mashday and Pitik, 8 p.m.
B-Side - Fillet featuring Rye, J-Hoon, Fuego, Nimbus 9, Protege, Nyco Maca, Caliph 8, Pasta Groove, CH++, Milkriddles, G, RBTO and James Sace, 9:30 p.m.
Bagaberde Grill and Bar - Side A and Kid Camaya, 9 p.m.
ADVERTISEMENT - CONTINUE READING BELOW
Izakaya - Kamikaze Fridays, 9 p.m.
M Cafe - Got Soul featuring DJs Kristian Hernandez and Badkiss, 10 p.m.
Route 196 - World Cup live screening, 10 p.m.
Saturday, July 3

19 East - Richard Merk & Friends, 9 p.m.
Al's Bar - Boy Elroy, The Bernadettes, Pitik, Ernville, Mayo Baluyut, Jejaview, Banat Boys, Shoelace, Mistbind, TML, Kaboom and Pinata, 8 p.m.
B-Side - Back to School, 9 p.m.
Bagaberde Grill and Bar - Juan dela Cruz, 9 p.m.
Izakaya - Sake To Me Baby, 10 p.m.
Route 196 - Attraction Reaction, 10 p.m.
Tabu Lounge - SpeakerPIMPS, 10 p.m.
Sunday, July 4

M Cafe - Sunday Jazz Brunch, 10 a.m.
19 East - Jazz Volunteers featuring Jinky Vidal, 9 p.m.
Juris at Bagaberde Bar and Grill.
Monday, July 5

19 East - Juris, 9 p.m.
Tuesday, July 6

19 East - Freestyle, 9 p.m.
Bagaberde Grill and Bar - Fat Session and Passage, 9 p.m.
Izakaya - Unplugged featuring Norby of Overtone and Junji of Velcro, 9:30 p.m.
Route 196 - Rocketmama, 10 p.m.
Wednesday, July 7

19 East - Side A, 9 p.m.
Bagaberde Grill and Bar - Juris and The Daughters, 9 p.m.
Izakaya - Dojo Wednesdays, 9 p.m.
Route 196 - Stripped featuring Aia de Leon (Imago), Lally Buendia (Domino), Yosha Honasan (Yosha) and Abi Portillo (Abi Rode), 10 p.m.
THE CLUB SCENE THIS WEEK
Friday, July 2

Amber - Finally It's Friday featuring DJ Rico Arce, 3Mil Angeles, and guest DJs , 10 p.m. Buy one, take one on local beer, and signature and classic cocktails before 10 p.m. Buy two, take one on imported beer before 10 p.m.
ADVERTISEMENT - CONTINUE READING BELOW
LAX - Blackout Fridays, 10 p.m.
Manor - Jive Fridays, 10 p.m.
Members Only - Tryst featuring DJ Alex Pain, 10 p.m.
Republiq - Soiree Fridays featuring DJ Ace, DJ Bcal and DJ Mars, 9 p.m.
Saturday, July 3

Encore - Sleepless Saturdays, 9 p.m.
LAX - Saturday After Hours, 10 p.m.
Manor Superclub - Supreme Saturdays, 9 p.m.
Republiq - Pure featuring Marc Naval and Manolet Dario, 9 p.m.
Monday, July 5
Encore - B at Encore, 7:15 p.m.
For more events, check out SPOT.ph's calendar.
Load More Stories