Tweets of the Week: SONA 2010 Edition
What the Twitterati had to say about P-Noy's SONA.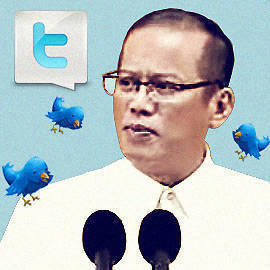 President Benigno "Noynoy" S. Aquino III


Carlos Celdran, performance artist and Manila tour guide, staunch Gibo supporter:
- was pleasantly surprised by the SONA despite no nod for RH. Nevertheless, I'm now onboard. Let's get down and get to work.
Gang Badoy, founder and Executive Director 0f Rock Ed Philippines:-Ex-PGMA's SONA word for the day, "pussyfooting" - Noynoy's SONA word for the day, "tongpats."
- I was gonna say tataas ang sales ng Red Horse or Pale Pilsen tonight - pero dahil yung mga corrupt yung mag i-inuman, malamang Johnnie Blue.
- I realized Noy wantd to stick to points backed up by numbers. Concrete not abstract. So FOI wasn't mentioned for now. Okay, got it. :)
- This speech must feel like a snake crawling diagonal across your naked pwets, you two faced corrupt shits.}
- That speech was short and very bitter. Reminiscent of -
Jim Paredes, singer:
- @gmanews Noy's message resonated with the people. Am not sure the politicos in the house were happy.
- Ryt now, the senate is looking like a weak link in the chain that will supposedly deliver change. Same old. Same mold! I hope I am wrong.
- I truly hope I am wrong. Every govt branch should aim to outpace each other in delievering change for the better.

Maria Ressa, journalist:
- Very interesting SONA! First time I heard philosophy of enlightened self-interest in Pilipino.
ADVERTISEMENT - CONTINUE READING BELOW
Alan Robles, journalist:
- Noynoy's speech was like Gloria Arroyo: short but not sweet

Bianca Gonzales, TV host:
-#SONA2010 i like that PNOY spoke with such authority, didn't blatantly stop for applause, and kept it simple and straight to the point.
- first part of sona: anomalies. not as much applause for now compared to pgma's sonas. case of bato bato sa langit ang tamaan wag magagalit?
- as expected, best dressed at #SONA2010 are sen. @piacayetano and rep. lucy torres-gomez. :)
Patty Laurel, host:
- JPE..again?!?! C'mon people. I thought this year's theme was "CHANGE"?!
- SONA today! Totoong Pagbabago naman sana at hindi puro pangako!

Pepe Diokno, film maker:
- Anyone up for the #SONA2010 drinking game? Take one shot every time Noynoy says "my mom," two shots when he says, "my dad." SO FUN!
- Breaking news: Noynoy Aquino spends 20 mins delivering SONA, 2 hrs having pictures taken with random matronas. #SONA2010
- To the guy doing sign language translations for ANC: Wow, that looks like a work-out.
CONTINUE READING BELOW
Recommended Videos
ADVERTISEMENT - CONTINUE READING BELOW
Ces Drilon, broadcaster:
- To those who reacted re Erap: it's part of the territory. Reporters are prepared for doors to be closed on them.
Liz Uy, Presidential stylist:
- RT @juansarteiii: Di naman red carpet event ang SONA. Sana wala nang comments later about what they're wearing and who's wearing who and who's wearing what.

Manuel L. Quezon III, TV host, blogger, and journalist:
- Poor Official Gazette's creaky government servers wheezing due to high public interest in reading SONA at www.gov.ph :(

Karen Davila, news anchor:
- President Noynoy's first SONA was more than 35 minutes long & interrupted 30 times by applause.

Saab Magalona, actress:
- The SONA is like a soiree for political party peeps hahaha
Geneva Cruz, singer:
- Gawin pa bang issue na that the president got bulol several times? Eh kahit pipi pa sya basta malinaw and pagexplain nya ng plataporma nya walang problema dun! He didn't talk much so what?! Kesa naman di na naman matupad ang iba! Kahit ano mangyari he won't be able to pls everyone! As far as I'm concerned, the president did a great job! How annoying some ppl can be talaga!!!! Ang laki ng problema nga daw niya, the president said, dahil walang pondo ang bansa dahil sa corruption!!! Tumahimik na ang iba dyan na nasa gobyerno, bite your tongues! Hello. Nuff said. Peace!

James Jimenez, Comelec spokesperson:
- Waitn what? The navy headquarters is gonna be moved to camp aguinaldo? Isn't that a little far from the water?
- gahd, that's a garish barong. but i guess that's the point...
- sign language ... paano naman ang mga bisaya? just saying.
- that SONA was very respectable despite the omissions.
- teddy boy sez of noynoy speaking - that was ninoy.
- I'm starting a teddy boy locsin fan club. re-tweet if you have lurve for TBL! LOL
- even when you don't see their faces, you can always identify some politicians by their strident speech.

Bubbles Paraiso, actress:
- so much anomalies in the releasing of budgets! i commend PNOY for addressing all these anomalies.. pati 5 days b4 end of term ni pgma meron!
- i like PNOY's #SONA2010 so far!! anti corruption. oa how mwss trustees received up to 2M a yr each. wala pang bonuses yun. grabe.

Quark Henares, director:
- lessons from SONA interviews: if you want to sound respectable and political, always mispronounce "th" end opinions with "no?".

Rica Peralejo, actress:
- May live applause dito sa bahay.Ang nanay ko palakpak ng palakpak akala mo naririnig siya ni P-Noy.

Mikaela Lagdameo, model:
- This is what the Philippines needed after all. I did not vote for him but I am grateful that President Aquino is, where he is. #SONA

Pia Hontiveros, TV journalist:
- This #SONA2010 wil make twitter history...dahil di pa uso tweeting last sona..& if it was, ano kaya sabihin?


ADVERTISEMENT - CONTINUE READING BELOW
Artwork by Warren Espejo, screenshot of President Noynoy Aquino from GMANews.tv
Share this story with your friends!
---
Help us make Spot.ph better!
Take the short survey
Load More Stories