When I was (just a little bit) younger, I spent a lot of my free time hanging out in Malate. The area around Nakpil St. and Maria Orosa housed a whole slew of bars, lounges, cafes, shops and restaurants - each one with their own kind of distinct personality. All sorts of characters rubbed shoulders here, and that made for really fun times - all you really needed was an open heart and a sense of adventure.
I remember very vividly this little Japanese restaurant that I went to once. This cute chick sat us down and gave us a menu. When the food came out, they were served on these beautiful plates - which turned out to be creations of her Japanese husband. That restaurant was also a pottery studio. The food was decent enough, but it was the whole spirit of the place that stuck with me.
Music is as important to me as food - I need it to breath. And it was music that was the driving force behind a lot of the bars in the area - I loved it that every place had different DJs playing all sorts of genres. That, and the beers were always cold, and some of the grub was pretty good too (any kid who grew up in the late 90s and who frequented Malate will vouch for Insomnia's crispy pata...of that I am sure.)
It was the height of the "rave" scene, where the artist could stand out. It was a time for self-expression, of spreading the love, and of generally good vibes.
ADVERTISEMENT - CONTINUE READING BELOW
That is exactly the kind of vibe that I kind of get at The Collective (located along Malugay Street, in Makati). Once a warehouse that housed several automotive shops, it is now the home of several shops, a gallery, a great little bar (B-Side), and some creative new eating spaces.
Walking around inside for the first time was a treat--it reminded me a bit of a smaller, bit pricier, more "Makati-ized" version of hip enclave Cubao X. I spotted a store called Skitzo selling all sorts of costumes, a Team Manila shop, this cool space Vinyl On Vinyl selling all sorts of toys and even records, a long boarding specialist, even a store called Ritual with all these organic products.
As you can probably surmise by now, this is a place to sound trip, shop, and let your hair down, but even activities where your hair gets let down can also make you hungry. Happily enough, there are a couple of eating options alongside all the commerce and merrymaking places.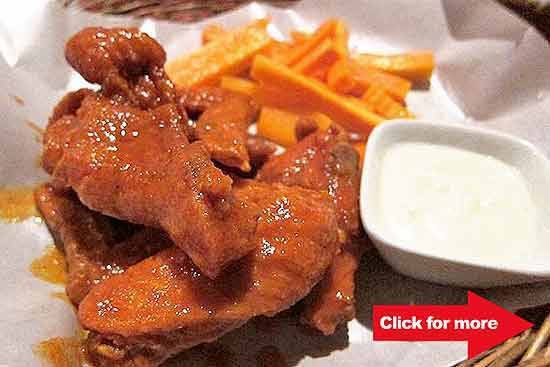 ADVERTISEMENT - CONTINUE READING BELOW
Recommended Videos
The Wingman Food Gallery: Click for more photos.
The one with the first prime spot outside (there's going to be a dimsum-type place in the other space) is called Wingman, whose name conjures up thoughts of late night eats of the fried variety. After doing a little research, I found out it was owned by some American guys lured here after falling for some of our Filipino ladies. I suppose they needed to make some moolah to continue wooing their loves, thus Wingman was born.
What a great first impression I got here: upon being seated, we were immediately assisted by their rather lovely waitress. I had to do a double take, to be quite honest--she was a looker, and caught me off guard. Oh fine, she was tall and hot. But I digress. On to more important things.
Wingman is the sort of place that I believe will click as long as they are committed to quality--to do even better than they are right now, I think they have to draw in traffic not just from The Collective regulars but from the people who will want to go there just to eat their food. Their concise menu certainly has gut busting crowd pleasers: burgers, wings, and everything in between.
My table had a variety of stuff across the board. My buddy had a plate of good ol' fish and chips. Hard to mess up a dish like this--it's a smart menu item as it always hits the spot. The only thing missing was the malt vinegar, there was only tartar sauce and what looked like some dressing of the Thousand Island kind. My friend gobbled it up, but only had one gripe: it was a bit greasy--which could've been helped by a drizzle of malt vinegar on top, which cuts through all the grease and eases it all down.
ADVERTISEMENT - CONTINUE READING BELOW
The two ladies in the table shared a burger, apparently ground on the premises. Not bad, I gotta say, but just a tad bit overcooked for my taste - I like a bit of pink. That, plus they ordered one which was smothered in barbecue sauce and sautéed onions, which kinda masked the flavors of the beef a bit, and prompted one of the girls to comment, "it tastes like Boracay longgaburgers!" Not necessarily a bad thing, mind you.
I wanted to go a bit "unconventional" here, so I opted to order a pulled pork taco. Pulled pork (the Mexicans call this "carnitas") - lean cuts of pork cooked on low heat and for really long periods of time. It results in meat that is so tender you can literally pull it apart with forks, or better yet, with your hands. When my taco arrived, it looked like...a quesadilla. That part I didn't get: maybe they ran out of tacos? It came with a side of guacamole (fresh, thank you, but could've been a bit more--though I realized they probably use imported avocadoes which are better for guac) and some pico de gallo and sour cream. It would've and should've worked, though I think it spent a bit too much time cooking, because it dried out.
The wings weren't bad at all, which we ordered with a tiny bit of spice. They were a nice size (I've seen wings that looked like they were from little birds rather than chickens) and had a decent kick. All in all, a tasty snack best ordered after hours with a cold beer. In the immediate vicinity, this is the place to go.
ADVERTISEMENT - CONTINUE READING BELOW
Dessert put us over the edge: a deep fried Snickers bar, with ice cream and whipped cream and chocolate sauce. Death by sweets. I first read about this being done by the English, then the Americans followed suit not long after. If you are in the mood for this kind of sugar rush, then by all means dive in. It doesn't get any more dastardly than this. A warning though: if you consume this at night, it will keep you up til the sun comes up. Caramba. Not your everyday treat.
The owners of this place are pretty sharp to put their establishment here - The Collective is the kind of place that begs for a joint like this: a hit of meat and grease after some nocturnal fun times. Though I think they don't have all of their game on just yet, it's something that will improve given enough time. Definitely drop by if you're in the area.
RATING: 2.5 out of 5 Spots
Share this story with your friends!
---
Help us make Spot.ph better!
Take the short survey
Load More Stories