Neighborhoods: Loyola Heights, Katipunan Avenue
SPOT.ph checks out fun finds and delightful eats in Loyola Heights.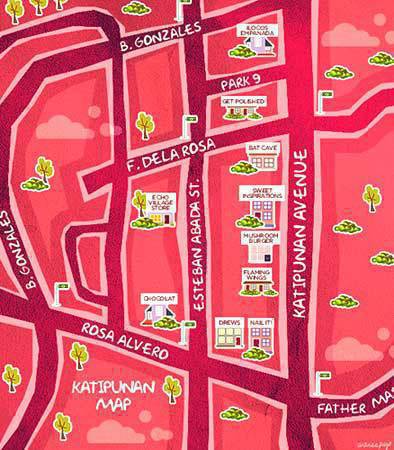 Click for downloadable PDF version.

Surrounded by schools like UP Diliman, Ateneo de Manila, and Miriam College, Loyola Heights in Katipunan is filled with energy and good vibes. The establishments along Katipunan Avenue and its inner streets continue to thrive--thanks to the predominantly young crowd that frequents them. But even the not-so-young frequent the Katipunan hotspots. Apart from the highly-commercial establishments like Starbucks, Pizza Hut, The Old Spaghetti House, KFC, Shakey's, to name a few, Katipunan also boasts of little-known but well-loved establishments.

Food Trip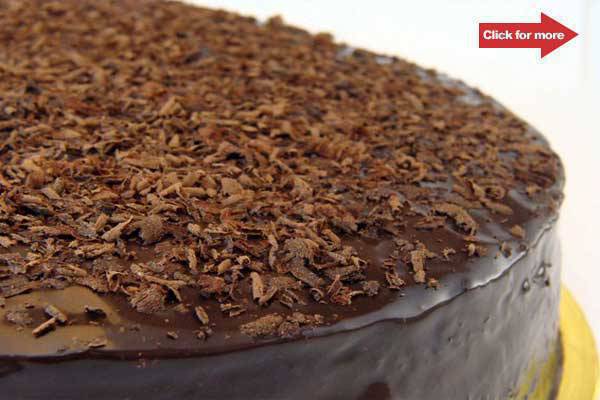 ADVERTISEMENT - CONTINUE READING BELOW
Bestselling "Death by Tablea" from Chocolat Deep Dark Chocolate Cakes. Click for more photos.

Veggie burgers can let you down when they crumble at first bite. If that's the case, then Mushroom Burger may be the answer. Make sure to try the Mushroomburger Pinoy (P30 ala carte and P57 with fries and drink) made of mushroom and pork, the Mushroomburger Royal (P71 and P95 with fries and drink) with mushroom omelet, and the Mushroomburger King (P92 ala carte and P119 with fries and drink) with double patty and double cheese.

Scouting for more healthy-but-yummy eats? Blissful Belly Vegetarian Cuisine is the place to go. Dishes are in rotation so expect new meals everyday. For about P80, customers can enjoy meals that are cooked in low heat, no oil (as much as possible), less salt, and without additives.   If you visit and the joint happens to have vegetarian Sisig and Kare-Kare on the menu, then you better try them.


Just across S.R. Thai Cuisine is Wok Dis Way, another dining hotspot. Wok Dis Way's menu is packed with dishes in different categories--Rice Meals, Soups, Rice and Noodles, Sizzling Greats, Steaks and Chops, Rice Toppings, and Short Orders. Diners should try the Beef Caldereta (P85) and Beef Steak Tagalog (P85). You can also choose to go Oriental with Ren-Ren Pork (P80) and Korean Beef (P90), or go Western with Salisbury Steak (P120) and T-Bone Special (P160).

Another tried and tested dining hotspot in Katipunan is Cafe Sweet Inspirations Restaurant and Bakeshop, which serves everything from appetizers to desserts. Among the must-try dishes are the bestselling Korean Chicken Barbecue (P140), Korean Beef (P185), and Lengua Financiera (P220). For the desserts, treat your taste buds with the Sansrival (P54/P325) and the Mango Cream Pie (P53/P410).


CONTINUE READING BELOW
Recommended Videos
ADVERTISEMENT - CONTINUE READING BELOW
Flaming Wings will have you flying high with bestsellers like the Super Stuffed Porkchop (P165), Buffalo Wings (P143 to P1,069), and Buffalo Chicken Tenders (P88/ala carte, P125/meal). Pair off your wings and tenders with the signature dips Bleu Cheese, Ranch, Aiolo, Wasabi Mayo, Balsamic Mayo, and Honey-Mustard.

For a Persian food fix, visit the Ababu Persian Kitchen. Enjoy favorites like Beef Kabab (P40/P99), Chicken Kabab (P60/P109), and Keema Rice (P99). If you're feeling adventurous, you can add Ox Brain (P40) to your set.
ADVERTISEMENT - CONTINUE READING BELOW
Think you've tasted Empanada? The experience won't be complete without trying it Ilocos-style.

If roasted chicken is your thing, you should check out Red Roaster Bistro. Aside from Roast Chicken (P95/quarter, P155/half, P240/whole), the establishment also offers Chicken Fingers (P95/meal, P110 with chips and iced tea), Fish Sticks (P95/meal, P110 with chips and iced tea), and Grilled Ciabatta Sandwiches (either tuna or herbed chicken, P95). The open-air setup is a plus for those who want a more laidback ambiance.

Experience empanada in a new light at Ilocos Empanada. Take a bite out of this Ilocano creation made of longganisa, mongo, papaya, and egg, wrapped in crunchy golden crust made of rice flour. Take your pick from their variants such as Chicken Empanada (P45), Pork Empanada (P45), and Vegetarian Empanada (P40). Also available from the store are Bagnet (P460/kg), Pork Longganisa (P300/kg), and Frozen Lumpiang Ubod (P140/pack of ten).

Here's a place that lives up to its name literally and figuratively. If you're looking for affordable home-cooked meals, head on to Ken Afford at B. Gonzales St. and indulge in their flavorful Kaldereta (P110) and tasty Lechon Kawali (P95). Goers should also try the Stuffed Sizzling Squid (110) and Roast Beef with Brown Gravy (P120).

Enjoy the tastes and colors of Café Xocolat. The soft lighting, soothing music, and playful colors of the interior create an aesthetic experience for each visitor. Try the Original Sin (P85), one of their six brownie flavors, and feel sinful with its raw sweetness. Pair it off with their cold blends like the Moca Loca (P115/145), a creamy blend of choco espresso and caramel drizzle, and the Chunky Xocolat (P115/P145), creamy chocolate chill with brownie chunks.

Cakes from Chocolat Deep Dark Chocolate Cakes are sure to please chocoholics. Try the bestseller Death by Tablea (P75/slice, P235/loaf, P620/whole)--chocolate cake in bittersweet icing made of native cacao and condensed milk--and experience how sweetly sinful it is. Other must-try cakes are the Chocolate Caramel and Chocolate Hazelnut (P70/slice, P220/loaf, P575/whole).

Sweets never go out of fashion at Cello's Doughnuts & Dips. The sweet success of Cello's has produced four branches in the Metro (Taft, SM North EDSA, Alabang Town Center, and Katipunan) and one in Davao. The first branch in Katipunan continues to attract customers with old and new treats. Among the originals, guest should try the Choco-Oreo (P30) and Chocnut (P30) doughnuts. For the premium doughnuts, get dibs on the Blueberry Cream Cheese (P30) and Choco-Mallow Nut (P30) doughnuts.

Frutti Froyo adds a twist to the usual frozen yogurt experience. Frutti Froyo allows its customers to create their own froyo masterpieces. Guests can see the step-by-step process for creating their froyo mix posted on the wall. First, take a cup. Second, fill it up with your chozen froyo and toppings. Lastly, weigh and pay. With many froyo selections (Vanilla, Chocolate, Green Tea, Kiwi, Raspberry, Taro, Strawberry, and Plain) and over twenty toppings to choose from (fresh fruits, nuts, cereals, chocolates, marshmallows, and more), P18 per ounce sounds like a bargain.
ADVERTISEMENT - CONTINUE READING BELOW
Nightcap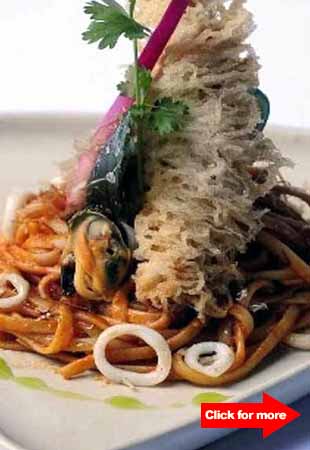 Bihon-Wrapped Prawn Tempura Mag:Net Cafe. Click for more photos.


Drews has been famous (or infamous depending on how you look at it) for never leaving any customer sober. If you want to let loose and get drunk, be it for a good reason or bad, go to this drinking spot located on the 3rd floor (yes, it's on the 3rd floor) of J&R Concon Center or simply the building behind Shakey's. Keep the drinks coming with gin mixes (Pomelo, Strawberry, Melon, Grape, and Pineapple) at P130 per pitcher and house mixes like Weng Weng and Datung Puti at P220.

Not far from Drews is Tia Maria's Cantina, another spot for those who want to pull an all-nighter. Enjoy the Mexican food choices like the Burrito (P155 for the regular and P196 for the super), Quesadilla (P150), and Nachos Grande (P335). Local beers are also available, but their Zombie (P256/pitcher and P631/tower) and Margarita (P107/glass and P277/pitcher) really hit the spot.

Mag:Net Café offers a night of food, music, and fun. Enjoy the band performances every night along with their food and drinks selections. Try Pakbet Pizza (P120), Tinapang Dory (P259), and Baby Squid Tempura (P130) with drinks like local beers (P50-P88) and cocktails in glasses: Margarita (P150), Zombie (P120), and Weng Weng (P140).


ADVERTISEMENT - CONTINUE READING BELOW
Take a peak inside the pampering stations of Katipunan. Click for more photos.


With two branches in Loyola Heights, Katipunan (at Rosa Alvero and E. Abada Streets), Nail It! offers "affordable luxury" for your nails and more. Nail care services include the Traditional Manicure/Pedicure (P100/P120), Nail it Signature Spa Mani/Pedi (P250/P300), and Princess Spa Mani/Pedi (P180/P200), among others, all done using Orly and Face Shop nail polish. Aside from nail care, the salon also offers massage services (P100-P250) and eye lash extensions (P180-P1,300).

Another nail salon at E. Abada St. is Get Polished! Nails Spa. Avail their Natural Manicure (P100) and Natural Pedicure (P120), and watch as your nails get dolled up. If you want something more to relax your hands and feet, try the Totally Polished Spa Manicure (P450) and the Totally Polished Spa Pedicure (P525 ).
ADVERTISEMENT - CONTINUE READING BELOW
Lay Bare Waxing Salon offers waxing and threading services for men and women. Look fresh with clean eyebrows after a threading session at Lay Bare for P100. For the ladies, rates are from P100 to P1,500 and for the men, P120 to P2,000 for waxing services like Bikini, Brazilian, and Full Body, among others.

A few steps from Lay Bare is Lavish Lashes Studio. The establishment offers eyelash extensions starting at P550. Feel posh with the hot pink interior and beds while having your treatment--Fancy (P550), Glamour (P800), or Extra Glamour (P1,000). Retouch (P200) is required for the lashes to stay longer. If you want colored lashes (brown, red, and purple), just add P200.

My Cool Mint Spa takes pride in their serene ambiance, thanks to the enticing scents, soft lighting, soothing music, and quality services. Avail full body massage therapies like Shiatsu, Swedish, Combination, Reflexology, and more for about P350 to P600 per hour. The spa also offers facial therapies (P200-P450), waxing therapies (P150-P750), and body treat packages (P550-P1,800).
ADVERTISEMENT - CONTINUE READING BELOW
Steals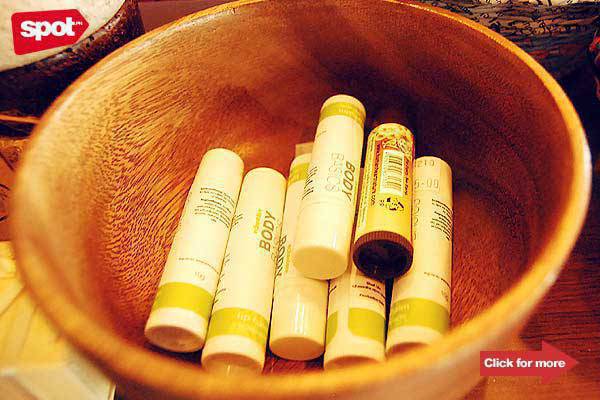 Discover the place for the nocturnal and more. Click for more photos.
Echo Village Store sells community products from Baguio, Mindoro, Negros, Palawan, and Mindanao. Products include Baguio's Good Shepherd Jams, Tugdan jellies by the Mangyans of Mindoro, fruit products from the MUAD group of Negros, rainmakers from the Palawan cooperative, and bangles and bags from the Bajau Samal group of Mindanao, among others. Visit the store and see the good quality products made by our very own.

Get your home needs from Shoppersville Supermaket, a convenient place for grocery shopping especially is you live near the area. After shopping, you can treat yourself at the Shoppersville Bakeshoppe. Try the Chocolate Cake (P26/slice, P410/whole) and Mocha Cake (P30/slice, P490/whole) to tickle your taste buds.

My Bestfriend's Closet, a little fashion and gift shop at the second floor of Llanar Bldg. along Xavierville Ave., has fun finds to boot. Visit the store and check out their clothes, accessories, footwear, art materials, and more.

A fitting establishment for its location, Bat Cave Convenience Store caters to the nocturnal who study, work, and party 24/7. With just about everything you need for sleepless nights, the store provides convenience indeed. The store's siomai (P35 for 5 pieces and P50 with rice) is also a favorite of students who live nearby. The store also sells other fun finds like clothes, accessories, footwear, art materials, and more.



Artwork by Warren Espejo. Photos by Jean Natividad. Additional photos from Mushroom Burger, Ilocos Empanada, Xocolat, Chocolat Deep Dark Chocolate Cakes, Frutti Froyo, and Mag:Net Cafe.

ADVERTISEMENT - CONTINUE READING BELOW
Share this story with your friends!
---
Help us make Spot.ph better!
Take the short survey
Load More Stories