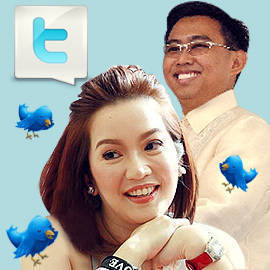 Kris Aquino and Makati Mayor Junjun Binay

Mariel Lozano, TV reporter:
- Kris Aquino on Makati Mayor JunJun Binay "among everybody na nalilink sa akin, he is the only one I've really been communicating with..."
- Kris on Mayor Junjun Binay "he's been good to me a true friend...Nasa kanya yung mga qualities I admire in a man. He is smart, hard working, responsible...."
- Kris Aquino says Next year when she's OK, her siblings are ok & 2 kids are Ok adjusted and "if jun jun were to say Kris Gusto mo ba magdinner, I'll say Ok"
- Kris Aquino on why she will say YES to dinner with Junjun Binay next year "Alam kong hindi niya ako lolokohin."
- Kris Aquino adds not to torture Mayor Junjun Binay coz of revelations. She clarifies "he know and I know now is not the right time."

Atom Araullo, TV reporter, on being one of SPOT.ph's Top 10 Cutest TV Newsmen in the Philippines:
- @Spotdotph Nahks, lakas ko sa inyo ah ;-) Salamat!

James Jimenez, Comelec spokesperson:
- overheard: Girl1: ipa-punsoy kaya nila ang head office ng PAL? minamalas eh ... Girl2:Ay, korak!
- overheard: the thing i don't like about FB is that people post HS pix. Anuba! I've paid more than 100K not to look like that anymore! 

Yves Gonzales a.k.a. Twitter's @PCOSMachine, lawyer and recently appointed MMDA Spokesperson:
- U know you're a govt officer when u listen to AM radio on the way to work.
ADVERTISEMENT - CONTINUE READING BELOW

Gregorio Larrazabal, Comelec Commissioner:
- the Phils. has so much potential as a tourist destination (both local and foreign), including the development of Sports Tourism. It would be nice if there were TV ads with famous personalities and celebrities in a concerted and sustained advertising campaign promoting the Philippines and the places and things to do in the Philippines, I'm sure we'd see a spike in tourism. I'm pretty sure known celebrities (known actors and actresses and known personalities) would join the campaign to promote the country to the world. And I know the private sector would also help out.


Paolo Bediones, TV host and news anchor:
- This is d fourth time in history that Bill Cosby had died one for each year since 2007. Only sick minds can put something lie this together

Franco Mabanta, former TV commercial model and poker master:
- JonasBrothers: 134 songs, 9 tours, 49 nominations, 38 awards won, 16 music vids, 4 albums, 5 OSTs, 2 solo CDs. & they still act like virgins
- Got a buddy that desperately needs to go to twitter rehab. He just twatrted. He farted and a tweet came out.
- I just found a video of Shaq singing to Justin Bieber. I've now come to the conclusion that when no team wants to hire u, u get brain damage

Lucky Manzano, TV host and actor, still with Inception hangover:
- Just woke up, this another dream? Paikutin ko kaya maid ko habang hawak tenga at nakayuko pag huminto, reality. Pag hindi dream pa rin

Rajo Laurel, designer:
- I can't imagine the pain of tattooing your eyes with eyeliner! I shudder just thinking of it.

Cassandra Monteroid a.k.a. KC Montero:
- Just got a Brazilian wax, the lady who did it was crying for some reason. I think was cuz shes never seen true beauty this close.

Tuesday Vargas, comedienne:
- Nilagay ako sa mundong ito para magbigay ng saya. YUN ang dapat na inaatupag ko. Kapag may ilan na di keri, di ko sila masisi. Trabaho lang

Ornusa Cadness, model:
- @Will_Devaughn my scalp/head is most probably a GLOWING pale orb of whiteness underneath this tuft of hair! so yes to hats...
ADVERTISEMENT - CONTINUE READING BELOW
Recommended Videos
Patricia Evangelista, journalist:
- @gangbadoy Gave up on having a dog. My building allows boyfriends, not pets. An odd limitation, as dogs are much less troublesome.


Mo Twister, radio DJ and TV host:
- alright not-so-handsome dudes...we need to go for the Joesph Gordon-Levitt type of handsome. its the new black.
- im a few days away from being full on atheist. until i find a new religion...any suggestions? i hear Buddhism is kinda cool.

Alessandra de Rossi, actress and now a singer, shares her music with her Twitter followers, and more:
- at para sa mga hindi pa in... http://www.youtube.com/watch?v=4uE2J3nH2lY&feature=related --- enjoy!
- ang haba ng legs ko.. mabuti natapos.
- UNFOLLOW is the new "hindi ko na kaya ang mga emote mo, kaloka ka!"




Artwork by Warren Espejo. Photo of Kris Aquino by Noel Orsal of PEP.ph. Photo of Makati Mayor Jejomar Erwin S. Binay Jr. from www.makati.gov.ph.


ADVERTISEMENT - CONTINUE READING BELOW
Share this story with your friends!
---
Help us make Spot.ph better!
Take the short survey
Load More Stories