QTV video showing the process of tambucho killing
Animal welfare groups said on August 3 that "tambucho gassing," a way of killing unclaimed cats and dogs in city pounds recently made legal through an administrative order, is inhumane, reports Balitanghali. The groups Philippine Animal Welfare Society (PAWS), Animal Kingdom Foundation (AKF) and Compassion and Responsibility towards Animals (CARA) are also promoting the campaign "No to Tambucho Killing" against the administrative order, reports Manila Bulletin.

With the tambucho (exhaust pipe) gassing system, unclaimed animals are placed inside a metal box that can hold eight to 10 dogs at a time. A video submitted to Balitanghali by "a concerned citizen," courtesy of AKF, CARA and PAWS, shows the metal box being placed beside the tambucho of a truck, the engine of which is revved up for around 10 minutes, killing the animals. The Administrative Order on Euthanasia of Animals under Republic Act 8485, which was approved in June, legalizes tambucho gassing.

AKF Director for Operations and External Affairs Luis Buenaflor called out to President Noynoy Aquino in the Balitanghali report, "If he can concentrate on such mundane things as wangwangs--and I don't think a wangwang has ever killed--why not look at this?"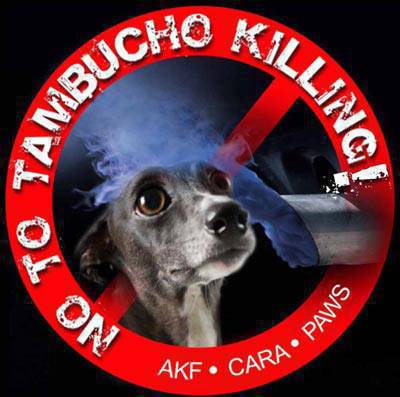 ADVERTISEMENT - CONTINUE READING BELOW
Poster of AKF, CARA and PAWS' campaign, "No to Tambucho Killing"
Manila Bulletin reports that the administrative order was passed by the Committee on Animal Welfare which is composed of the Department of Interior and Local Government, Department of Education, Bureau of Animal Industry of the Department of Agriculture, Protected Areas and Wildlife Bureau of the Department of Environment and Natural Resources, National Meat Inspection Commission, Agriculture Training Institute, Philippine Veterinary Medical Association, Veterinary Practitioners Association of the Philippines, Philippine Animal Hospital Association, Philippine Society of Swine Practitioners, Philippine College of Canine Practitioners, and the Philippine Society of Animal Science.

"I wonder how veterinarians--who know about the impact of gassing via tambucho and how cruel such a death can be--could vote for such a procedure," wrote The Philippine Star columnist Kathy Moran.
In the joint press release of AKF, CARA and PAWS sent to SPOT.ph, the groups appealed to Agriculture Sec. Proceso Alcala to retract the approval of the administrative order until it excludes the tambucho method. The groups sent Alcala a letter two weeks ago, PAWS Program Director Anna Cabrera told SPOT.ph, but his office asked for a copy of their press release only yesterday, August 3, so that the Agriculture office could reply. Cabrera said this is "perhaps due to pressure from media."
Cabrera told SPOT.ph, "We protested against the inclusion of tambucho-gassing at the Committee on Animal Welfare for months, but we were simply dismissed as a 'minority'...We would probably get a quicker response from the government on this if only dogs could vote."
ADVERTISEMENT - CONTINUE READING BELOW
Recommended Videos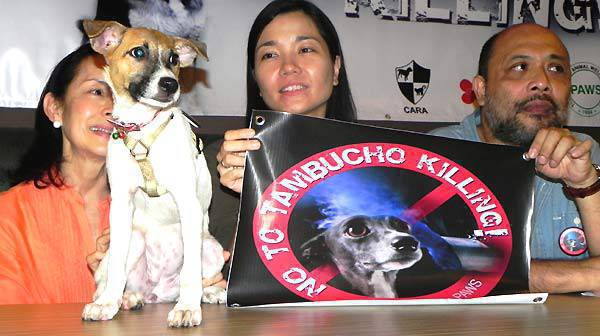 Megan, who was rescued from the streets of Quezon City, is the "poster dog" of the "No to Tambucho Killing" campaign. With her are (left to right) Nancy Cu Unjieng of CARA, Anna Cabrera of PAWS and Luis Buenaflor of AKF. Photo courtesy of PAWS.

AKF, CARA and PAWS suggested using sodium pentobarbital, a drug used to euthanize cats and dogs, instead of tambucho gassing. At around P150 per animal, it costs much more than the gassing method, which costs less than P5 per animal, reports Manila Bulletin. Cabrera told SPOT.ph, "There is no budget for the euthanasia drug because no one has ever proposed a budget for it... If budgets were drawn up, there would be a demand for the drug. Not even 10 percent of the city pounds have ordered it in bulk for the past 10 years."
AKF, CARA and PAWS said in their press release, "We appeal for the new administration to consider animal welfare in its current programs... The new administration must, at the very least, complement their catch-and-kill method with low-cost spay-neuter programs for poor pet owners so that it can come up with a permanent, long-term solution to stopping stray overpopulation."
ADVERTISEMENT - CONTINUE READING BELOW
An online petition in support of the animal welfare groups' campaign, "Tambucho Gassing is NOT Euthanasia," has over 1,200 signatures as of August 5, 8 a.m.
For more on this story, log on to GMANews.tv and MB.com.ph.
Share this story with your friends!
---
Help us make Spot.ph better!
Take the short survey
Load More Stories