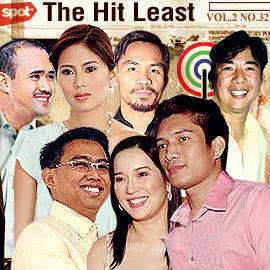 1. AIRPORT SECURITY TIGHTENED: INCREASED VIGILANCE AGAINST ILLEGAL DRUGS, RONALD SINGSON CASE CITED. It won't be long before jetsetting junkies set up the "We hate Ronald Singson!" Facebook page.
2. INFORMAL SETTLERS IN NEW MANILA TRY TO FIGHT OFF DEMOLITION TEAM WITH PILLBOXES, ROCKS, AND POO. Paging Amy Perez...we've located Face to Face guests for the next 100 episodes.
3. MAN NABBED IN DIVISORIA FOR STEALING SACKS OF GARLIC. Best excuse: "Panlaban lang po sa aswang."
4. MERALCO TO CONSUMERS: EXPECT HIGHER BILLS IN AUGUST. As if we have a choice?
5. NCRPO'S ANTI-CARNAPPING UNIT TEMPORARILY SUSPENDED FROM CONDUCTING OPERATIONS. Great...now if only carnappers would suspend their operations, too.
6. BOXER-CONGRESSMAN MANNY PACQUIAO TO TRAIN AT BATASAN COMPLEX FOR HIS UPCOMING MATCH VERSUS MEXICAN ANTONIO MARGARITO. Hold your tongues...Pacman said it's all just a matter of time management.
7. WILLIE REVILLAME SLAMS ABS-CBN, RESCINDS HIS CONTRACT. If you can't take a big bite out of the hand that feeds you, just spit on it on national TV.
8. MANNY PACQUIAO SAYS HE'S HAPPY KRISTA RANILLO GOT HITCHED. Read: "I'm going to be listening to Air Supply's 'All Out of Love' all the time while I'm training at the Batasan Complex."
ADVERTISEMENT - CONTINUE READING BELOW
9. KRIS AQUINO FILES PETITION FOR ANNULMENT AND JUNUN BINAY IS "OPEN TO FINDING NEW LOVE.". Meanwhile, James Yap will live happily ever after with his MVP trophies.
10. PASIG RESIDENTS COMPLAIN ABOUT FOUL ODOR COMING FROM A SOAP FACTORY. Define "irony."
Share this story with your friends!
---
Help us make Spot.ph better!
Take the short survey
Load More Stories