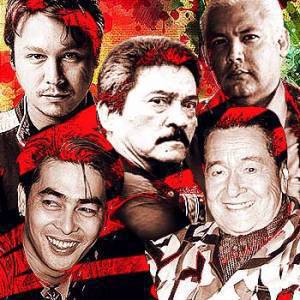 It must be fun playing a bad guy. You get to do every mean thing you've always wanted to do in real life but couldn't. You can kill and steal as much as you want. That is, until the hero catches up with you and gets even. SPOT.ph lists 10 Pinoy actors who played bad guys so well.
Max Alvarado as Lizardo in 1980's Ang Panday. (He begins his villainous spiel at 1:53.)
1. MAX ALVARADO
Perhaps, Alvarado's naturally villainous appearance was one of the reasons why he was one of Fernando Poe, Jr.'s favorite supporting actors. He made his mark as the main villain, Lizardo, in Ang Panday (1980). Few people know that Alvarado's acting skills were not confined to playing bad guys. He amazed critics when he played a gay role in Gorgonia (1978). Before Alvarado died in 1997, he was the spokesperson for Maxx candy. Even though he acted goofy in the ad, people just couldn't shake off his bad boy image.
A montage of Vic Diaz's movie moments.
2. VIC DIAZ
Diaz was a character actor who was often cast as a kingpin or a Japanese soldier. He was simply diabolical in these roles. It's surprising to know that he was also a lawyer. According to his IMDB biography, Diaz, whose father was a Chief Justice in the Court of appeals, practiced law for four years before he decided to take up acting instead. He starred in films like Daughters of Satan (1972), Agila ng Maynila (1989), and numerous international release action flicks such as Fortunes of War (1994). Diaz is also the father of musician Teddy Diaz, the slain member of The Dawn.
ADVERTISEMENT - CONTINUE READING BELOW
Paquito Diaz at his evil best in 1991's Batas ng .45.
3. PAQUITO DIAZ
When he was younger, Diaz played basketball for the Far Eastern University (FEU) Tamaraws in the 1960s. He went on to star in movies like Ang Pagbabalik ni Daniel Barrion (1968), Kamaong Asero (1981), and Magtago Ka Na Sa Pinanggalingan Mo (1987). His moustache alone made him seem like a bad guy. Diaz also specialized in acting manic (when agitated by the hero) and cowardly (when he's caught by the hero and is about to get a dose of his own bad guy medicine).
Romy Diaz harasses Efren "Bata" Reyes in 2003's Pakners.
4. ROMY DIAZ
Though he closely resembles older brother Paquito, Romy--who also played basketball for the FEU Tamaraws--made his own mark as a villain. Compared to Paquito, Romy is more adept at playing sociopaths. While Paquito wins in the moustache department, Romy takes home the "crazy eyes" title. He starred in movies like 1988's Dugo ng Pusakal and1993's Humanda ka, Mayor! He died in 2005.
Eddie Garcia stares down Fernando Poe, Jr. in 1987's Kapag Puno na ang Salop.
5. EDDIE GARCIA
Garcia, 89, has been active in Philippine showbiz for 61 years. The talented character actor made his first movie, Siete Infantes de Lara, in 1949 and continues to be active today. He made his mark as a cerebral villain in films like Kapag Puno na ang Salop (1987). He also showed that he could channel sleaze in films like My Pretty Baby (1989). But Still, Garcia's acting skills were probably best showcased in the 1971 Lino Brocka film Tubog sa Ginto, where he plays a gay man who is pretending to be straight. These days, he can be seen in GMA-7's primetime show Pilyang Kerubin.
ADVERTISEMENT - CONTINUE READING BELOW
Recommended Videos
6. CHARLIE DAVAO
The late Davao, who started out as a print ad model, always cut an imposing figure onscreen. A consummate character actor, he was often cast as a corrupt cop in movies like Batas ng .45 (1991) and Lt. Madarang: Iginuhit sa Dugo (1993). More recently, he played a supporting role in the GMA-7 primetime show Rosalinda. Davao, 75, succumbed to cancer earlier this month.
Dick Israel is about to get punished for his lecherous ways in the 80s flickAlindog, which features bold star Lampel Cojuangco. (He starts his villainous posturing at the wheel at 0:26.)
7. DICK ISRAEL
In the past, Israel was always cast as a henchman or a thug. He specialized in projecting lecherous vibes. He could easily win the "evil laugh" award. These days, though, Israel is cast in father roles. For one, he played Diether Ocampo's dad in the ABS-CBN primetime show Only You. Despite his good guy roles, many still remember him as a baddie.
John Regala torments Ace Vergel in 1997's Utang Ko Sa 'Yo and Buhay Ko.
8. JOHN REGALA
In the 1990s, Regala made a killing by playing drug addicts and psychos in movies like The Maggie de la Riva Story (1994), Notoryus (1998), and Gatilyo (1999). He took a brief hiatus from showbiz--sometime in 2002 to 2003--because of his real-life druggie isues. Fortunately, he bounced back and has worked steadily since then. Though he may have become a nice guy in real life, people still expect him to be bad in the reel world.
ADVERTISEMENT - CONTINUE READING BELOW
Jay Manalo plays an abusive father in an episode of Maalaala Mo Kaya.
9. JAY MANALO
Manalo is a sexy villain who always looks like he's up to no good. Though he is best remembered for playing the title role in the provocative Totoy Mola (1997), Manalo has steadily built up his villainous body of work. He tormented Kristine Hermosa in the ABS-CBN soap Pangako sa 'Yo, attempted to put a stop to Vhong Navarro's heroic deeds in Gagamboy (2004), and wreaked havoc in GMA-7's primetime show Zaido: Pulis Pangkalawakan.
Baron Geisler's real-life bad boy antics take the cake.
10. BARON GEISLER
Currently seen as a hairy villain in the ABS-CBN primetime show Noah, Geisler started out as a teen idol. He was a member of John Lloyd Cruz's posse in Tabing Ilog. We're not really sure if his real-life bad boy antics happened before or after he started playing villains. All we know is, these days, there's a thin line between Geisler's fictional villainous exploits and the fixes he gets himself into for real. In 2009, Yasmien Kurdi, his co-star in the GMA-7 mini-series Suspetsa, accused him of sexual harassment. The year before that, actor William Martinez's daughter, Patricia, accused him of the same thing. Despite his troubles, Geisler has bagged two Best Actor awards from Cinemalaya.
Art by Warren Espejo, photos from screen captures and PEP.
Share this story with your friends!
---
Help us make Spot.ph better!
Take the short survey
Load More Stories