Top 10 Favorite Pinoy Biskwit
Remember these childhood favorites? We list our favorite Pinoy biscuits and where to get them.
Cookie, cracker, biscuit--the name is wide-ranging for a baked delicacy that Filipinos have embraced as their own. We do not have a local name for it the way we call our rice cakes "kakanin" since we only began making it at the same time we learned baking breads during the Spanish period. But when pressed, the term "biskwit" (or biskuwit as spelled in the UP Diksiyonaryong Filipino) will have to suffice for the traditional biscuits baked alongside the pan de sal and ensaimada in our local panaderias.

The varieties are more than a dozen, with specific local names and recipes in each region. Cookie, cracker or biscuit, whichever term we use, it always suggests a plate of the oven-baked goodies.

The cookie is "a small, flat, sweet confection," according to Alan Davidson's The Oxford Companion to Food. "Cookies tend to be richer and have a softer, chewy texture." Meanwhile, biscuit is a generic term for a variety of flour-based items, "generally small in size, thin, short, or crisp in texture." So diverse is the term that even the wafer (or barquillos to us) can be considered a biscuit even if it's not cooked in an oven.

Although most of our traditional biskwit were derived from Spanish counterparts and recipes, Filipino ingenuity has transformed them into a uniquely Filipino delicacy. We use local ingredients like arrowroot, cassava flour, coconut milk, dayap, and even rice flour in making some of our biskwit. Most, if not all, of our local biskwit are crisp and crunchy than soft and chewy.

The role of the biscuit was more prominent in the "slower, lazier days" of our grandparents. Biskwit was "for people who had the time to nibble and savor it, with a cup of chocolate or coffee as part of the ritual of merienda," says Gilda Cordero Fernando in Philippine Food and Life.

That was an era when a large glass jar filled with cookies or biscuits can be found in local bakeries. The glass jars are still present in some areas in the country like in Malabon where it's filled with camachile--a perfect accompaniment to their savory pancit Malabon.

Aside from being merienda fare, the biskwit is served to guests, given to children as a treat, and bought as pasalubong from one's travels to the provinces. Some biscuits honor saints (like the sanikulas) and feast days like the lattice-work cookies of Pakil, Laguna described by Doreen Fernandez which were shaped like the Virgin of Turumba (Our Lady of Sorrows), the town's patron saint.

Here are our top ten favorite biskwit. Find them at your local panaderia, in the cookie or native delicacy aisles of supermarkets, or pasalubong booths at the malls:


1. Uraro
ADVERTISEMENT - CONTINUE READING BELOW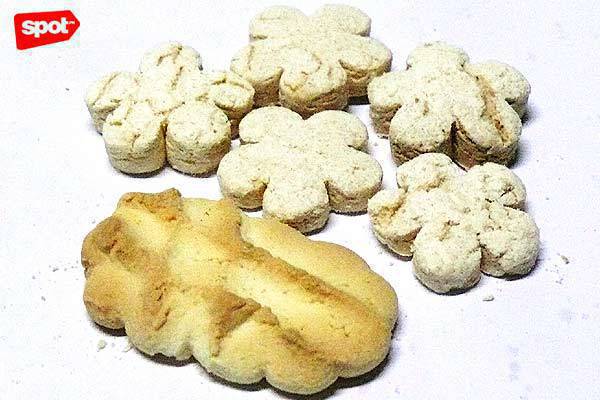 CONTINUE READING BELOW
Recommended Videos

Arrowroot flour makes these cookies delicate, starchy and dry. The flour is derived from the roots of the arrowroot plant Maranta arundinacea. Uraro is also known as araro in Bataan and Pampanga. Uraro cookies come in various shapes--round, scalloped around the edges like a cloud, piped through a star-tip in round shape (like Danish butter cookies), or cut into small curly flowers. The latter is sold as sampaguita in Kapampangan bakeries like the La Moderna Bakery in Guagua. The cookie is usually white and dusted with flour though some are lightly brown. The best uraro has a creamy texture and melts easily in the mouth, like the La Moderna sampaguita. Another brand I tasted (Sir Norman Baker produced in Liliw, Laguna) combined arrowroot, cassava, and wheat flour with coconut milk and buttermilk to produce a fine, creamy cookie. Uraro cookie-producing provinces include Laguna, Bulacan, Marinduque, Pampanga, Bataan, and Quezon.

Brands: La Moderna Bakery, Sir Norman Baker Homemade Uraro Biscuit, Rejano's Bakery of Marinduque, Bulacan Sweets.

Where to buy: Butchie's Recipes of La Moderna (Health Cube Bldg., Wilson St., Greenhills, San Juan), P55-P85 per pack, P85-P200 per jar



2. Pacencia
ADVERTISEMENT - CONTINUE READING BELOW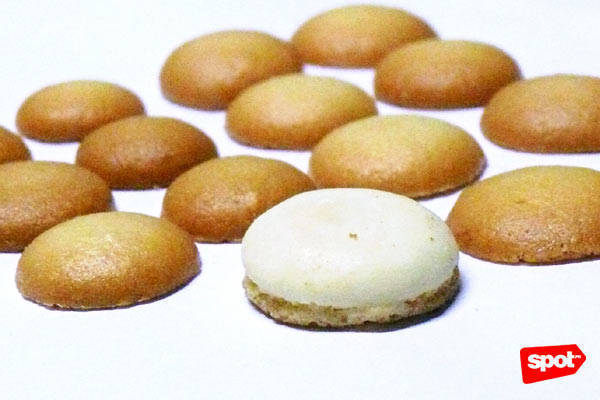 The pacencia are small drop cookies. Cordero-Fernando points out that it's "the only biscuit named after a virtue." Three kinds of pacencia are sold in the market. One is shaped like a large button with a smooth, lightly brown top and crisp texture. These are flavored with vanilla (sometimes with lemon, like the ones from Marby bakery). The other one looks almost the same but less crisp, with a hardened egg white icing on top. La Pacita Bakery calls these "Pacencia White wheat drop cookies." It has an airy exterior like a miniature broas and is very sweet. The last one refers to tiny meringue kisses, a recipe of which can be found in Enriqueta David-Perez's classic cookbook, Recipes of the Philippines. Food writer Michaela Fenix remembers the pacencia as small and airy "meringue-like cookies." The Eggnog Cookies sold under the Nissin label (in yellow and blue packaging) are the updated sibling of these cookies. Perhaps the key ingredient in all these pacencias is the egg white which makes them light and airy. Beating the whites up into soft peaks indeed takes a lot of patience in making these tiny cookies. But once you pop a few into your mouth, you'll be rewarded immediately.

Brands: La Pacita Biscuits, Marby, Marky's Prime Bake, La Luisa Biscuits, Nissin Eggnog, etc.

Where to buy: Sold by the kilo (along with butter cookies and egg cracklets) at Shopwise's Le Gourmet area in Harrison Plaza, Manila. Starts at P11.50 per pack



ADVERTISEMENT - CONTINUE READING BELOW

3. Galletas de huevos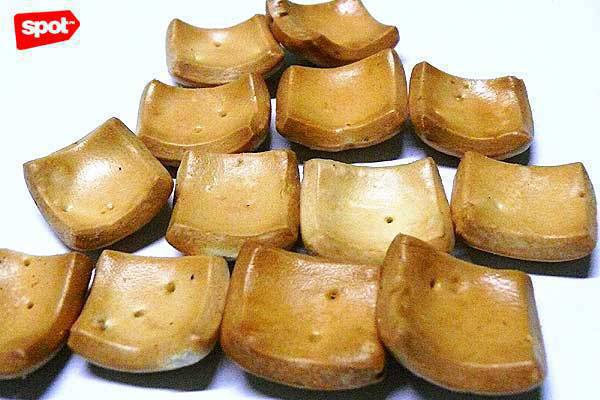 Galletas are square-shaped egg crackers with a shiny, yellow surface and characteristic up-turned corners. It's known by names such as galletas de huevos (a direct translation of egg crackers), galletas de patatas (perhaps in reference to its bottom), and tengang daga. It's sold under the name "egg cracklets" by La Pacita Bakery of Antipolo. The galletas are a little bland, with a bit of an eggy flavor, but addicting especially the slightly browner ones. As one bites onto its crisp, tough edges, the cracker yields to a compact, chalky interior. Other brands of galletas are hollow and less chalky. Still, it's a good idea to have a glass of water or soda on hand when you eat galletas to wash down the crumbs.

Brands: Laura, La Pacita Bakery, Marby, Marky's Prime Bake, Baker's Fair, etc.

Where to buy: Sold by the kilo (along with butter cookies and egg cracklets) at Shopwise's Le Gourmet area in Harrison Plaza, Manila. Starts at P15.50 per pack


4. Masa podrida / Masapodrida
ADVERTISEMENT - CONTINUE READING BELOW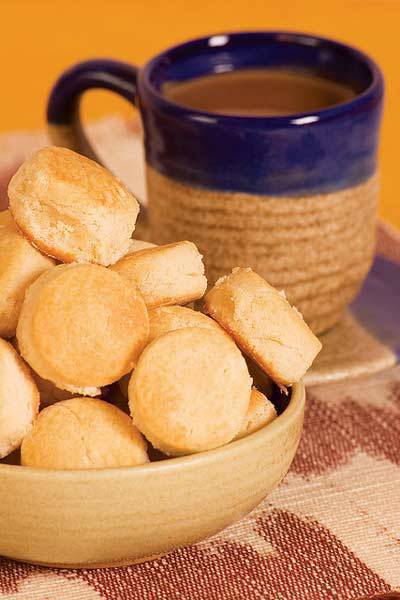 Older folks may remember the masa podrida as a favorite cookie. In Spanish, it means "rotten dough," though there's nothing bad nor smelly about these biscuits. Variations of masa podrida abound in Ilocos Sur, Pampanga, Iloilo and Cebu. A familiar masa podrida are the chunky round cookies with a floury texture from La Moderna Bakery in Pampanga. They bake it in their more than 50-year old wood-fired oven and refer to it as a Filipino shortbread. Shortbread is originally a Scottish specialty, made from "a thick layer of rich, sweetened shortcut pastry, without any extra flavourings," says Davidson. The La Moderna version is thickly cut and brushed with milk. It has sugar crystals covering the surface which turn into a burnt, polvoron-tasting sugar crust when baked.

Brands: La Moderna Bakery, Good Shepherd Convent

Where to buy: Butchie's Recipes of La Moderna (Health Cube Bldg., Wilson St., Greenhills, San Juan), P55 per pack/ P85-P200 per jar




ADVERTISEMENT - CONTINUE READING BELOW
5. Alfajor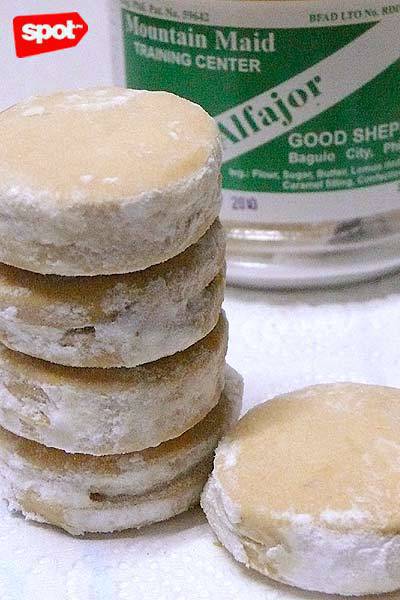 Alfajor is a pair of shortbread cookies with a filling of caramel or dulce de leche. Its name, according to the Signet Spanish-English dictionary, refers to "various types of pastry usually with a cream or honey filling." Felice Sta. Maria mentions alfajores from Sevilla, Spain (these are almond and nut pastries) in The Governor-General's Kitchen. From Spain, it made its way to a much different version in Argentina and Peru. These nations' alfajores are very similar to the coin-shaped cookie sandwiches that the Good Shepherd nuns bake in their kitchen in Baguio City. These cookies are thick round slabs redolent with grated lemon rind and butter mixed into the dough. A thin coating of caramel is spread in between the cookies after which it's pressed together and dusted with confectioner's sugar. With a shortbread base, its texture is delicately crumbly. If you meditate long enough on a cookie, you'll note the occasional speck of the lemon rind once the buttery crumbs have melted on your tongue. The alfajores are snugly packed in a yellow topped plastic canister with a sticker that says "caramel" aside from its name on the familiar white and green label.

Where to buy: The Baguio stall at Market! Market!'s open air pasalubong section near the food court. P160 per jar



6. Rosquillos
ADVERTISEMENT - CONTINUE READING BELOW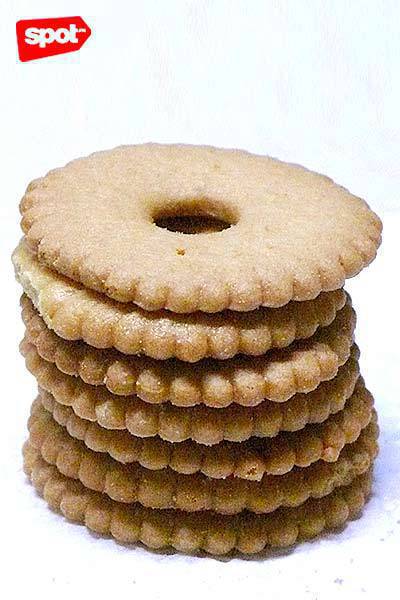 With a "Rosquillos Festival" held since 2008, Liloan, Cebu lays claim to these thin, circular cookies with little scalloped edges and a hole in the center. In particular, the brand Titay's Rosquillos started it all. Its namesake and owner Margarita "Titay" Frasco is said to have invented it back in 1907. The basic ingredients of these crisp cookies are wheat flour, eggs, corn oil, margarine, sugar, and baking powder. The Philippine rosquillos is derived from the Spanish word rosquilla (also rosca) which means "ring-shaped pastry or roll." Such is the popularity of this cookie that other bakeries in Cebu also make it. Titay's is available in small quantities at the Cebu stall at Market! Market! in Taguig. In Manila, the Marky's brand (made in Meycauayan, Bulacan) is less brown in color but just as good.

Brands: Titay's Rosquillos, Marky's Prime Bake

Where to buy: Cebu stall at Market! Market! at Fort Bonifacio Global City in Taguig, starts at P47 per pack



ADVERTISEMENT - CONTINUE READING BELOW
7. Sanikulas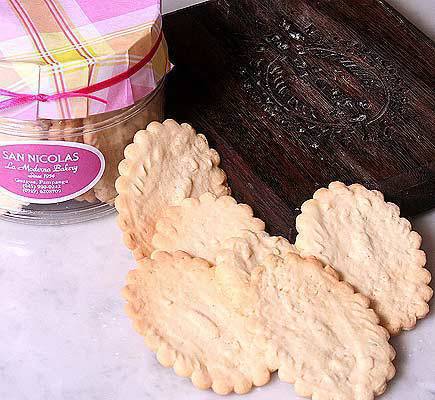 The sanikulas or Pan San Nicolas is a traditional cookie introduced by the Augustinian friars during the Spanish colonial times. The cookies are usually made with arrowroot flour, coconut milk and flavored with dayap or anise. Commecial ones now use cornstarch and all-purpose flour. The sanikulas of La Moderna Bakery are thin, crisp, and smooth with just a touch of coconut milk. Usually, the whole cookie is shaped like a leaf with delicate scalloped edges. It marks the feast of San Nicolas de Tolentino every September 10, so the cookies bear the imprint of his image. To acquire the imprint on the cookie, the dough is rolled or pressed on top of an old-fashioned wooden cookie mould. One could mistake the print to be that of the Virgin Mary since the embossed pattern is not too sharp and the saint wears a cloak whose outline resembles a gown or dress. During the saint's feast day celebrated in Apalit, Mabalacat, Mexico and elsewhere in Pampanga, the cookies are brought to church for blessing and distribution to parishioners. Cordero-Fernando says that the sanikulas "were believed to cure the sick, who crumbled it in a glass of water and drank it." It is also now served during Christmas, stored in a big garapon or glass jar.

Brands: La Moderna Bakery

Where to buy: Butchie's Recipes of La Moderna (Health Cube Bldg., Wilson St., Greenhills, San Juan), P65 per pack/ P100-P235 per jar
ADVERTISEMENT - CONTINUE READING BELOW
If you travel to San Fernando, Pampanga, Everybody's Café has a selection of it on their pasalubong counter.


8. Hojaldres (Otap)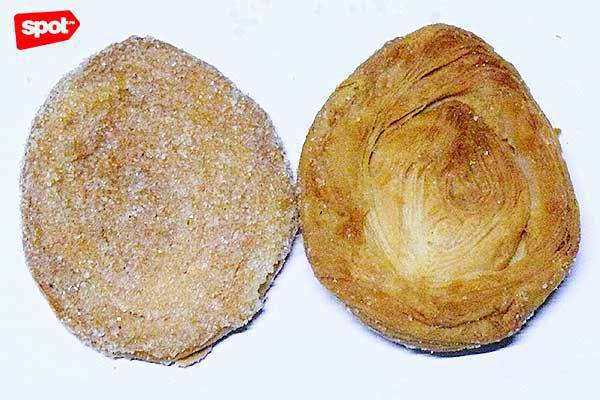 These flaky oval (or oblong) cookies originated from Cebu in the 1800s, according to Sta. Maria. Layers of pastry sheets are sprinkled with sugar in between and on top then baked into a light brown crisp. Hojaldres in Spanish means "puff paste" or "puff pastry," so it's an apt name for a flaky cookie that breaks into a hundred pieces and makes an edible mess when you bite into it. It's also known as otap or utap. The Shamrock brand has a fine texture and taste, it's thinner and more tender-crisp than the average bakery variety. Turn the cookie upside down and you'll notice the rings of pastry sheets flattened underneath. Hojaldres come in pairs wrapped in wax paper. Surprisingly, the Shamrock hojaldres are not oily, leaving the wrapper clean and dry.

Brands: Shamrock, BongBong's, Conching, Marby

Where to buy: Cebu and Bacolod stalls at Market! Market! at Fort Bonifacio Global City, starts at P50 per pack




ADVERTISEMENT - CONTINUE READING BELOW
9. Camachile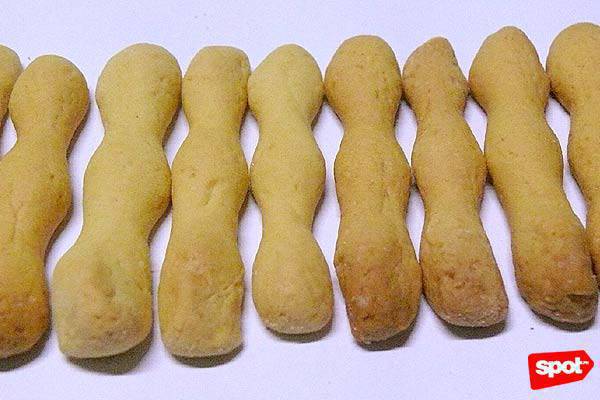 Camachile are dry, hard cookies that mimic the curvy pod-like shape of the camachile fruit. Also known as Manila tamarind, the camachile (Pithecellobium dulce) is not a main ingredient of its namesake cookies. The latter comes from our fondness for shaping breads and biscuits in the likeness of a fruit, animal, or saint. The camachile ranges from thin to thick shapes, some crudely formed but tasty nevertheless. The La Pacita brand translates them as "baby finger cookies." To this day, it thrives in Malabon cuisine as a partner of their famous pancit Malabon--the cookies are lightly sweet and lessen the richness of the sauce. Most of the eateries selling this pancit have a glass jar or pack of it at their counter. The 63-year old Concepcion Bakery in Malabon still makes them as one of their specialties. Perhaps in your local panaderia you'd still find them but a little less curvy than the real camachile fruit.

Brand: La Pacita Bakery Camachile and Auntie's sold at Pancit ng Taga Malabon.

Where to buy: Pancit ng Taga Malabon branches, P60 per pack


10. Barquillos
ADVERTISEMENT - CONTINUE READING BELOW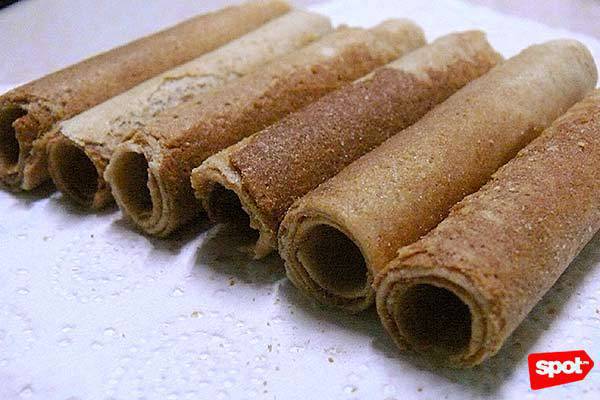 Barquillos are rolled-up cookies named after the Spanish word for "sweet ice cream cones" or "wafers" which is very similar in taste and texture. Most barquillos are flavored with sesame seeds while some tastes like plain vanilla. Some barquillos are thick and crunchy while others are thin and dainty. Fenix describes how workers at the DeOcampo Bakery in Iloilo would place the barquillos batter on hot plates then "wrapped [it] around steel rods" to cook. The method has been used since the Middle Ages using flour and water mixture spread into a thin layer then heated on a plate, according to Davidson. The best barquillos have that subtle creamy and buttery taste that you try to capture until you've finished the whole pack. Only the tell-tale crumbs of the wafers reveal you forgot to share them.

Brands: Bongbong's, DeOcampo, Sugarlandia, Panaderia de Molo, Ros's, Susannah.

Where to buy: Market! Market! Bacolod and Cebu stalls, P55 per pack
ADVERTISEMENT - CONTINUE READING BELOW
Photographs by Jenny Orillos, Butchie's Recipes of La Moderna (sanikulas and masa podrido).
Share this story with your friends!
---
Help us make Spot.ph better!
Take the short survey
Load More Stories