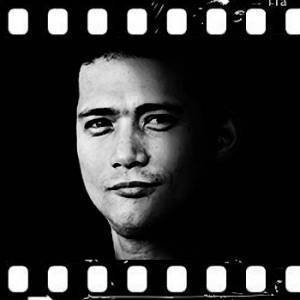 Robin Padilla, dubbed as "The Bad Boy of Philippine Movies," first made his mark in Philippine showbiz in 1989 with his first lead role in Carnap King. Prior to that, he had played bit parts in movies like Love Letters (1985) and ensemble action flicks like Alega Gang (1988). Once notorious for being a real-life hell-raiser, he has since reinvented himself as a versatile actor and a reliable product endorser. SPOT.ph lists 10 things that may explain Padilla's enduring appeal.
Robin Padilla in 1989's Hindi Pahuhuli ng Buhay, where he starred opposite Dawn Zulueta and Eula Valdez.
1. He's named after an outlaw. There are those who believe that a person's name can actually influence his personality. So what's in store for a man whose real name is Robinhood Fernando Cariño Padilla? He has the same moniker as the heroic outlaw of English folklore who robbed from the rich to give to the poor. In his younger days, Padilla certainly did his best to live up to his name...and then some. On April 25, 1994, Padilla was convicted of illegal possession of firearms and was sentenced to 17 to 21 years in jail. Fortunately, he was pardoned and released in 1998.
2. He comes from a large family. According to the info on his website, Padilla is the seventh child in a brood of eight. (And that's just when you count his immediate family. He has half-siblings, too.) According to the Encyclopedia of Psychology, "Children in large families tend to adopt specific roles in order to attain a measure of uniqueness and thus gain parental attention." This may explain why Padilla "acted up" when he was younger. On the flip side, his position as the seventh offspring is also believed to be lucky. He certainly has been.
ADVERTISEMENT - CONTINUE READING BELOW
3. He loves to be in love. As his track record shows, Padilla was one heck of a ladies' man. He has that "maginoo pero medyo bastos" appeal that many women find irrisitible. They're drawn to him like moths to a flame. Padilla himself is all for grand gestures. Some showbiz reporters often jokingly ask, "Sino ba naman ang hindi inalok ng kasal ni Robin?" The man, it seems, is big on professing his undying devotion to his lady of the moment. Only time will tell if his latest flame, TV host Mariel Rodiriguez is The One. Or is Padilla one of those guys who just get excited by the thrill of the chase?
In the late 1990s, Robin Padilla's tiff with Richard Gomez got physical.
4. He's become spiritual. In 1996, while he was in jail, Padilla converted to Islam. People like Padilla who've crashed and burned usually turn to religion in order to rhabilitate their life. Perhaps, surrendering control to a higher power is the only thing that can keep them from self-destructing again. Padilla has since been very active in championing the rights of Muslims in the country.
5. He's a Marlon Brando fan. In a 2002 interview with showbiz columnist Ricly Lo, Padilla revealed that he loved Brando. He explained, "He's a natural actor. Lalaking-lalaki. He's very good in A Streetcar Named Desire, especially in the scenes where he's fighting with his wife (played by Vivien Leigh). In real life, when a couple quarrels, 'yon talaga ang hitsura at akto ng lalaki." Though his picking Brando is a pleasant surprise, it's unnerving how he thinks that men must adopt a macho stance even when arguing with their wives.
ADVERTISEMENT - CONTINUE READING BELOW
Recommended Videos
Roin Padilla shows that he can do comedy in 2002's Videoke King.
6. He's a Sagittarius. His birthdate is November 23, which makes him a Sagittarian. According to psychicguild.com, "Sagittarians possess a natural exuberance, sense of adventure and love of life that makes them one of the most optimistic signs of all." On the other hand, Sagittarians could also be "indiscreet, prone to excess, tactless, irresponsible, erratic, and immature."
7. He's a hair guy. In his interview with Ricky Lo in 2002, Padilla also revealed that the first thing that attracts him to a woman is her hair. "Malakas ang appeal sa akin ng buhok ng isang babae," he said. "It makes a woman look more feminine, babaeng-babae. Short hair turns me off." This may indicate that Padilla is looking for women who aren't out on the prowl. Clearly, he prefers making the first move.
Roin Padilla defends his condom ads. Videoke King.
8. He's not afraid to take a stand. In a country where many people still apply puritan principles when it comes to sex and reproductive health, Padilla has been brave enough to be a spokesperson for contraceptives. He even defended his condom ads in court. In a May 2010 interview with ABS-CBN, he explained, "Tayo ay democratic country. Kung ano yung desisyon ng mamayan, meron silang sariling pag-iisip. Kung gagamitin nila o hindi. (We are a democratic country. People can think for themselves. They have the right to decide whether they want to use condoms or not.)"
ADVERTISEMENT - CONTINUE READING BELOW
9. He's an Earth Rooster. Born in 1969, Padilla is an Earth Rooster. According to the Methaphysical Zone, "The Rooster man likes to be in the company of women, among whom he can show off, shine, swagger and generally demonstrate what a clever fellow he is." He is also expected to be a "fast thinker who is practical and knowledgeable." He could also be "impetuous and short-tempered."
Roin Padilla channels James Dean as he struts his stuff on the runway in 2009.
10. He's been compared to James Dean and Joseph "Erap" Estrada. In 1991, showbiz writer Norma Japitana wrote: "Robin reminds us of James Dean and Joseph Estrada; more of Joseph when it comes to women. The one thing going for Robin is that any write up about his private life and derring-do just adds to his image. The continuing saga of Robin Padilla unfolds before us in living colors." In a follow-up article, Japitana observed that Padilla has already taken a different path. "Being in jail straightened his life. He came out a better person. Now it is Robin Padilla season once again," she wrote. In this regard, Padilla may give Madonna a run for her money when it comes to reinvention.
Art by Warren Espejo, photo from PEP.
Share this story with your friends!
---
Help us make Spot.ph better!
Take the short survey
Load More Stories