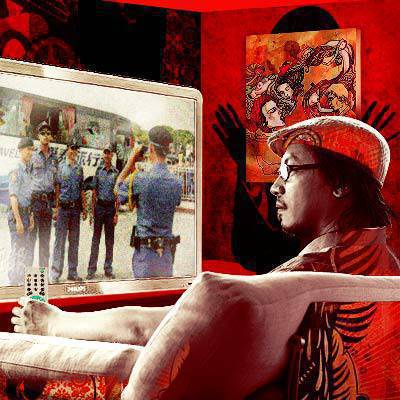 TV is full of stupid things. It also full of horrible stuff. But the genuinely stupid and certifiably horrible seldom happen in the same beat. Likewise, many instances of stupidity allow for tolerable parameters, like novelty songs and some showbiz talk shows where people answer questions by quoting passages from Roxette songs.
Corruption in government is horrible, but only stupid officials get caught. The notion of primetime news horror also covers our steady diet of motorcycle accidents and vehicular crash sites (with extreme closeups), police torture videos, mutilated bodies fished from esteros, incest involving minors, etc. But there is nothing worse than a confluence of stupidity and horror unfolding right before our very eyes. Like watching a big, dumb bear slowly--very slowly--traipsing into a metal trap. Only w0rse.
All these are horrifying. But what we see are merely end results. What we do not see is the process, and we'd rather have it that way, thank you. In the Asunscion torture case, we'd prefer to skip the part where the cops subdue the suspect to tie a string around his penis. Their brevity dilutes our revulsion. But take note that they remain horror stories condensed into bite-sized pieces--sanitized, trimmed of excess gore, with just the right sprinkling of pixels to conceal the nasty portions.
ADVERTISEMENT - CONTINUE READING BELOW
Which is not what happened on Monday at the Quirino Grandstand. We were witnesses to the entire carnage right from the very beginning to the blood-soaked end. Videos of dead bodies are something we see every day. But it is another matter to see those dead bodies as living, breathing, and even smiling and waving human beings just four hours before.
Even more horrifying is what we cannot see on the screen. Horrifying is the absolutely disturbing lack of movement behind the curtains. Horrifying is what seemed like an eternity anticipating the emergence of survivors; tense are those seconds when the camera held on to the dark, suddenly silent emergency door. Endless re-viewings of the incident--as well as fresh, unreleased footage--do nothing to desensitize us. Horrifying is the stark image of a hand cuffed to the bus door, and after the sound of gun shots, the trembling door, and that hand slips away and vanishes. Only the handcuffs remain visible. That was the first hostage killed--a thin, young man in a gray shirt. Even without the visuals, the audio recordings are even more disturbing: the hysterical voice of the hostage-taker, the gunshots, a loud, ugly thud, the frightened screams of passengers uncovered by with the hiss of radio static.
ADVERTISEMENT - CONTINUE READING BELOW
Recommended Videos
Horrifying are the images of the aftermath. The inside of the bus, littered with broken glass, shattered windows and their cobwebs of cracks. Twisted bits of metal. The untouched styro packs of Jollibee on the floor. A child's doll. That windshield. That door, which had once upon a time seemed so impregnable.
Stupid and horrifying is assuring yourself that nothing is going to happen--that this has happened before, and, after all, for the past few hostage-taking incidents in the Philippines, the endings have always been nothing like a Chuck Norris movie. With Bong Revilla issuing heroic press statements. Horrifying is hearing Erwin Tulfo tell you that it took a non-member of the Manila Police District--GMA 7's Raffy Tima--who told the SWAT officers that there was an emergency exit door on the side of the bus.
Horrifying is our helplessness in the face of inflamed opinions about our race: indolent and incompetent. Angry Hong Kong will rail that no wonder we're a nation of servants and not leaders. After August 23, 2010, we will forever be stereotyped as a country of fat, bumbling policemen who could barely fit into bullet-proof vests, who move with the grace of two-week-old lard, and who cannot even swing a hammer with dignity. And to think: how we howled when all Chip Tsao did was write pointed satire. While we let armed strangers climb onto our buses and kill Chinese tourists. Monday's incident will cement our seemingly collective ineptitude--a stupidity as patent as jeepneys driving at night sans headlights, or drunk-racing on scooters without helmets, or crashing ten-wheeler trucks into concrete barriers, or routinely sending buses down ravines.
ADVERTISEMENT - CONTINUE READING BELOW
Horrifyingly stupid is posing beside the Hong Thai bus for souvenir pictures then uploading it on your Facebook account--horrifying if only for the sheer insensitivity and thoughtlessness of the gesture. Especially if you happen to be a member of the Philippine National Police.
Stupid is relying on investigations for answers and closures. The definition of "investigation" in the Philippines means to "forget the fuck about it." From Ninoy Aquino's assassination to the Marcos loot to ZTE to the Fertilizer Fund Scam to the Maguindanao Massacre, no investigation in the Philippines has ever yielded encouraging results.
Both horrifying is government's deployment of euphemisms like "lapses," "defects," "glitches." Horrifyingly stupid is Malacañang's gall to declare the incident an isolated case, even if flags on both countries are flying half-mast. Horrifyingly stupid is insisting that the event should not be seen as reflective of the general peace-and-order situation. Which completely misses the point. What Monday's incident proved was that the people sworn and tasked to protect are tragically incapable of doing so--and that they might even be the same threats to our safety. Not to mention our genitals.
ADVERTISEMENT - CONTINUE READING BELOW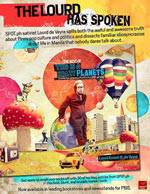 This is a Crazy Planets is available in newsstands, bookstores and supermarkets nationwide for only P195. For more information, click here.
Artwork by Warren Espejo.
Share this story with your friends!
---
Help us make Spot.ph better!
Take the short survey
Load More Stories