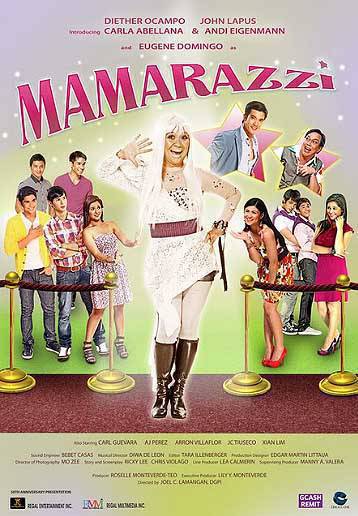 Have you ever noticed how they like to use wigs to show the Passage of Time in Philippine movies? From intergenerational melodramas (see the Mano Po franchise) to high grossing romantic comedies (see Sarah Geronimo in half the movies she's done), this unsung hero of the costume department, the lowly wig, sometimes portrays character almost better than some actors. And yet the wig continues to puzzle (and annoy) me, mostly because they generally look ridiculous and not at all helpful in depicting the Passage of Time.
And then yesterday I went to see Mamarazzi, the new Eugene Domingo comedy from Regal Films. Directed by Joel Lamangan and written by Ricky Lee, the movie is about Violy Langit, a mother of three and owner of a funeral parlor. She spends her days applying makeup on dead people, while her three impossibly mestizo-looking children (Andi Eigenmann playing twins Peachy and Strawberry, and AJ Perez as the son Dingdong), pester her for things like money and the true identity of their father. One day, Carlo (Diether Ocampo, who is now ten times hotter than he ever was) arrives at the funeral parlor to bury his wife and win Violy's heart. As it turns out, the gorgeous Carlo is the mystery sperm donor for Violy's triplets and the former boy toy of  Violy's best friend, the biggest clutch-bag carrying gay named Mandy (John Lapus, who is wonderful in his macho gayness). The somewhat thin plot basically revolves around Violy's super eager and overprotective motherliness--taking pictures of her figure skating daughter, giving her son's crush freshly cooked dinuguan, and generally acting like an overbearing Pinoy mom--hence the title. (The Urban Dictionary definition of mamarazzi: "Mothers who constantly follow their children around with several cameras and video taking equipment, snapping photos at each turn and documenting each milestone or event with at least two dozen photos and a video.")

There's a bag of silly comedy devices and they pull out the most commonly used ones: kenkoy musical cues to accentuate a punch line, a bit of old-fashioned slapstick, and some gay people/dead people/old people jokes. In fairness, there are also clever puns (a beauty pageant contestant in full drag calls herself Greta Garbage) and light satire (super cute Carla Abellana plays a young actress constantly practicing lines for her teleserye audition). Predictably, there's a lot told in flashback--for instance, how Violy got knocked up--and yes, they use wigs. Thankfully in Mararazzi it's pretty funny because they use it with equal parts irony and ridiculousness. In the flashback, Eugene sports a super long, liwayway beauty style wig that she uses as a scarf, or a murder weapon, or a seduction tool. There's a hilarious scene with Eugene in lingerie, trying to get Diether Ocampo to father her child. (Diether is deadpan as the cliché bodice ripper heartthrob, with the sculpted abs to match. And you know what, it works. It's his best work ever.)

Back to the wigs. As any crazy matron does, Eugene wears her hair in a big bouffant, in the style of Korean soap opera royalty which is a complicated up-do embellished with flowers, beads, and chopsticks or whatever the hell they use in their hair. I appreciate the over-the-top hair styling (that's my inner beauty editor speaking) and I like the matrona hair reference which reminds me of another wacky momma, Imelda Marcos. Of course, Ricky Lee's script plus Eugene Domingo's acting makes for good comedy, as smart dialogue and authentic talent can do.

All in all, Mamarazzi is a broad comedy for the mainstream audience so the sporadically funny sketches are lumped together with a full on, kind of stupid sing-and-dance-and-skate production number, complete with a blonde wig and a Lady Gaga-esque figure skating outfit. While it is far from being thought-provoking, the movie also tackles issues like homosexuality, self confidence, and acceptance. Don't watch it expecting highbrow entertainment, but in these days of bad news it's a nice respite. Sometimes, that's all we need.
ADVERTISEMENT - CONTINUE READING BELOW


Check to see where the movie is showing.

Main photograph from Regal Films.
Share this story with your friends!
---
Help us make Spot.ph better!
Take the short survey
Load More Stories