I'm unabashedly Pinay when it comes to entertainment--just bring out your Magic Sing microphone and I'll happily mimic Kuh Ledesma, Dionne Warwick, or The Spice Girls for hours. What makes it worse is the fact that I'm Cebuana. We Cebuanos love to sing and are known microphone-hoggers. Back home we serve lechon as main course, then videoke for dessert.
Music is considered an official Pinoy passion and videoke is one of its most practical, affordable, and democratic forms. "Conquered by videoke," an article by Prime Sarmiento of the Philippine Center for Investigative Journalism, discusses its history: "The videoke's precursor, the karaoke, combines the Japanese words for 'empty' (kara) and 'orchestra' (okesutera)." It evolved into the term, "videoke" later on because of the introduction of video into the system.
Talent or no talent, anyone can do videoke. You can sing your heart out as lyrics are displayed on a video screen, with a moving dot or words changing colors to guide your performance. The videoke program then rates your performance. You don't have to have a great voice to get a big score. Just ask any videoke addict. A step up from videoke is the "open mike" or "open mic" setup, where patrons of an establishment are given the chance to sing a song or two (or more) with the resident guitar or piano player providing the music. Here are my top picks for the best places to sing your heart out in: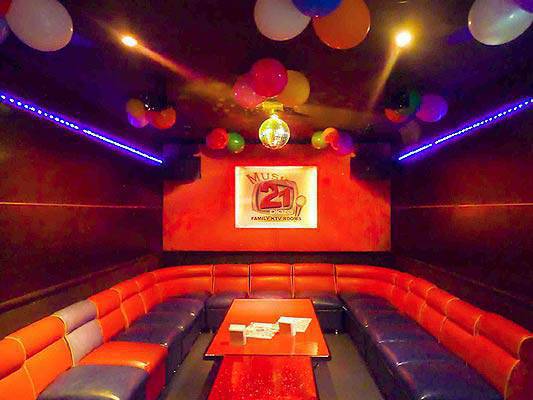 ADVERTISEMENT - CONTINUE READING BELOW
10. Music 21 Plaza Family KTV and Restaurant
Jupiter Street, Makati City with various branches
Tel. no. 896-4261, 890-5230
Open from 3 p.m. to 5 a.m. daily
This videoke spot, which has entertained fanatics since 1995, is easy on the pocket. Those who come in for their singing fix during the "Happy Hour" (3 p.m. to 7 p.m.) pay only P42 per head for every hour. From 7 p.m. onwards, it's P84 per head/hour. That's non-consumable. Music 21--which takes pride in being "The Most Popular Family KTV in Town"--boasts of a great song selection of over 35,000 titles.
Never mind the crazy interiors--this is a place for mindless KTV fun. It is a favorite venue for birthdays, anniversaries, and even wedding receptions. In fact, the Jupiter Street branch offers a killer all-in package for P3,300 pesos for a group of 10, which includes food, drinks, as well as two and a half hours of videoke bliss. Why, you can even get a free cake or T-shirt and use the Balloons-and-Streamer Room.
I can say they've really stepped up in recent years. They now offer Recording and Scoring Services, and even a Free Shuttle Service from designated pick-up points within Makati, Pasay, and Malate areas. Just log on to the Music 21 website for more details.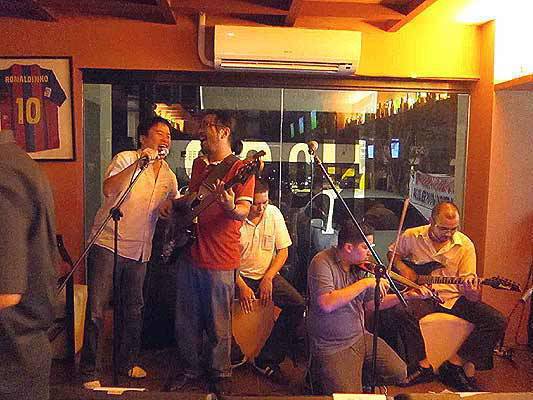 ADVERTISEMENT - CONTINUE READING BELOW
Recommended Videos
9. No. 38 Sports Lounge and Grill
114-A Jupiter Street, Makati City
Tel. no. 519-1806
Open from 5 p.m. to 11 p.m., Monday to Saturday (The Thursday night music fest starts at 9 p.m.)
Barely a month old, this newbie watering hole is rarin' to be a popular nightspot with the yuppie crowd. No. 38 was the number of the young, hip owners' former residence where they would hang out and have "riotous parties." It's an apt name for the establishment since it brings to mind your fave neighborhood haunt where everyone is relaxed, casual and naturally rowdy.
Set up as a venue for watching sports tournaments on TV, pigging out, and getting wasted, the spot amps up the vibe every Thursday evening. On Thursday nights, called Steady Thursdays, classic/alternative rock band One Walks Away goes acoustic, complete with a violin player and percussions. They welcome jammers for a little bit of open mic during their final set.
Here's your opportunity to channel your inner Dave Matthews, Jeff Buckley, or Eddie Vedder of Pearl Jam. You'll witness some very testosterone-charged performances here, and the ladies rock out just as loudly.
Happy hour is at 5 p.m. to 8 p.m. with friendly prices of P45 for local beers and P90 2-for-1 on selected cocktails. Try their massive mug of beer (a liter, actually) for P180. And even if you don't drink, their bar chow alone will keep you coming back: Try their Awesome Nachos (P350) with three cheeses, aioli, chili con carne, pesto and jalapeno. Munch on Disco Fries (P245), deep-fried potato wedges covered in gravy and melted cheese. Enjoy Buffalo-Style Chicken Wings (Php320 to P340) with three levels of hotness--Classic, Insane, and Please! Stop the Pain!
ADVERTISEMENT - CONTINUE READING BELOW
Tip: This new joint gets an MC Rating: Maraming Cute. And they only hold table reservations for Steady Thursday until 8 p.m. The place gets packed, though most likely, mingling singles won't complain.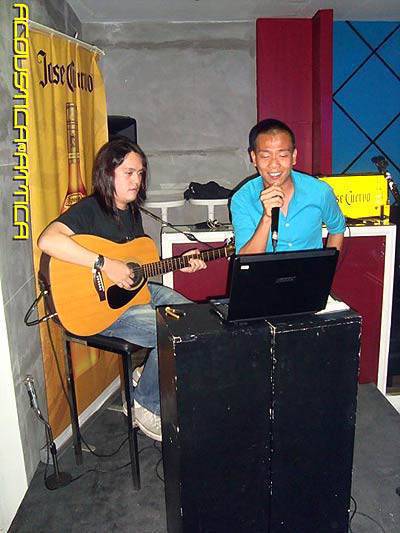 8. Attica Bar and Lounge
G/F, A.Venue, Antel Lifestyle City, 7829 Makati Avenue, Makati City
Tel. no. 729-5121
Acoustica@Attica is held every Wednesday from 9:30 p.m. to 2:30 a.m.
The yuppie hangout at A.Venue morphs into open mic heaven with acoustic guitar player RJ Torres. The song selection is limited, but the crowd is good-lookin' and the food is delectable. Renowned Chef Rolando Laudico came up with the European-fusion menu.
The Bad Shepherd's Pie (P320) is a favorite. You should also try their array of Grilled Skewers (P160 to P210) and Tapas, Attica-Style (P195 to P270). Their Signature Pizzas--Quattro Queso (P250) and Salmon Gravlax (P260)--go very well with the imported beers that they offer (Hoegaarden, Stella Artois, and more).
ADVERTISEMENT - CONTINUE READING BELOW
Attica's plush interiors and beverage list attracts an upscale clientele, but Acoustica Wednesdays reels in more casual, relaxed guests versus the rest of the week.
Acoustica warning: If you sing more than once, you may get drunk. Every brave soul who goes onstage to sing gets a free shot of Jose Cuervo Tequila. If you want to get an early warm-up, Php 299++ gets you unlimited draft beer from 6 p.m. to 11 p.m. You may get too sloshed to go up to the mic after that.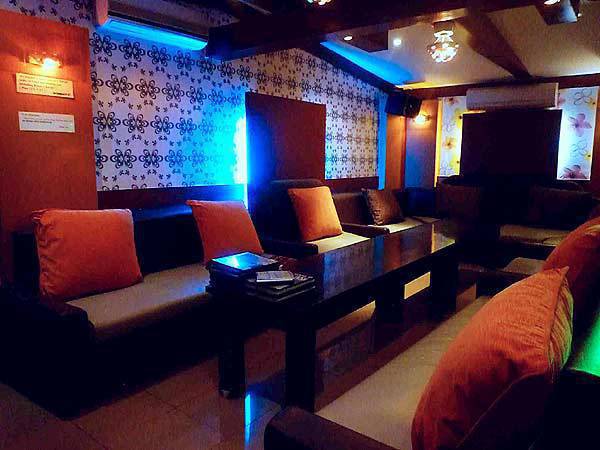 7. Music Platinum Family KTV & Restaurant
#47 Polaris St., Bel-Air Village, Makati
Tel. no. 890-3060
Open from 3 p.m. to 4 a.m. daily
Platinum is a videoke lover's shangri-la tucked quietly in Bel-Air (near Handlebar). Their 17 rooms are cozy and decently decorated, each with a 42-inch plasma TV screen and a killer sound system. You can sing like a madman with their cordless microphones and their 68,000-song library, which is constantly updated. Though it's a no-smoking establishment, they still installed an air-cleaning machine in every room. So, no stale, musty scent that, sadly, some KTV places in town still have.
ADVERTISEMENT - CONTINUE READING BELOW
Considered pricey versus its Jupiter Street competitors, Platinum offers great value nonetheless with its comfortable atmosphere and efficient service. Their smallest room can seat up to 6 people (P400/hour), and the bigger rooms range from P700 to P900/hour, accommodating 25 people max. They do require a minimum of P500 order of food and drinks, not including the room charge.
Their menu offers standard KTV munchies. Their Pork Sisig (P290), Calamares (P280), and Chicharon Bulaklak (P280) are bestsellers. Beer is at P80 per bottle (when you buy five, you get one free plus free Kropeck, and when you buy 10, you get two free plus a free bowl of mixed nuts). Another interesting promo to avail of is their P3,000 package on Sundays to Thursdays: You get 35 drinks (beers/juices/softdrinks) and a three-hour singing extravaganza on selected rooms. Happy hour is from 4 p.m. to 6 p.m., Sundays to Thursdays, with 30 percent discount on room rates.
Tip: Get a Platinum staffer to guide you on how to use their relatively massive remote control (I couldn't figure it out right away). And if you're from the Pasig/Ortigas area, check out their Metrowalk branch, which closes an hour later than their Makati counterpart. They don't have a website yet, so call them for inquiries and reservations.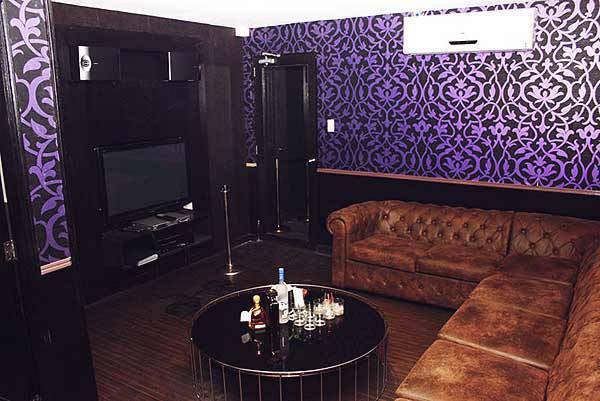 ADVERTISEMENT - CONTINUE READING BELOW
6. The Suites at Republiq Karaoke
Republiq Club, Second Level, Newport Mall, Resorts World Manila, Pasay City
Tel . nos. 856-0128, 856-0914 , and 0917-5508888
Open 9:30 p.m. to 5:30 a.m. on Wednesdays, Fridays and Saturdays only
If you haven't already heard, Republiq at Resorts World rules the Manila club scene right now. Open only three nights a week, you'll see endless queues leading into the club, and if you're lucky you can score a table by booking three weeks in advance. Brought to you by the same people behind Embassy and Encore Superclub, Republiq creates a party atmosphere at par with that of Las Vegas and Macau.
The Suites at Republiq, which will be officially launched by October, fuses clubbing and karaoke to up your nightlife ante, as they do it in trendy Paris nightspots like Le Renard. SPOT.ph was granted a special preview of the private rooms, and though still in the finishing stage, we can tell that these rooms will be booked all the way 'til year-end. (We hear they'll be putting Frank Sinatra touches and creating the grand Rock Star Room).
This one's a "if-money-were-no-object" option, a Suite will set you back P15,000 for eight guests, and P20,000 for 12 guests. But this amount is fully consumable on food and drinks, and you can dance your VIP pants off at the main club.
Tip: Have your dinner at Café Republiq (try their Angus Beef Burgers and Chuck-Eye Steaks) before you head to The Suites, because you'll be too busy dancing, singing, or playing Nintendo Wii or PS3, because they offer these toys as well. Expect the legendary "door bitch" Aslie to meet you at the gate if you're looking less than spiffy: Collarless shirts are not allowed in the club, and management reserves the right to refuse entry. Manny Pacquiao, Tim Yap, the Gutierrez siblings, Daniel Matsunaga, and the Brazilian contingent have been spotted here.
ADVERTISEMENT - CONTINUE READING BELOW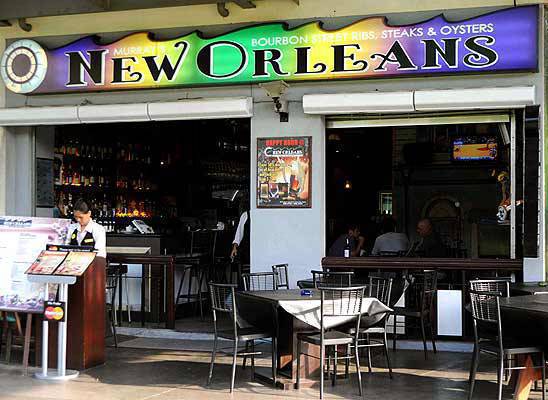 5. Murray's New Orleans Bourbon Street Steaks and Oysters
1F14 Bonifacio High Street
Tel. no. 856-4326
Open from 11 a.m. to 12 midnight, Sunday to Thursday and 11 a.m. to 1 a.m. Friday to Saturday (The music fest is held every Monday night.)
Walk past New Orleans restaurant on Bonifacio High Street on Monday night and you'll hear live piano music. The place was packed with a fun, laid-back crowd, and guests were singing! Apparently, they've got Happy Mondays open mic nights where you can unleash your inner singing star. Just tap Mr. Piano Man on the shoulder and ask if you can have your moment at the mic.
The song selection is limited, but it will work for you if you're into jazzy and standard tunes. You'll be reading from a clear book catalog of lyrics. But if you're a seasoned singer, you've probably memorized the words of your favorite song anyway.
ADVERTISEMENT - CONTINUE READING BELOW
If you prefer the privacy of a KTV when you sing, you can always just play the role of a glutton. New Orleans is the brainchild of the same folks behind The Red Crab, Clawdaddy, Crustasia, and Heaven & Eggs. They offer a selection of Certified Angus Beef Steaks (P1,790 to P1,950 per order), as well as interesting Bourbon Street Oysters variants (P298 to P345 per order). You've also got to chow down on their Seafood Gumbo (P239) and Beer Battered Fish & Chips (P285).
An ordering tip: Anything on the menu that says "blackened" is good. This cooking technique using a cast iron skillet, butter, herbs and spices is what has made Louisiana food famous the world over. Take a virtual food trip to The Big Easy by ordering the New Orleans Blackened Chicken Salad (P355) and Blackened Baby Back Ribs (P698 for a full slab).
Spotted during Happy Mondays: Gilbert "Gibo" Teodoro, Marvin Agustin, Dingdong Avanzado, Angelu de Leon, and Yayo Aguila.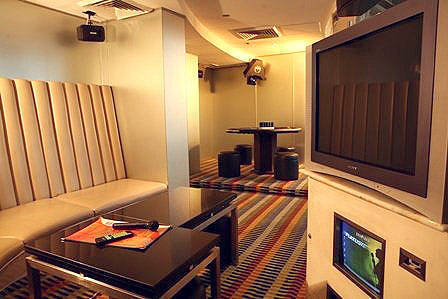 ADVERTISEMENT - CONTINUE READING BELOW
4. Red Box Karaoke
3/F Greenbelt 3, Ayala Center, Makati
Tel. no. 757-6188
Open from 12 noon to 12 midnight, Monday to Sunday; 12 noon to 3 a.m. Tuesday to Wednesday, and Thursday; and 12 noon to 4 a.m., Friday to Saturday
Red Box is synonymous to a quality karaoke experience in Malaysia and Hong Kong, and some KTV die-hards decided to take the franchise to Manila. I've seen Red Box host birthday shindigs, corporate events, despedidas and even bachelorette parties. Their unique karaoke rooms have hip, bright (yet never garish) interiors and premium equipment. I love how some of the rooms offer the billiards and poker table options, even Nintendo Wii (for an additional P99 per head on top of the room rate) so that the non-singers can also have a great time.
They offer what they call their "Super Daily Promotions," wherein the value that you get depends on the time of day you visit. During lunch hour, they have an eat-all-you-can buffet for P299 per head plus free room use. Happy hour is from 3 p.m. to 7 p.m. and, for Php 299 per head, you get two free drinks and free room use. Prime time is from 7p.m. to 12 midnight, and prices go up to P499 per head. After hours (12 midnight to 3 a.m.), it's back to the P299 per head rate.
What's great about Red Box is that it ties up with recording companies such that their song and video library is constantly updated with the latest hits. This is a pop music fiend's KTV venue of choice, pricier than some of its local counterparts, but worth what you pay for.
ADVERTISEMENT - CONTINUE READING BELOW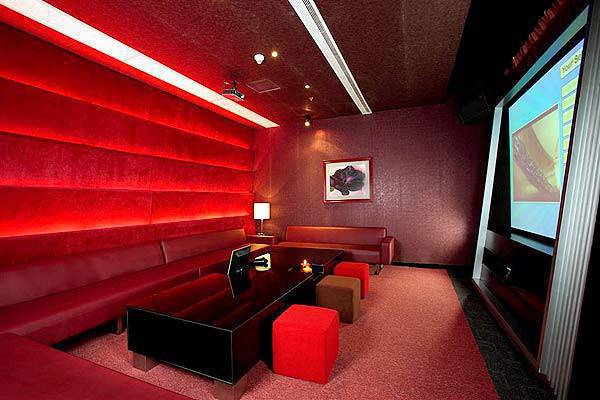 3. The Music Bar at The Hyatt Hotel and Casino Manila
6/F Hyatt Hotel and Casino, 1588 Pedro Gil cor. M.H. Del Pilar, Malate, Manila
Tel. no. 245-1234
Open from 7 p.m. to 3 a.m. daily
If only money were no object, this would be my karaoke venue of choice. The music bar boasts of seven exclusive rooms (cleverly dubbed "Music Pods") with chic interiors ranging from retro to futurist by Hong Kong-based Bilkey Llinas Design, as well as plush seating and art pieces by Art Internationale Asia. You'll never have to strain your eyes reading those lyrics. They've got 100-inch electrical projector screens to guide you. And talk about making you sound good: Their karaoke mixer-amplifier gives you the right amount of reverb to raise your vocal quality by notches. Show off your dance moves while you sing, because they use cordless microphones.
Whether you're a group of eight or 30, you'll find a Music Pod that suits you best. For a P600 hourly rate per person, fully consumable on food and beverages, you'll find yourself having an incomparable KTV experience. Inquire about their exclusive packages for that special occasion if you aim to impress a discriminating videoke connoisseur.
ADVERTISEMENT - CONTINUE READING BELOW
If you're more of an eater than a singer, you'll be on Cloud Nine with Hyatt's excellent menu. Their juicy Wagyu Burger and Angus Sliders are at par with the hits that you'll be rendering, they've got sushi and dimsum, Tiger Prawns, hot and spicy Buffalo Wings, Chicken Strips, Pork Barbecue, and Fried Calamari. They will spoil you rotten over here. You can even order from their renowned Pastry Boutique; a recent favorite is their Desire Cake, a mysterious, magnificent surprise of a cake (a must-try), and their Sweet Burger, which uncannily looks like a cheeseburger (complete with a real bread bun), but take a bite and you'll find a chocolate-covered vanilla ice cream patty, with a slice of dried orange in lieu of a tomato, with "cheese and veggies" made out of sugar paste.
Don't forget that Hyatt is a world-class establishment. Here you have access to a plum drink list. Their bar makes a mean amaretto sour (my drink of choice), strawberry frozen margaritas, classic mojitos, and whatever your liquor-loving heart desires.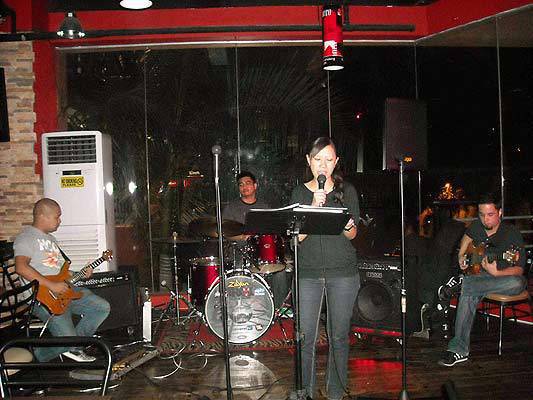 ADVERTISEMENT - CONTINUE READING BELOW
2. 121 Grille and Bar Allegro
2284 Pasong Tamo Extension, 2nd Floor, Allegro Center, Makati City - Across Dasmarinas Village Lumbang Gate
Tel. nos. 856-0529 or 386-9224
Drinkeoke Thursdays happens every Thursday from 9:30 p.m. to 1 a.m.
If you consider yourself a Rockeoke orphan (a former regular at Mag:Net High Street's Rockeoke), you can now seek refuge in Pasong Tamo Extension on those cold and lonely Thursday Nights. The energy is electric when you can channel your inner rock star with a powerful band like Nino Alejandro and The Force (NATF) to back you up. NATF may be a glam rock band, but they've added karaoke favorites from U2, Madonna, and even Katy Perry to their song list just for you.
When it comes to food, they've got the old favorites from their flagship branch on Leviste Street Salcedo Village. There's Beef Salpicao (P199, solo and P756, barkada size) and Pork or Bangus Sisig (P149, solo and P566, barkada size). They've also got Beer Below Zero (San Miguel Beer Pale Pilsen or Light at P54), as well as Jagermeister shots (P50 per shot) to put you into that drunken stupor that takes your stage performance to another level.
Drinkeoke tip: If your eyesight is less than perfect, bring those specs as you'll be reading the lyrics from a song catalog. You can also check out 121's Facebook page and study the Drinkeoke song list in case you want to practice at home for your big number.
ADVERTISEMENT - CONTINUE READING BELOW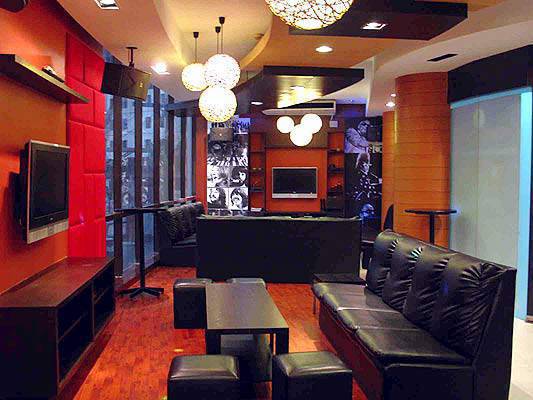 1. CenterStage Family KTV & Resto Bar
2/F CTTM Square, Timog Avenue corner Tomas Morato Avenue, Quezon City with various branches
Tel. nos. 926-6440, 926-8365, 920-7754, or 239-0071
Open from 3 p.m. to 4 a.m., Monday to Wednesday; 3 p.m. to 5 a.m., Thursday to Saturday; and 3 p.m. to 2 a.m., Sunday
My first giddy, satisfying CenterStage experience was during the opening of their Jupiter Street branch in Makati (formerly IO KTV) upon invitation of singer/actress/KTV entrepreneur Karylle Tatlonghari. I later found out that it was actually the second branch of the CenterStage chain. The flagship spot is the one on Timog Avenue corner Tomas Morato Avenue in Quezon City.
Their Timog branch offers a slew of delights for every KTV enthusiast. Aside from their 19 exclusive, individually-themed party rooms, they have an al fresco veranda area with full band facilities, best enjoyed on Fridays when they have their version of Rockeoke (where everyone can sing their favorite tunes to a live band) from 9 p.m. onwards. CenterStage takes pride in being "more than just a KTV place." You can opt to watch movies from their library as well, play billiards, darts, video and board games, poker, and even mahjong. There's even free Wi-Fi if you prefer to surf the Net while your companions sing their hearts out.
ADVERTISEMENT - CONTINUE READING BELOW
CenterStage has also become a popular venue for meetings and special events. Book their Sala room and you'll see why. For P1,450 an hour and a minimum consumable amount of P15,000, you can host up to 50 people in a spacious, well-appointed room with its own bar and buffet setup. Order their Ultimate CenterStage Nachos (P320), Baked Oysters Rockefeller (P250), Singapore Hainanese Chicken Rice (P395), or their Salpicao with Roasted Garlic (P350). They have their staple selection of burgers and pizzas, as well as a Mey Lin Pot & Noodle House menu if you're in the mood for noodles and dimsum.
And for those who require alcohol with their singing, CenterStage offers Beer Below Zero (buy five, get one free or buy eight, get three free) plus a wide assortment of classic cocktails and liquors to choose from. So whether you end up singing something from their 75,000-strong repertoire or not, this colorful, versatile venue promises all kinds of happy for their customers. Check out the CenterStage website for their generous promos (Sing All You Want at P249 per head, Sunday Family Day, Boys Night Out, Ladies Night, and Barkada Nights). And for P199, you can get an audio souvenir of your crazy belt-out night. You can record up to 10 songs on CD!
Photographs by Kate Torralba and courtesy of 121.

Share this story with your friends!
---
Help us make Spot.ph better!
Take the short survey
Load More Stories