Blame it on the Rain
Our SPOT.ph blogger says take your pick on who to blame for August 23's bloodbath: the gas masks,the hammer, the bus, the driver, the media, GMA, Marcos, the Americans, the rain.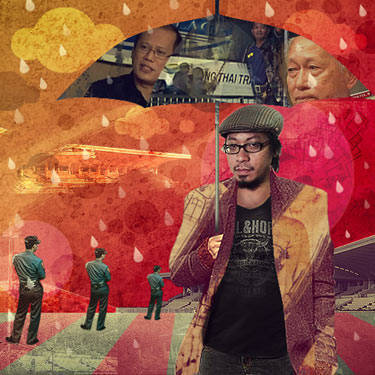 If the outcome is bad, blame other people. If there's cash or a medal involved, take credit for everything. Blaming, it seems, has become a national pastime. The phrase "blame game" is just exactly what it is--because it's a never-ending chain of causes and effects, and no matter how flimsy the reasoning is, there's always a culprit. Like in an action movie, everybody's a hero, a good guy, and if something goes wrong--the inability to buy pancit for his family, a sick child, a wife raped, a house razed to the ground--it's the villain's fault.

Blaming others is a subconscious way of self-preservation. Your kid's getting low grades in school? Blame Ben 10 and PSP. Your teenage daughter's been acting weird lately? Maybe it's those vampire novels she's been reading. A boat carrying more than 700 people sinks due to inclement weather? Sue PAGASA's ass. People shooting each other in the streets? Buses falling into ravines? Cars and motorcycles crashing into concrete barriers on Edsa and Commonwealth? They will blame alcohol and drugs. Wait a minute, drugs? Oohhh, now there's a truly frightening culprit. Let's blame everything on the proliferation of illegal substances, as if plain and simple stupidity isn't a legitimate excuse in itself. Drugs, especially, are the favourite scapegoat of society. After all, drugs have no lobbying group, except maybe this group of perennially stoned mountaineers I know (But marijuana is not a drug, they will protest) or maybe Dinagat Rep. Ruben "I'll-Stab-You-With-A-Toothbrush" Ecleo Jr. And from the way things are run in these islands, it looks like everyone in government is so fucking stoned.

Last Friday, however, saw a surprising precipitation of admission of culpability. At the hearings of the Incident Investigation and Review Committee, DILG Usec. Rico Puno, after being subjected to a volley of questions, said he might be partly to blame. Not too long after, President Aquino told reporters, "I am responsible for everything that has transpired"--more than a week after the eye-watering stupidity of August 23.
ADVERTISEMENT - CONTINUE READING BELOW
And the eye-watering stupidity does not even end with headlines like "Hunger prompted Lim to leave bus-hostage scene" or "Bus hostage-taking deemed 'local crisis.'" Just the idea of wrongly identifying the bodies of three victims is the Mt. Everest of the blackest comedy. So who's to blame? The morticians? The PNP SOCO personnel? People are also pinning blame on Ombudsman Merceditas Guttierez, whose letter should have been in the affirmative instead of containing the words "review" and "case"--ugly words in the slow, tedious swamp land of Philippine bureaucracy.But it was also reported that there was an actual reinstatement order that never left the tactical operations center (Undelivered because the shooting had already started). Who's to blame? Puno and Santiago who failed to think of it earlier? Or LBC, DHL, and 2Go, which do not offer instant hostile-territory delivery?
CONTINUE READING BELOW
Recommended Videos
Hong Kong never, ever blamed the Philippine media. Reports of ill treatment of Pinoy OFWs on the part of HK residents are grossly exaggerated (Our OFWs could say that if the Philippine government only did its job, they wouldn't have to be there to begin with, having to pay overpriced Jollibee on Chater Road). Hong Kong is pointing to the cops and the negotiating team. The negotiators say that pesky radio reporters and television crews are at fault. The police, in turn, decry the lack of equipment--although by the looks of their waistlines that seem to stretch the molecular capacities of bulletproof vests, it looks like Jollibee and extra rice are to be blamed. But police authorities defend themselves by pointing to insufficient funding. The present government will say, "Oy, we've been here for less than a hundred days. What the hell do we know?" and Sonny Coloma will groan, "We just inherited these cops from the Gloria administration." GMA's fault, aside from one million crimes against the Filipino people, is to have stayed for nine years and nine years is an obscenely long time--enough to build a bottomless rootstock of ills and rots. P-Noy is like a new tenant pointing to an apartment's termite and roach problems, the decaying beams and trusses, the grime-covered tiles, and the B-horror-movie plumbing.
ADVERTISEMENT - CONTINUE READING BELOW


But if we go by this argument, you might as well rant and go all the way back--and end up with Marcos and Martial Law and the destruction of our institutions--from the barangay to the military. Blame Marcos, yes, for he left us deeply traumatized. It was Marcos who ordered the removal of Voltes V from the airwaves. And while we're at it, you can also argue that Marcos could not have lasted in power that long without the support of the Americans. So blame the US, which is what the aktibistas do all the time; their placards even have a template: "IBAGSAK, REHIMENG US-_____." The blank is reserved for the name of the incumbent president.
But why end with American colonialism? The Yanks have been here for only, what, 50 years? That's nothing compared to three centuries under Spain. We should have been a proud nation of warriors with frightening piercings and alibata tattoos, with our own political systems, our own aesthetics, our own culture blossomed according to our own pace and dictates, with no alien imposition to stunt our growth. Maybe there is a link between oppression by the friars and the indolence and incompetence of the MPD SWAT.
Oh, but blaming is so goddamn therapeutic. Somebody stop me. In the postmodern universe, nothing exists in a solipsistic plane; everything is connected in time, space, and history. Nothing is innocent, nothing without cause. If I were the MPD SWAT, I'd blame not only the lack of gas masks, axes, and ladders (available at the nearest Home Depot Macapagal Ave. branch), but also the bus manufacturer. Who designs buses like that? So big, so difficult to break into, so not idiot-proof. Doors--so hard to open, even with a rope and a pickup truck (Should have contained sign that it swings inward). Windows--so hard to smash (SWAM = Special Weapons and Maso)! Or maybe it's the hammers that are problematic--not hard enough, perhaps, with, oh, imperfect grip, too. The exit doors? So hard to find. It should have a sign that says "SWAT, OPEN HERE IN CASE OF HOSTAGE-TAKING." Blame it on the rain, as Manila Police District head Magtibay did for not receiving the SMS from PNP head Jesus Verzosa. Blame the brother Gregorio and his histrionics. Blame the driver, because we don't usually pick up armed strangers. Blame the woman-friend who drove Mendoza from Batangas to Intramuros. Blame the parents of Mendoza, for giving birth to a homicidal motherfucker and an unctuous, overacting diva who cannot part with his pistol and wears ugly shorts.

Conversely, guilt can be a destructive emotion. While our patriotic anthems and pledges are always affirmations of strength and pride, our churches never fail to remind us--with medieval regularity--of our fallibility, our inherently flawed nature. New Agers point out the wrongness of having a bloody carcass as the centrepiece of a house of worship, of constantly intoning "pray for us sinners." When all else fails, when we've run out of culprits, we can always blame God. But I'm not taking my chances.


ADVERTISEMENT - CONTINUE READING BELOW
Standing up and taking responsibility entails tremendous amounts of cojones. Notice how other Asian cultures have mastered the art, nay, ritual, of the apology--the grim and solemn setting, the look of genuine remorse, head bowed in shame, the prepared statement (such a ritual has no room for clumsy improvisation), and followed by resignation and perhaps, the optional suicide. The reason doesn't even have to be unnecessary loss of lives; government officials and corporate executives will do it even at the slightest hint of blemish to their pride: mere allegations of wrongdoing and incompetence. But we Filipinos can't really seem to get it right. When our officials apologize, it always smacks of insincerity ("Prove it in court!" is a phrase more frequently heard than "My deepest apologies"). Or as they say in Filipino, "Labas sa ilong."

Could it be that every presidency that begins with the spirit of "My bad" is doomed to fail? Gloria Arroyo's second term was haunted with three words: "I am sorry." Labas sa ilong, both literally and figuratively.

Freddie Aguilar seems to be the great troubadour of the two Aquino administrations. In Cory's time, it was his version of "Bayan Ko." In Noynoy's time, it was "Estudyante Blues," which opens with "Ako ang nakikita, ako ang nasisisi/ Ako ang laging may kasalanan..." which the new President sang during his inauguration celebration party. By the principles of geomancy and negative affirmation, that's just terrible, terrible feng shui.
At 3:58, P-Noy sings "Ako ang nakikita, ako ang nasisisi/ Ako ang laging may kasalanan..."
ADVERTISEMENT - CONTINUE READING BELOW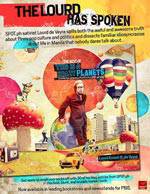 This is a Crazy Planets is available in newsstands, bookstores and supermarkets nationwide for only P195. For more information, click here.
Artwork by Warren Espejo.
Share this story with your friends!
---
Help us make Spot.ph better!
Take the short survey
Load More Stories