FOOD REVIEW: Jasmine at the New World Hotel
Our SPOT.ph blogger declares that eating here is like dining in a good Hong Kong joint.
JASMINE
2/F New World Hotel
Esperanza St. cor. Makati Ave.
Makati City, Metro Manila
(02) 811-6888 loc. 3338

I remember my high school days fondly--our canteen would serve full meals to throngs of hungry, greasy looking and hungry teenagers, myself included,every 12:15 p.m. on the dot. Most of the time, the canteen would be busy, but not overly so.There were days, however, when the lines would snake out the door and around the side of the hall.This indicated that the canteen peeps were serving one of two of their "best seller" meals: Meal #1 was pork barbecue, miswa soup and a mountain of rice so high a dwarf could live inside it. Meal #2 was siomai.
Siomai, and other food of its ilk, is such big business. Carts selling these morsels are making a killing--ordering highly processed versions of the dumpling for a few pesos for a whole bag, and unleashing them into society. A few splashes of soy sauce laced with calamansi, maybe a touch or two of chili sauce, plus rice--any rice--and you're money.
On the other end of the spectrum, there is a more refined dumpling, closer to its true Chinese roots, and usually served at lunch as part of a yum cha meal. A yum cha ("drink tea") meal is the whole experience of drinking tea and eating dimsum --at least that's what Wikipedia says (oh, these students have it so easy these days)--it's all semantics to me, really. At the end of the day, dim sum is just one thing--good eats--and one that almost anyone goes crazy over.
ADVERTISEMENT - CONTINUE READING BELOW
The best I have had in recent memory I found at Jasmine, over at the New World Hotel. A big statement, I know, and one that is open to heated debate I'm sure, as everyone has his or her favorite--but hey, it's my blog, right? Right?! (Yes, Spot.ph boss, it's your blog too, but "cut me some slacks," please...)
But seriously, this place rocks. Why it's usually as quiet as it is every time I go there is beyond me. Yes, it's pricey, but so is Shang Palace--even more so--and that place is packed like sardines. Well, it's probably just as well Jasmine remain a bit under the radar--it just means that it'll be easier for you and me to get a table.The fun times begin with the first trickle of soy sauce, which they pour themselves. Yes, the purist dim sum joints (like the ones, say, in Hong Kong) don't even give you soy sauce, so I suppose it's a concession to our peculiar habit of pouring a small lake of toyo and squeezing a bag of calamansi into it. Why the pouring service? Dip your chopstick into it and taste it. Imported from China, it's mild, smooth, and so good I could probably drink it in a shot glass.
CONTINUE READING BELOW
Recommended Videos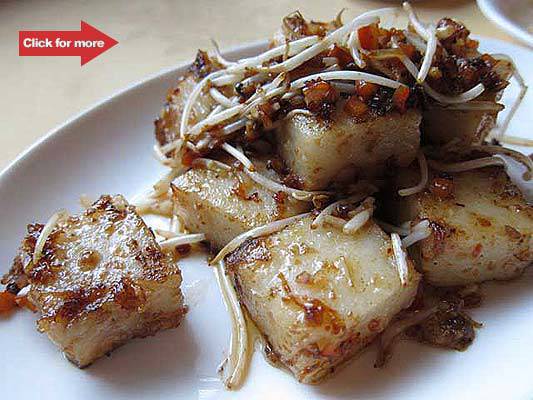 Wok Fried Raddish Cake with XO Sauce (P225). Click for more photos.
ADVERTISEMENT - CONTINUE READING BELOW
Next, notice the duo of chili sauces that the waiter plunks down in front of you--one green, and one red--both offer mild to moderate heat, but are distinct in flavor, and made in house. I like them both, but slightly favor the green one.You can eat them with practically anything. Boiled nuts come too--and they're maddeningly addictive--probably boiled in a water/soy mixture. Even their tea is awesome, and I'm not much of a tea drinker.
All that and I haven't even gotten to the food yet.
My eyes zeroed in on a barbecue pork pastry (P200). Moist bits of pork (what we call "asado," albeit not as sweet nor bathed in that bright red sauce we're used to) wrapped in delicate puff pastry, they are light and airy and are great washed down with some tea. Great picks for opening up your meal.
I was a bit selfish by ordering something that appealed to my sensibilities: a dish of cold chicken tossed in a slightly spicy peanut sauce and some rice vermicelli noodles (P280). Oh man. The chicken was perfectly tender, and was a great canvas for the beautifully silky smooth peanut sauce. This was so good--and even better with a bit of that green chili sauce dabbed on top. I practically ate the whole bowl of chili sauce with this.
Ham Sui Kok (P180) was C's order--minced pork encased in a glutinous rice flour outer shell, then fried, resulting in a pleasurably chewy skin that opened up into the minced pork. Again, best with a dab or five of chili sauce.
ADVERTISEMENT - CONTINUE READING BELOW
Vegetable dumplings (P180) (a.k.a. the healthy siomai) were also a revelation. A really well-made dumpling has a skin that is thin, almost translucent, and yet can hold its treasure-filled contents. If you want to be truly technical about it, it also has a certain number of pleats--but that doesn't concern me--what does is that it tastes good, just like this one does. After a dab of that precious soy sauce of theirs, pop it into your mouth (watch it--wait til it cools down a bit) and wait for the taste explosions. This one had beautifully diced micro cubes of veggies--you could taste how fresh everything was in your mouth, as their was a lot of crunch still.
A plate of mixed veg looked like the only loser dish I ordered. On the menu, it was called "wok fried vegetables with Szechuan preserved vegetables" (P360). It had bits of wood ear mushrooms, shimejis, some celery, red peppers, and asparagus. I sighed prematurely, until I put some in my mouth. It was positively delicious--it had gotten a smoky flavor from wok hay ("the breath of the wok")--which only a well- seasoned wok in jet heat can produce, and yet was still crunchy enough to remind you of how fresh the vegetables were.
Some taro cakes tossed in XO sauce (P225) also had a killer wok hay flavor. The wok was so hot it created crispy crusts in the taro, and the garnish of bean sprouts added even more crunch, with the XO adding another layer of flavor and a bit of heat. I have to confess--I order this every time I come here. It's that good.
ADVERTISEMENT - CONTINUE READING BELOW
All in all, I would say dining here is already akin to dining in a good Hong Kong joint. That's the goal, I suppose, of their Hong Kong chefs and management--to transplant a proper Cantonese eating experience. I've been told by the staff that on Sundays they do it old school--with a cart rolling around for you to check the goods. Even more reason for me to return.
Yes, you pay a premium, but one cannot doubt the quality of their food. Eating a regular meal here is also rewarding, but it is the lure of their extensive dim sum selection that makes me want to come back for more. Please do come and investigate. Wala pang mintis ito sa akin.
RATING: 4 out of 5 Spots. 






Share this story with your friends!
---
Help us make Spot.ph better!
Take the short survey
Load More Stories