Top 10 High Profile Clans in Philippine Politics
SPOT.ph lists 10 political clans who dominate today's headlines.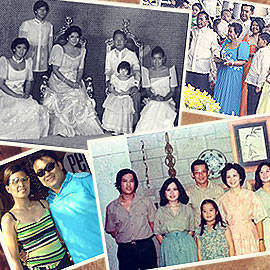 Filipinos are known for their close relationship with their families. Such is the familial love in Philippine society that some clans have made politics their family's line of work. SPOT.ph lists (in no particular order) 10 political clans who are in the news today--be it for the good that they do or because people get spooked by the mere mention of their family name. Either way, they're proof that politics has, at times, become thicker than blood in the Philippines.
The Aquinos have branched out of Tarlac to the whole country.
1. THE AQUINOS
Clan history: The Aquino clan's turf is Tarlac. Their involvement in Philippine politics dates back to the Spanish era, when General Servillano Aquino, the patriarch, served as a delegate in the Malolos Congress, which drafted the country's first ever Constitution sometime after we were liberated from Spain in 1898. Today, the Aquinos still hold powerful positions in the country's political scene, with its fourth generation member, Benigno "Noynoy" Aquino III, serving as the 15th Philippine president.
Power positions: Three generations of Aquinos, all named Benigno, have walked the halls of the Philippine Senate. Benigno Sr. served as senator from 1919 to 1934, while his son, Benigno "Ninoy" Jr., was a senator from 1967 to 1972. Noynoy also served a single term as senator from 2007 to 2010 before he was elected president. Ninoy's brother Agapito "Butz" Aquino was a senator from 1987 to 1995 and his sister, Teresa Aquino-Oreta, was in the Senate from 1998 to 2004.
ADVERTISEMENT - CONTINUE READING BELOW
Family frontrunner: With over 15 million votes during the last elections, Benigno "Noynoy" Aquino III, the 15th Philippine president, is undoubtedly the "hottest" Aquino of the moment (although sister Kris and even nephew Baby James steals the thunder from him once in a while).
Have the Cojuangcos buried the hatchet?
2. THE COJUANGCOS
Clan history: The Cojuangcos are known landowners in Tarlac. The clan patriarch, Melecio, became the first representative of the province's first district from 1907 to 1909. Jose Sr., one of Melecio's sons, acquired the controversial Hacienda Luisita back in 1957. Through marriage of a third generation Cojuangco, Corazon, and Benigno Aquino Jr., the two most powerful clans in Tarlac forged a connection that dominates the province up to the present.
CONTINUE READING BELOW
Recommended Videos
Power positions: The congressional seat for the first district in Tarlac has been transferred from one Cojuangco to another from 1961 to the present. Some of the well-known Cojuangcos who have occupied this post are influential business tycoon Eduardo "Danding" Jr., presidential candidate Gilberto Jr., and his wife, former commercial model Monica "Nikki" Prieto-Teodoro. Through a popular mass uprising in 1986, however, the Cojuangco political influence reached Malacanang through Corazon Aquino, who would later be known as a global democracy icon.
Family frontrunner: She might have passed away a year ago, but former President Cory is still every Filipino's favorite Cojuangco. Her posthumous political clout certainly helped her son's presidential bid. Meanwhile, her cousin Danding is still known as a kingmaker.
ADVERTISEMENT - CONTINUE READING BELOW
Bongbong Marcos dismisses the urban legend about his "replacement."
3. THE MARCOSES
Clan history: The Marcoses have been a political force in Ilocos Norte since 1925, when clan patriarch Don Mariano Marcos served as representative of the province's second district. Since then, Ilocos Norte politics has become a family affair for the Marcos, with clan members alternating in congressional and gubernatorial positions. The powerful clan gained even more influence in the province when Don Mariano's son, Ferdinand, became president.
Power positions: Thus far, the late strongman Ferdinand Marcos is the president with the longest term in Philippine history, occupying the post from 1965 to 1986. He was forcibly removed from his post and died in exile. His family members made a comeback in both national and local politics this year. His son, Ferdinand Jr. or Bongbong, is a senator, and his daughter, Imee, is the governor of Ilocos Norte. Even his wife, Imelda, is back in power as the congresswoman of Ilocos Norte's second district.
Family frontrunners: Ferdinand and Imelda's conjugal rule is still hot topic up to this day. Their son Bongbong is the currently the most visible Marcos in the Philippine political scene.
Gloria Macapagal-Arroyo bids the nation adieu--but not quite.
4. THE MACAPAGAL-ARROYOS
Clan history: This clan from Pampanga started its political reign when patriarch Diosdado won a seat in Congress in 1949. He went on to become country's ninth president from 1957 to 1961. His daughter, Gloria Macapagal-Arroyo, followed his footsteps and also became president from 2001 to 2010. Presently, the Macapagal-Arroyos still dominate local politics in Pampanga, as well as areas in Camarines Sur and Negros Occidental.
ADVERTISEMENT - CONTINUE READING BELOW
Power positions: Aside from former President Gloria, who now holds a congressional position in Pampanga, three other members of this clan are currently occupying seats in the House of Representatives. The former president's youngest child, Diosdado Ignacio (Dato), is the congressman of the second district of Camarines Sur, while her brother-in-law, Ignacio "Iggy" Arroyo, won in the fifth district of Negros Occidental during the past elections. Meanwhile, Mikey Arroyo, her firstborn, is also in the House as representative of Ang Galing Pinoy, a party-list said to represent the interests of tricycle drivers and security guards.
Family frontrunner: We all miss Gloria Macapagal-Arroyo, don't we?
Vice president Jejomar Binay made political history when he went from mayor to vice president.
5. THE BINAYS
Clan history: The Binays have made Makati their bailiwick. The clan established their political turf in 1986, when President Corazon Aquino appointed Jejomar Binay as mayor of Makati after the incumbent Nemesio I. Yabut died around the time that Aquino was newly-installed as Philippine president.
Power positions: Binay was the mayor of Makati from 1986 to 1998, after which he was succeeded by doctor-wife Elenita from 1998 to 2001. Binay became the city's mayor again from 2001 to 2010, when he was succeeded by son Jejomar Erwin or Junjun. Meanwhile, daughter Mar-Len Abigail or Abby is the congresswoman of Makati's second district.
Family frontrunner: Jejomar, the clan patriarch, is now the country's vice president.
Say what you will about him, but former president Erap Estrada has charisma.
ADVERTISEMENT - CONTINUE READING BELOW
6. THE EJERCITO-ESTRADAS
Clan history: San Juan has been the bailiwick of the for over 40 years now--since popular movie action star Joseph "Erap" Estrada became its mayor in 1969. It also has its clout in the province of Laguna, where Erap's nephew, Emilio Ramon "E.R." Ejercito III, is the current governor. Owing to its patriarch's popularity, this clan has also taken over national politics during the past years.
Power positions: This political clan was at the peak of power from 1998 to 2001, when Erap was the president. Although Erap lost his bid to regain the country's top post during the past elections, the Ejercito-Estradas still hold some of the most influential posts in government, with sons Jinggoy as senator and J.V. as congressman of the lone district of San Juan. Erap's former companion and mother of son J.V., Guia Gomez, was elected as San Juan mayor. Meanhwhile Erap's  wife, Loi, was a senator from 2001 to 2007.
Family frontrunner: This clan owes its popularity to Joseph Estrada, who, like a true-blue action movie protagonist, managed to survive imprisonment, impeachment complaints, informal ouster, and a lot of other controversies in the past years. These days, though, son Jinggoy seems to be most visible Estrada.
Senator Bong Revilla slams Dr. Hayden Kho in his privilege speech. (Too bad they don't give acting awards in the Senate.)
7. THE REVILLAS
Clan history: The Revilla clan proves that showbiz glitter is a prized commodity in Philippine politics. Its patriarch, former action star Ramon Sr., initiated the clan's entry into Philippine politics in 1992. He had no prior experience in governance. His son and namesake, actor Ramon Jr. (Bong), followed suit, and the rest, as they say, is history.
ADVERTISEMENT - CONTINUE READING BELOW
Power positions: Bong is in the Senate while his wife Lani is the neophyte congresswoman of Cavite's second district. Prior to his Senate stint, Bong also served as Cavite governor from 1998 to 2001. Meanwhile his brother, Edwin (more popularly known as Strike) is the mayor of Bacoor, Cavite.
Family frontrunner: Bong is the Revilla to watch--if only for his ability to juggle a very active showbiz career with his dramatic privilege speeches. He's no Stephen Hawking but there's no denying that he is the country's most popular senator. He was the top pick in the May 2010 polls' senatorial race. Call him the Political Panday.
Pia Cayetano's camera-ready charm goes a long way.
8. THE CAYETANOS
Clan history: This clan from Taguig City can call the Senate its second home. The family's patriarch, the late companero Renato Cayetano, served as an assemblyman in the Batasang Pambansa for two years before his stint as senator from 1998 to 2003.
Power positions: Renato's children followed his footsteps and ventured into politics. Two of them--Pia and Alan Peter--are incumbent senators.
Family frontrunner: Both lawyers, Alan Peter and Pia are the brother-sister team to beat. Alan Peter served in local posts in Taguig before entering the halls of the Senate, while Pia, when she's not doing her Senate duties, also engages into triathlon and commercial endorsements.
Chavit Singson is a doting father of the bride in daughter Richelle Louise's posh wedding. He first appears at 1:02.)
ADVERTISEMENT - CONTINUE READING BELOW
9. THE SINGSONS
Clan history: The Singson clan of Ilocos Sur started its reign when patriarch Jose Singson became the mayor of Vigan in 1968. Almost all of Jose's children have occupied government posts, most notably incumbent Ilocos Sur Governor Luis "Chavit" Singson.
Power positions: Chavit's brother Evaristo was the governor of Ilocos Sur from 1987 to 1992. His sister, Honeygirl, served as chairperson of the Philippine Charity Sweepstakes Office (PCSO). Chavit's son, Ronald, is the incumbent congressman in the province's first district, but is currently in Hong Kong due to illegal drug charges.
Family frontrunner: Famed for being the whistleblower who brought down President Joseph "Erap" Estrada, Chavit has since gained added notoriety because he got involved in a domestic violence episode. In any case, Chavit made a political comeback this year with his victory in the Ilocos Sur gubernatorial race. He is the clan's most formidable representative.
The massacre of 57 people happened in the Maguindanao town that the Ampatuans named after themselves.
10. THE AMPATUANS
Clan history: The Ampatuans began making their mark in Maguindanao in the 1960s. Their rise to power was further assured when the patriarch, Andal Sr. was appointed officer-in-charge of Shariff Aguak in 1986. Andal Sr. later served as governor. Over the years, the family has forged alliances that have helped raise their political stock.
Power positions: Andal Sr.'s son Zaldy is the former regional governor of the Autonomous Region of Muslim Mindanao. Despite being tagged in the Maguindanao massacre (where 57 people were brutally butchered), the Ampatuans have maintained their clout in Maguindanao. In fact, data gathered by GMA News Research showed that the Ampatuan clan was the "winningest clan" during the last polls, with at least 15 family members emerging victorious in local races. To begin with, Simeon Datumanong, Andal Sr.'s nephew, is the congressman of Maguindanao's second district.
ADVERTISEMENT - CONTINUE READING BELOW
Family frontrunner: Andal Sr. and his son Andal Jr. (the former mayor of Datu Unsay, Maguindanao) are the prime suspects of the Maguindanao massacre. Perhaps, it's up to Rep. Simeon Datumanong to "reinvent" the clan.
Art by Warren Espejo, photos from PEP and YouTube videos screen captures.
Share this story with your friends!
---
Help us make Spot.ph better!
Take the short survey
Load More Stories