Top 10 Controversial Athletes in the Philippines
We list 10 athletes in the Philippines who've been hit with the worst controversies.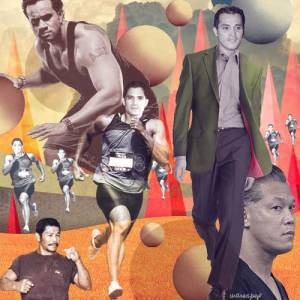 Athletes are often worshiped by their fans. They're tagged as heroes or role models. It's easy to forget that they're all too human. SPOT.ph lists 10 athletes--both active and inactive--in the Philippines who have been hit with the worst controversies. Some have bounced back from their personal woes, while others are still struggling to find their footing. Life, after all, is the most challenging sport.
(For this list, we chose not to include controversies involving alleged mistresses. If you want that kind of controversy, read our "Top 10 Athletes & Their Alleged Affairs" list.)
Ronnie "The Volcano" Alcano keeps his focus in the face of the most damaging charges.
1. RONATO "RONNIE" ALCANO
Billiards star Alcano was charged with rape by his his 14-year-old daughter in 2007. The country was celebrating his victory in the World Pool Association tilt around that time. He denied the charges and said that his daughter and live-in partner were allegedly only after his money. That same year, Alcano posted a P80,000 bail bond (20 percent of the P400,000 bail recommended by the Quezon City Prosecutor's Office) so he would be able participate in the 24th Southeast Asian Games in Thailand. Alcano won the gold in the Men's 8-Ball Pool Singles. He has remained active in pool tournaments.
The year 2007 was Paul "Bong" Alvarez's annus horribilis.
2. PAUL "BONG" ALVAREZ
Whoever dubbed this basketball player as "Mr. Excitement" probably never thought that he'd be involved in all sorts of trouble off the hardcourt. Alvarez--whose basketball skills helped San Sebastian College win back-to-back National Collegiate Athletics Association titles in 1988 and 1989--played in the Philippine Basketball Association (PBA) from 1989 to 2002. In 2007, Alvarez was involved in three much-publicized altercations. First, he got into a fight with Borgy Manotoc (after he mistook Manotoc's model-girlfriend Ornusa Cadness for a waitress). Then, he was accused of shoving his elbow in the face of ABS-CBN reporter Gretchen Malalad while she was trying to get his side of the story (he had been accused of mauling a taxi driver). To top it all off, Alvarez's wife Almira Muhlach (half-sister of actor Aga Muhlach) had to ask the help of their village's security personnel when Alvarez raised a ruckus at four in the morning. Alvarez and his wife have patched things up--but it may take some time before he shakes off the bad rep.
ADVERTISEMENT - CONTINUE READING BELOW
This clip of cager Wynne Arboleda's infamous moment became viral.
3. WYNNE ARBOLEDA
Air 21 cager Arboleda earned the ire of the public on October 16, 2009, when he wigged out during his team's game against Smart Gilas at the Araneta Coliseum. Sometime in the second quarter, Arboleda retaliated against a heckler named Alain Katigbak, who had allegedly "shouted profane words" directed at him after he committed his second foul against Smart Gilas player Mac Baracael. Three days after the caught-on-camera incident, PBA Commissioner Sonny Barrios suspended him for the rest of the 2009-2010 season plus one game without pay, effective immediately. He was fined PhP20,000 barred from even attending PBA games during his suspension. Unfortunately for Arboleda, his meltdown moment lives on in YouTube.
CONTINUE READING BELOW
Recommended Videos
The Beverly Hills 6750 controversy proved too much for David Bunevacz.
4. DAVID BUNEVACZ
In the 1990s, Philippine athletic officials tapped David Bunevacz, a Filipino-Hungarian decathlete, to boost the country's chances in track and field competitions. Unfortunately, he failed to win a single medal. Bunevacz was later released from the Philippine national team. In 2007, Bunevacz and his wife, talent manager Jessica Rodriguez, were accused of siphoning the funds of Beverly Hills 6750 Cosmetic Surgery and Skin Institute (the high-end beauty clinic they both worked for). The fact that Bunevacz gave a brand new BMW X5 (which reportedly cost P5.6 million) as a wedding anniversary gift to Rodriguez during the finals night of Celebrity Duets (where she was a contestant) tipped off the owners of Beverly Hills 6750. Bunevacz and Rodriguez later claimed that they had been harrassed by their former business associates. Their case was brought to the National Bureau of Investigation. But, before the year was over, the couple and their children flew to the United States and have stayed there ever since.

ADVERTISEMENT - CONTINUE READING BELOW
Ex-PBA Rudy Distito is enjoying his second chance.
5. RUDY DISTRITO
Known as "The Destroyer" in the Philippine basketball scene, ex-cager Rudy Distrito made the headlines once more when he was, according to an Inquirer.net report, "sentenced to a prison term of four to 12 years in a Northern Nevada jail for manslaughter resulting from a stabbing incident in November 2004." According to the report, Distrito had "claimed self defense in the killing of Mexican Juan Amaya, whom he accused of being the lover of his wife Jocelyn." (However, an ABS-CBN report says that Amaya had married Distrito's former live-in partner, Marie Jo Buenafe.) Distrito served two years in the US jail before he was granted parole and deported back to the Philippines early this year.
Ramon Fernandez talks about basketball.
6. RAMON FERNANDEZ
Fernandez, who is hailed as one of the country's basketball icons, was accused of "throwing the game" during the 1988 All Filipino Cup Finals. The four-time PBA Most Valuable Player denied the allegations and later filed a case against his team. Then, in 2005, Fernandez's wife Marissa publicly accused him of physical abuse. According to a Manila Bulletin online report, Marissa "filed a petition before the Muntinlupa Regional Trial Court seeking temporary and permanent protection from her husband whom she said had verbally and physically abused her not long after their marriage in 1977." In the same report, Fernandez dismissed his wife's allegations, revealing that they had been estranged for a number of years and he wished to have their marriage annulled.
ADVERTISEMENT - CONTINUE READING BELOW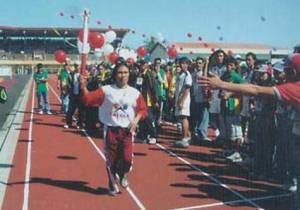 Nancy Navalta in her element.
7. NANCY NAVALTA
Gender issues cut short Navalta's once promising athletic career. In a December 25, 1994 article publihed in The Filipino Express, Lily O. Ramos wrote: "Sprint champion Nancy Navalta might be the most important talent discovery of the first-ever Philippine National Games (PNG), a 23 event, 11-day sports conclave held here recently. But the dusky 17-year-old is still precariously waiting for the results of a series of sex tests confirming her gender." Ramos further added: "The pony-tailed, androgynous, low-pitch voiced Navalta underwent psychiatric, gynecological, and ultrasound tests to verify her gender at the University of Santo Tomas Hospital, University of the Philippines General Hospital and two other hospitals." Shortly after that, according to the same report, Navalta decided to "decline participating in track and field competitions to stop the insinuations about her gender."
Rolando Navarette in his prime.
8. ROLANDO NAVARETTE
ADVERTISEMENT - CONTINUE READING BELOW
After an illustrious professional boxing career, Rolando Navarette, who was once the a World Boxing Council Super Featherweight champ, still lived up to his nickname as the "Bad Boy from Dadiangas" when he out of the ring. Sometime in the mid-'80s, he was charged with sexual assault and served three years in a prison in Hawaii. From 2005 to 2008,he survived fights where he was hit with a steel pipe, clubbed by a shotgun, and stabbed in the neck. Perhaps, the only good news for Navarette is that his son, Rolando Jr., is following his footsteps and training to be a professional boxer.
The controversial game where the Philipppine League Team was accused of fielding older players.
9. PHILIPPINE LITTLE LEAGUE TEAM
The country's joy over the Philippine Little League Team winning the Little League Baseball World Series in 1992 was short -lived. The organizers allegedly found out that the some of the team members that represented the Philippines did not meet eligibility (some were said to be overaged) and residency requirements. The team was subsequently stripped of the title. Sports journalist Al Mendoza, formerly of the Philippine Daily Inquirer, broke the story. Today, the team is still working hard to live down the incident.
Asi Taulava talks shop.
10. ASI TAULAVA
Taulava's citizenship has been questioned ever since he started playing basketball in the country. The crackdown on the so-called Fil-Shams sometime in 1999 to 2000 saw the Filipino-Tongan player being deported. However, Taulava reportedly brought documentation to prove his citizenship when he returned to the country in 2001. It turned out that his mother, Pauline Hernandez Mateeaki, was born in Samar. (Though some pundits wondered why it seemed as if she didn't understand a word of the said region's dialect.) Nevertheless, the Department of Justice affirmed Taulava's status as a Filipino citizen. He now plays for the Powerade Tigers (formerly the Coca-Cola Tigers).
ADVERTISEMENT - CONTINUE READING BELOW
Art by Warren Espejo, photos from PEP (Bong Alvarez's photo), Pinoy Exchange (Nancy Navalta's photo), and various video screen captures.
Share this story with your friends!
---
Help us make Spot.ph better!
Take the short survey
Load More Stories