Obama and P-Noy: An Imaginary Conversation
What if Barack and 'Noy did have a one-on-one? Here's how it might have sounded, says our SPOT.ph blogger.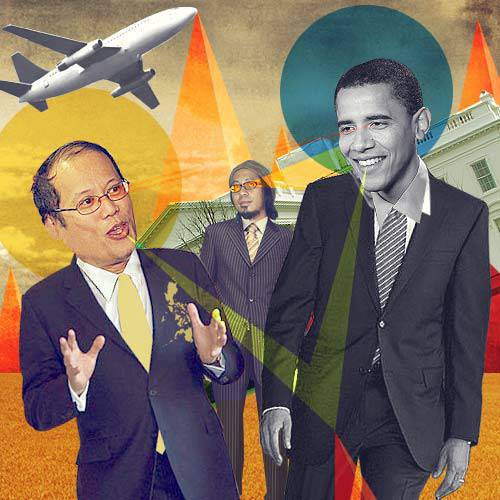 Total duration of exchange between the President of the Republic of the Philippines and the President of the United States of America: Seven minutes. But history can happen in just a matter of seconds.


AQUINO: "Mr. President, have you heard of the phrase "major, major?"
OBAMA: "Major, major?' What's that supposed to mean?"
A: "Right now it's a very popular phrase in the Philippines. Even news presenters and senators use it even during the most serious hearings, likeofficial investigations into hostage crisis situations. It's the English equivalent of bonggang-bongga."
O: "Bonggang-bong-what?"
A: Never mind. What I meant to say is, it's a major, major privilege to be personally invited by you for this brief private one-on-one. It's a great honor to be singled out from the many ASEAN leaders present here.
O: Don't mention it. I understand what's happening to you. I heard about the hostage fiasco. I assume you won't be eating dimsum in Hong Kong anytime soon.
A: I've had my share of dimsum. Aside from the Chinese joints near my house in Quezon City, there's this restaurant called Emerald Garden. It's very near the US Embassy. They serve excellent Yang Chow rice and roast pigeon.
O: So how's the hotdog? I saw the footage. You were stuffing your face.
A: Not as stellar as expected. I had really high expectations.
O: You should've gone for the steak, Mr. President. You gotta hand it to the little lady who went before you. That woman certainly knew her meat.
ADVERTISEMENT - CONTINUE READING BELOW
A: I'm very aware of that, Mr. President. I'm sure you know she got terrible press for that Le Cirque dinner. My administration is trying to lead efforts at national austerity. But there are times in a man's life when all he ever wants is a hotdog. Or a burger. I was even looking for a White Castle in the neighbourhood. There's an In and Out in San Francisco and I just might go for that. The truth of the matter is: I just really wanted a hotdog. But the critics are giving me crap over it. They say it's staged and that I'm trying to capitalize on the image of modesty and thrift. These people  I don't know what they want anymore. They don't like you eating at a steakhouse. But they're not happy when you get a street hotdog either.
CONTINUE READING BELOW
Recommended Videos
O: Burgers! Now we're talkin'. My boys at the Secret Service are crazy about them. They're the ones who signal the convoy to stop at the nearest In and Out. Then press goes nuts and I'm forced to pretend to fall in line and pay for everyone's burgers. Christ, I'm the president of the United States-- not the king of Brunei! But, Jesus-- hotdogs? Burgers? You're not getting any younger, my friend. You should eat healthy. Michelle likes to eat healthy and sensible. So at the White House, it's all fish and veggies, which my wife grows in the backyard.
ADVERTISEMENT - CONTINUE READING BELOW
A: We'd like to do that, too, Mr. President, but Malacanang doesn't have a backyard. All we've got in the back is filthy river.
O: Whatever. The point is, you should finally get a wife and settle down, President Aquino. You're not getting any younger. By the way, how's your little sister?
A: She's okay. She just broke up with her husband, though, who's a professional basketball player. She's hosting this new noontime show called Pilipinas Win na Win.
O: "Win na Win?"
A: Yes, that's like "major-major." It's a fun show, but it's having problems with ratings. Their ass is getting kicked, even if they're singing, screaming, and dancing like psych-ward patients and giving away money like the King of Brunei after a ten vodkas and a hit of Ecstasy.
O: Giving away money. Like Oprah?
A: Something like that, with lots of slutty dancers.
O: Hahaha  "slutty." Good one.
A: Mr. President, were you aware that you displayed our flag incorrectly? You reversed the colors. That means the Philippines is at war
O: But you are at war, aren't you? In a manner of speaking. You are constantly at war with yourself. You had a president who once huffed, "I prefer a government run like hell by Filipinos than a government run like heaven by the Americans." As they said, be careful what you wish for. You just might get it. Look.
A: Oh, that was just his nationalist battlecry. Truth of the matter is that Manuel Quezon was just playing to the gallery, in an effort to associate himself with the anti-American sentiment popular at the time. That was the 1920s.
ADVERTISEMENT - CONTINUE READING BELOW
O: Well, now it's a different America you're dealing with.
A: Speaking of which, there's a matter I've been wanting to discuss with you  it's about Corregidor. See, it turns out that there's still tons of ammo left in the island, which was a World War II hotspot. According to reports, the materiel left behind are live and can still cause accidental damage. We're talking about hundreds of thousands of tons here. Live. It's making me nervous.
O: Don't forget, Mr. President-"our Bases Treaty expired in September 16, 1991. As far as our military relationship is concerned Clark and Subic are mere imperialist memories .
A: I know, Mr. President. And if you remember, my Mom who fought for the extension of that Treaty. She even personally held a prayer rally for the Senate, so that the die-hard nationalists might have a change of heart.
O: Did she? Oh yes, that's right. She was a close ally of the United States. Great speech, the one she gave to Congress. Don't worry. We'll talk again about the ammo dump. Hey, look at the time. It's more than seven minutes. As leader of the free world, that's a lot of time already.
A: I'm very aware of that. Thank you for this privilege, President Obama.
O: Fuck it. Call me -˜Barack.' What's say we have a cigarette?
A: Hell yeah. I thought you'd never ask. Wait.. I thought you quit?
ADVERTISEMENT - CONTINUE READING BELOW
O: We just pulled out of Iraq, dealing with another real-estate mess, and I got Ahmedinajad up my ass and you expect me to just sit down and chew Bubble Yum like a school girl? Let's go.
A: I hear you. It's a stressful job.
O: How do you say that in Tagalog?
A: Which one?
O: Let's have a smoke.
A: Tara, yosi tayo, tangina.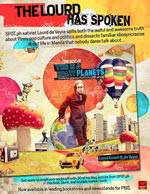 This is a Crazy Planets is available in newsstands, bookstores and supermarkets nationwide for only P195. For more information, click here.
Artwork by Warren Espejo.

###
Share this story with your friends!
---
Help us make Spot.ph better!
Take the short survey
Load More Stories