CBCP Chief denies threat of excommunication against P-Noy + 10 historical figures excommunicated by the Church
Bishop Nereo Odchimar, head of the Catholic Bishops' Conference of the Philippines (CBCP), denied reports that CBCP threatened to excommunicate President Benigno Simeon Aquino III for his views on artificial contraception, reports GMANews.TV.

Says Odchimar, "I deny the news report aired in [a] TV network [Thursday] evening that I threatened President Aquino with excommunication in the interview with Radio Veritas." His disclaimer was posted on the CBCP website dated September 30. Click here to read the disclaimer.

"It can be a possibility but I do not say that, right now, it is a proximate possibility," Odchimar also told Radio Veritas on Thursday.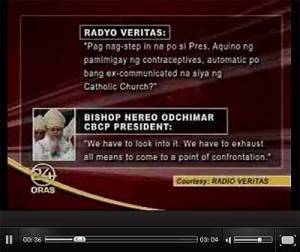 ADVERTISEMENT - CONTINUE READING BELOW
CONTINUE READING BELOW
Recommended Videos
Click to watch the video on GMAnews.TV.
Aquino, however, has not changed his position on artificial contracepcion. "My position has not changed. The state's duty is to educate our families as to their responsibilities and to respect their decisions if they are in conformity to our laws," he said in a statement, as reported by GMANews.TV. Presidential spokesperson Edwin Lacierda maintained that Aquino is open to dialogue with the Catholic bishops.

Excommunication from the Roman Catholic Church, according to newadvent.org, "deprives the guilty Christian of all participation in the common blessings of ecclesiastical society." The excommunicated person does not cease to be a Christian, but "his status before the Church is that of a stranger. He may not participate in public worship nor receive the Body of Christ or any of the sacraments. Moreover, if he be a cleric, he is forbidden to administer a sacred rite or to exercise an act of spiritual authority."

According to newadvent.org, excommunication may come from the Pope of the general council for the entire church, from the provincial council or the Bishop for his diocese. A parish priest, however, cannot inflict or declare excommunication.

Historically, the Roman Catholic church has excommunicated several leaders and members of the Church. Some excommunicated persons which were acknowledged or imposed by a decree of the Pope or a bishop includes the following:

1. Juan Peron, Argentinian general and former President of Argentina
Peron was excommunicated in 1955 after he signed a a decree ordering the expulsion of Argentine bishops Manuel Tato and Ramon Novoa.

2. Martin Luther, German priest and Theology professor
Luther was declared an outlaw in 1520 because he challenged the Roman Catholic Church's teachings and taught that salvation can be received through faith in Jesus as redeemer.

3. Fidel Castro, former Cuban President
Castro was excommunicated in 1962 by Pope John XXIII after a decree prohibiting Catholics from supporting communism

4. Catholics who participated in forming the Philippine Independent church (or Aglipayan) in 1902 (as cited in a New York Times article, "Archbishop of Manila Instructed to Excommunicate Philippine National Church Promoters," published December 29, 1902)

5. Napoleon Bonaparte (Napoleon I)
Pope Pius VII had Napoleone excommunicated in 1809 for annexing papal states

6. Henry VIII of England, King of England
Henry VIII was excommunicated for for disobeying papal authority and separated the the Church of England from the Roman Catholic Church

7. Elizabeth I of England
The Queen was excommunicated for her persecution of Roman Catholics in England in 1570.

8. Joan of Arc
Excommunicated in 1431, the French warrior Joan of Arc was later recognized as a Saint and her excommunication was nullified.

9. Henry IV, Holy Roman Emperor
The King of Germany and Holy Roman Emperor, he was excommunicated due to a dispute Pope Gregory VII.

10. All active members of the Nazi party and all leaders of the Nazi party
German bishops ordered the excommunication of Nazi party members, including Hitler, in 1931.


ADVERTISEMENT - CONTINUE READING BELOW
For more on this story, log on GMAnews.TV.
Load More Stories