FOOD REVIEW: RELISH at Ponte
Did SPOT.ph food reviewer Chary Mercado relish the food at Relish? Find out.
RELISH at Ponte
Ground Floor of Ponte Salcedo Bldg
120 Valero Street, Salcedo Village, Makati
Tel. No. 519-3543
Open from Monday-Saturday 11:30 a.m.-10:30 p.m.
Breakfast will be offered beginning Oct. 18 (7:30 a.m.-10:30 a.m.)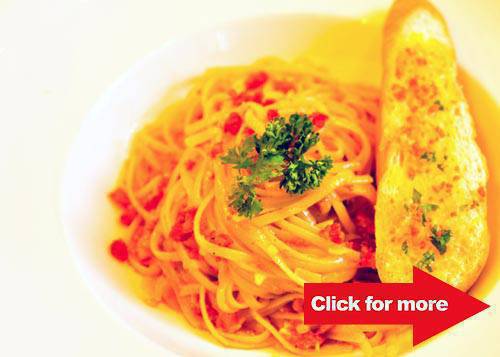 Chorizo with tomato cream sauce pasta at Relish (P320). Click for more photos.
Normally, a new restaurant develops instant caché when it has a famous chef at the helm. Another way to get instant buzz is to get noted designers to do your restaurant. After all, ambiance is half the dining out experience. If I were to rate restaurants on aesthetics and visual impact alone, the greats in this category, in my view, would be Noel Bernardo's modern take on Zen in the former Wasabi, Anton Mendoza's stunning work in the various halls at Establishment, and Jorge Yulo's masterpiece of retro elegance in Pepato.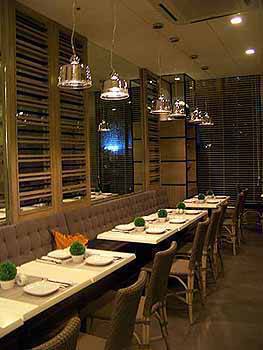 ADVERTISEMENT - CONTINUE READING BELOW
Cynthia and Ivy Almario are famous designers in their own right. Their restaurants  (V Bar, Romulo Café, Cerchio) may not be as dramatic as the ones I mentioned earlier, but their signature look that uses crisp clean lines and shapes, soft lighting, a preponderance of topiaries, and comfortable couch seating combine to make restaurants that are elegant without being intimidating. This is the magic formula to draw in the cross section of Manila society that still likes to dine out in jeans, yet doesn't want to feel they are in a beer garden.

RELISH at Ponte, a small restaurant tucked in the ground floor of Ponte de Salcedo building in Salcedo village, is the newest offering in their line up. Unlike the other new Atelier Almario restaurants out there, this one is different because it is also owned by the Almario family. The designers' sisters-in-law Rachelle Almario and Chona Almario Aquino run the restaurant and Monique, the pleasant manager who fusses over the diners, is their niece. Cynthia's husband, the talented musician Moise, even performs there on Wednesday, Friday and Saturday evenings starting from 7 p.m. Chef Rodel Matuba is not a relation, but the menu is a compilation of his work and the Almario family's favorite recipes.

This family mood actually translates to the whole dining experience as well. "It's like eating in the house of a friend who cooks really well," said former Preview editor-in-chief Leah Puyat, my dining partner on my second trip there. The food is indeed simple and unpretentious. You won't find fusions or reductions or essences on the menu. It's straightforward and satisfying food served in an elegant but cozy setting.

A case in point is the slow roasted beef belly. Available in portions of two slices or three (priced P440/P550 respectively) , these are about one centimeter thick slabs of beef that are so tender that a knife is really unnecessary. The belly slices are drenched in gravy, which make them reminiscent of the roast beef many families serve during special occasions. You are given a choice of rice, salad or potatoes to accompany this dish. My suggestion is to go with the rice. The serving isn't big though so you may need to order an extra scoop of rice if there are two or more of you sharing this dish. One slab of beef is sufficient per person if you are eating other dishes as well.

This reminds me that I seem to have skipped the starters and the drinks, when that could very well be the main event for my happy hour gang. Since we have a budding wino in my group, we always have to ensure that there are sufficient alcoholic drinks on the menu when we choose a restaurant for our nights out. The Pineapple, Lychee and Mint Frozen Daiquiri came highly recommended to me, but I was thrilled to see that Relish offered Mojitos, Sangria and Frozen Sangria by the carafe. One carafe was enough for five glasses or more, I would say, making it good value at P695. The Mojitos came in two variants, Mestizos, using Bacardi white rhum and El Hombre, which uses Bacardi gold rhum. We went with the Mestizos, which was good but a little "too PG" for those hoping to get a good buzz. I noticed though that Relish didn't have a wine list when we ate there, and instead just had one or two bottles for us to choose from. I thought this highly unusual, considering that more and more Filipinos are attempting to become wine connoisseurs.

My ulcers can't take alcohol on an empty stomach so both times I ate there, I ordered the Amazing Artichoke dip (P285) to go with the drinks. I love artichokes in any form and this one did not disappoint. The first time I ordered it, the ramekin of melted cheese and flaked artichoke heart was served with melba toast while the second time, it came paired with Tostitos (at P15 more than the toast). The combination worked both times but my preference is the melba toast since it makes a sturdier scooper for the rather heavy dip. Another pulutan option I highly recommend is the Gourmet Tomato Pesto Cheese Spread, priced at P195.

Our other main course was the Chimichuri Chicken Kebab, which was two skewers of boneless chicken, served with a light aioli sauce (P350). It was tender, tasty and much needed healthy counterpoint to the beef belly. My favorite dish by far, however, was the chorizo pasta with tomato cream sauce (P320). The sheer simplicity of the dish made it the ultimate comfort food. I can imagine myself coming back for this dish alone. Our group of four that night was ravenous, hence we were not satiated with just three entrees. Midway through the chorizo, we placed an order for the vongole pasta (P345) as well which was also excellent since the clams they used were flavorful and not too tough.

For dessert, again we got that feeling of eating "lutong bahay" concoctions made by a friend with a hilig for baking. There was a chocolate cake that hankered back to our childhood standard, the Kookie Monster chocolate cake with that magic middle icing that we love! There was also a classic sans rival and a dessert that combined cream, buko strips and pandan gelatin--an upscale version of Nathaniel's of Pampanga's trademark dessert.

RELISH also serves Nespresso coffee, which was a thrill for my friends and I since we have really grown to appreciate the robust flavors and the wide range of choices of this brand (the George Clooney endorsement might have something to do with it too). Our very stylish waiter Eric presented us with a selection of four capsules to choose from that evening. It was a great way to cap the night at a restaurant that I hope will be around to host many more impromptu casual drinks/dinners with friends.
CONTINUE READING BELOW
Recommended Videos
ADVERTISEMENT - CONTINUE READING BELOW
RATING: 4 out of 5 SPOTS ....
Share this story with your friends!
---
Help us make Spot.ph better!
Take the short survey
Load More Stories