Futurist Alvin Toffler predicts unprecedented rise in number of female leaders, employees freed from cubicles in next 40 years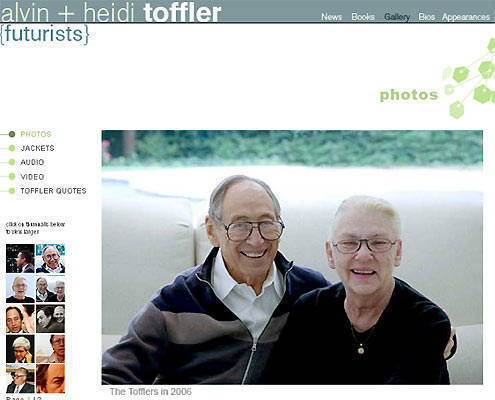 Alvin and Heidi Toffler in 2006. Screencap from AlvinToffler.net.
In the next 40 years, an unprecedented number of women will hold national leadership positions and office workers will be freed from their cubicles, according to a report by the AFP via Yahoo News.
This prediction was part of Toffler Associates' "40 For The Next 40," which lists trends believed to shape the world from now until 2050. The futurist consultancy firm released the list last week in time for the 40th anniversary of Alvin Toffler's book Future Shock. The controversial book-written in the 70s-predicted current lifestyle trends we see today: up-to-the-minute news, same-sex marriage, and an increase of environmental disasters. 

Toffler Associates also predicts that white-collar workers will no longer need to work in their cubicles because of "high-speed Internet, low-cost videoconference technology, and interrelated networks of airlines."
The world will also supposedly enter the Petabyte Age-petabytes being 10-to-the-15th-power bytes-according to the AFP. During this period, information gathering is expected to become even faster.

According to Toffler Associates, mineral wealth and oil fields unearthed because of melting sea ice will create conflicts. Countries like Saudi Arabia, Iran, and Iraq will supposedly become "losers in a post-petroleum world" due to alternative energy developments. Also, more people will supposedly grow their own food.

"Time-tested methodologies" by Toffler and his wife Heidi were used to arrive at these predictions, according to the consultancy firm. Toffler Associates said, "We focus on the convergence and interdependence of seemingly orthogonal aspects to connect the dots and develop strategies for future success. In this way, we recognize, as the Tofflers did, that preparation is the best defense against the future."

For more on this story, log on to Yahoo News and Toffler.com.
ADVERTISEMENT - CONTINUE READING BELOW
CONTINUE READING BELOW
Recommended Videos
Share this story with your friends!
---
Help us make Spot.ph better!
Take the short survey
Load More Stories