White House: Trick or Treat?
Find out why our SPOT.ph blogger thinks Regal Films' Halloween offering is a hit.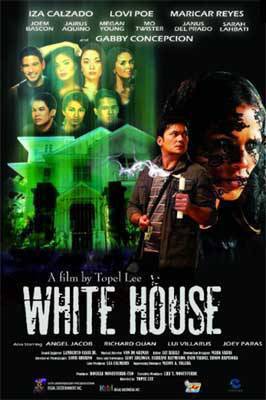 There's nothing more frightening than a beautiful and cruel woman living in a big scary house. Iza Calzado plays an evil stepmother in Toppel Lee's new horror flick White House-and again I feel she is under-utilized as an actress but as always, Iza is pitch-perfect in her role. It was kind of scary to see her abusing the step-children, stabbing their soft, helpless little bodies with various sharp objects like knitting needles and forks. She is the scariest "Black Lady" (as opposed to a White Lady) I ever saw, and a verrry Evil Stepmother. Plus she looks great shrouded in black lace. It's a dark and meaty role, even if she has minimal speaking parts and mostly floats around in black throughout the movie. Hurrah for Iza!

And yes, the rest of the movie is pretty effective as a horror movie. The sound design was particularly useful, and there are a couple of nicely done scares, my favorite one of a little boy stuffed into a freezer. Director Toppel Lee knows the genre well and uses all the tricks of sight and sound to keep the story going. Louie Quirino's cinematography is eerie as well, capturing the creepy light and lonely spaces of an empty Baguio house. (I was planning to stay in Baguio for a month: skip the holiday madness and enjoy some peace, quiet, and quality writing time. But now, maybe not.)

The story revolves around the beautiful pre-war Laperal Mansion, pristine white on the outside but deathly quiet within. Gabby Concepcion plays Jed Castillo, a psychic-slash-paranormal investigator who is hired as a consultant for a new reality show about a bunch of people in a haunted house. Armed with his holy candle, Jed enters the mansion and quickly realizes there is a malevolent presence, this woman in black who haunts the house. Jed warns the show's aggressive executive producer (Maricar Reyes) of the dangers of shooting in the house, but the cutthroat world of television cares only for ratings. They choose six contestants to lock in the white house for five days and whoever makes it to the end will win a million bucks. Sounds like easy money right?

They pick six victims, I mean contestants, for the show: there's a cynical Fil-Am wise-ass radio DJ (Mo Twister); a cute and dumb male model (Joem Bascon, who is really hot and blank); a sexy stripper who wants to make money (Lovi Poe); a girl who was dumped by her cheating boyfriend (Megan Young); and a sister (gorgeous Filipina-Moroccan Sarah Labahti) and brother (Jairus Aquino) who have run away from home to escape their mother's new husband. Of course, no one lasts very long in the house. The first one they kill off: the male model. The second victim: the bitchy producer's gay PA (Janus del Prado, who is hilarious).  

I will reveal nothing more. But I will leave you with a checklist of Things to Expect from White House. Ensemble cast of photogenic actors who can scream convincingly: check. Evil Presence embodied by a beautiful woman in a black shroud: check. Brave hero armed with holy candle and bottle of holy water (so handy in these situations): check. Ghosts of dead children: check. Slightly cheesy special effects: check. Screamers in the audience: watch out for them.

Looks like Regal Films has a Halloween hit on their hands.
ADVERTISEMENT - CONTINUE READING BELOW
Check to see where the movie is showing.
CONTINUE READING BELOW
Recommended Videos
Share this story with your friends!
---
Help us make Spot.ph better!
Take the short survey
Load More Stories