Profiling Carlo J. Caparas: 10 Things That Make Him a Controversial Artist
SPOT.ph attempts to figure out why Carlo J. Caparas is so controversial. (Lord help us!)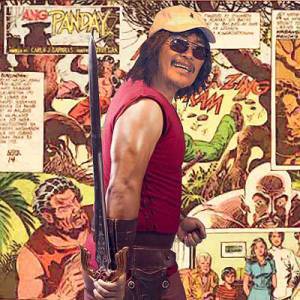 Carlo J. Caparas is, perhaps, one of the most easily recognized names in Pinoy pop culture. He spawned fantastic stories such as Ang Panday, Joaquin Bordado, and Totoy Bato. (Though some people think the last one is a Rocky rip off. Maybe it's just the name?)
Caparas also wrote and directed several massacre movies like The Vizconde Massacre (God Help Us!), The Untold Story: Vizconde Massacre 2 (God Have Mercy on Us!) and The Myrna Diones Story (Lord, Have Mercy!). However, he got into hot water when he was named as National Artist for Visual Arts and Film in 2009. Concerned artists pointed out that Caparas did not deserve the award, simply because he did not illustrate the works that made him popular. In fact, comic book writer and artist Gerry Alanguilan names the real artists behind Caparas' komiks stories in his "Panawagan kay Carlo J. Caparas" YouTube video.
In a statement published on Komikero.com, Alanguilan pointed out: "The conferment of the title National Artist for Visual Arts to Mr. Caparas (along with three others), were STOPPED by the Supreme Court last year. The decision to confer the title (or not) is still PENDING. That's how it stands now."
Lately, Caparas was in the news again. This time, he's got a different problem. The Bureau of Internal Revenue charged him with tax evasion because he reportedly failed to pay his taxes from 2006 to 2009. (We're talking about P560 million here.) SPOT.ph plays pop profiler and attempts to figure out why Caparas' life is following such a controversial plot.
ADVERTISEMENT - CONTINUE READING BELOW
Carlo J. Caparas gets defensive in his ANC interview (with him are the late film critic Alexis Tioseco and writer Jose "Butch" Dalisay Jr.). During the interview, Caparas indirectly accuses Dalisay--and other artists--of being elitist. This was probably because he didn't know that the esteemed writer has also written a few Sharon Cuneta movies such as 1992's Tayong Dalawa.
1. He's a Sagittarius. According to an Astrology Online analysis, Caparas, whose birthdate is December 15, is a Sagittarius. He's expected to be "optimistic and freedom-loving." On the flip side, he may also be "blindly optimistic and superficial." His extraordinary optimism may explain why he still believes that he deserves to be named as National Artist depite protests launched by other legitimate artists.
CONTINUE READING BELOW
Recommended Videos
2. He wears "a disguise." Caparas is always seen wearing a cap and sunglasses. Once can hardly find a clip or photo of him without them. This could mean that he is shy. This could also mean that he wants to stand out with these trademark accessories. We wonder if he takes them off when he takes a bath or goes to sleep.
3. He cares too much. Among the personality types in the Myers-Briggs chart, Caparas would be classified as a "Caregiver." This doesn't mean that he's fit to be a professional health worker. It means that he's "warm, energetic, and constantly needs approval from others to feel good about himself." Caregivers like making others happy and are "hurt by indifference." Unfortunately, there are also times when Caregivers "have no internal understanding of values to set them straight." They feel that their actions are justified as long as many people support them. Case in point: Caparas defended himself in the National Artist controversy by saying that the "masa" support him.
ADVERTISEMENT - CONTINUE READING BELOW
The Cecilia Masagca Story: Antipolo Massacre (Jesus Save Us!), which was released in 1993, is one of Carlo J. Caparas' massacre films.
4. He likes labels. Caparas reportedly branded himself as the country's "Komiks King." If he didn't, well he certainly hasn't corrected those who call refer to him as such. Darna creator Mars Ravelo's daughter Regina Ravelo-Marasigan pointed out in an open letter: "Thru dubious press releases, Carlo Caparas proclaimed himself the Komiks King. A title which, we know Caparas very well knows, belongs to Mars Ravelo. Mars Ravelo earned it thru the merits of his work. It's a title that grew on him through the years. It has become synonymous with his name. One day, Caparas, brazenly grabbed it for himself. Just like that. And it's not even up for grabs."
5. He thrives on being the underdog. "Inaapi nila ako," said Caparas when he was asked why he was bent on holding on to his National Artist award. Again, he brought up the fact that the artists who were against his proclamation were "elitista" who couldn't take it that someone who was from the masa (him) was getting ahead. Dr. Roger Gould, one of the doctors listed in MedHelp.org, defines the persecution complex: "It's is more of a popular phrase, not a clinical entity. It refers to the feeling and belief that others are out to get you or hurt you."
Carlo J. Caparas on Probe Profiles.
ADVERTISEMENT - CONTINUE READING BELOW
6. He's a self-made man. In his Probe Profiles interview, Caparas revealed that he grew up with a "bad father" and experienced going to jail when he was younger. One has to give him props for rising above that less-than-ideal situation.
7. He's an Earth Dog. Born in 1958, Caparas is an Earth Dog. He is supposed to be "an efficient and constructive thinker." However, "he will bow to the majority rule" and "have a fixed scale of values from which he seldom deviates."
Carlo J. Caparas gives realtionship advice in his Probe Profiles interview.
8. He and his wife roleplay. In his Proble Profiles interview, Caparas told TV journalist Cheche Lazaro that in his marriage, he was the "haligi" and his wife Donna Villa was the "ilaw ng tahanan." He explained that he wasn't really henpecked, he was just being like the strong-but-silent "haligi" and it was up to his wife to be more fierce. (Well, it seems to work for them.)
9. He's got violent projections. Caparas' movies have always featured violence. His massacre movies, in particular, always have brutally bloody scenes. Psychologists may theorize that Caparas has a lot of inner rage and these movies serve as his release. But maybe he's just giving his fans what they want. Though Caparas looks like he could play a villain, he's not known for violent fits.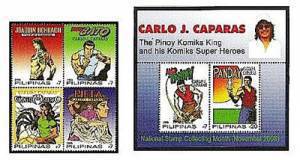 ADVERTISEMENT - CONTINUE READING BELOW
Behold: Carlo J. Caparas stamps! Unfortunately, they don't give credit to the artists who drew the heroes of Caparas' stories. (Image from philippinestamps.net.)
10. He wants to be validated. Born in 1958, Caparas will turn 52 this December. According to psychologist Erik Erikson's stages of psychosocial development, he in the "Generativity vs. Stagnation" stage, where his main question is "Will I produce something of real value?"
Art by Warren Espejo, screenshot of Ang Panday comics illustrated by Steve Gan.
Share this story with your friends!
---
Help us make Spot.ph better!
Take the short survey
Load More Stories