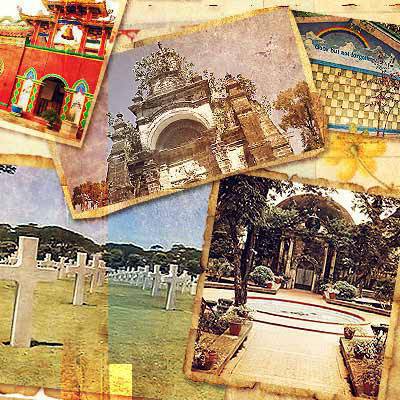 Want to know which local royalty is buried with his two wives and where? Or which chapel Carlos Celdran thinks dropped right out of a Filipino horror movie? How about what pet is buried in the family plot of a Philippine president? Read on.


1. La Loma Cemetery (Campo Santo de La Loma)
Need to know: One of the oldest cemeteries in the Philippines, La Loma refused burial to non-Catholics and Filipino insurgents during the Spanish colonial period.

Bet you didn't know: There is a Japanese artillery gun located inside the premises because it served as one of the execution sites during WWII.

Famous deceased: Josefa Llanes Escoda, women's rights advocate and founder of the Girls Scouts of the Philippines is buried here in an unmarked grave. She appears on the P1000 bill.
ADVERTISEMENT - CONTINUE READING BELOW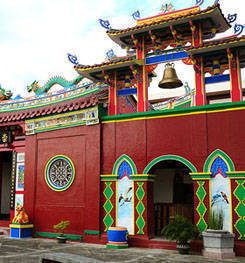 2. Manila Chinese Cemetery
Need to know: It was referenced in Dr. Jose Rizal's Noli Me Tangere, where Padre Damaso ordered the remains of Crisostomo Ibarra's father to be dug up and transferred here for being a heretic. It is also one of two cemeteries (along with Paco Park) that had been preserved during WWII. Today, the compound stands like a showcase of Chinese mausoleums, memorials and tombs done in the different architectural styles that were in vogue for the last 130 years.

Bet you didn't know: According to Ivan Man Dy of Old Manila Walks, descriptions of some of the streets inside like "Millionaire's Row" and "Little Beverly Hills" are actually misnomers used by visitors in his reply to the query of whether the cemetery is the most expensive in the Philippines. What can be verified is that the property is extremely rich with Art deco-style architecture. "It probably has the biggest Art-deco collection of the funerary-kind, anywhere in the country," says Ivan.

Famous deceased: Mami king Ma Mon Luk (1896-1961), whose grave is marked by a crown and is flanked on either side by his two wives. Also, Apolinario Mabini (1864-1903) was interred here for 60 years for being a Freemason and anti-government before he was transferred to his final resting place in Batangas.
National Geographic featured Manila North Cemetery and its poor residents in the 2009 documentary "Living Among the Dead"
3. Manila North Cemetery (Cementerio del Norte)
Need to know: Measuring 54-hectares, this is the biggest cemetery in Metro Manila. You can take a tricycle from Chinese Cemetery for P20 and alight at the Norte to find more architectural wonders and curios like a pyramid mausoleum guarded by the sphinx, which belongs to the Arroyos.
Bet you didn't know: The property is home to informal settlers and so there is a barangay-feel to the area. Entertainment like the karaoke machine can be seen inside mausoleums, where for P5 a pop you can belt your heart out to the birit song of your choice. Also, sari-sari stores like Jolly Bina are available should you want some snacks and refreshments during your tour.
Famous deceased: The cemetery reads like the who's who in the Philippines such as presidents Magsaysay, Osmena and Roxas (even the Roxas' beloved pet dog who is buried at the center of the family plot), Quezon before his remains were transferred to the Quezon Memorial Circle, actor and presidentiable Fernando Poe, Jr. (born Ronald Allan Kelley Poe), painter Felix Resureccion Hidalgo, national artists Amado Hernandez and wife Atang de la Rama-Hernandez and the "L" in LVN pictures, its founder and matriarch Dona Sisang full name Narcisa Buencamino vda. De Leon.
ADVERTISEMENT - CONTINUE READING BELOW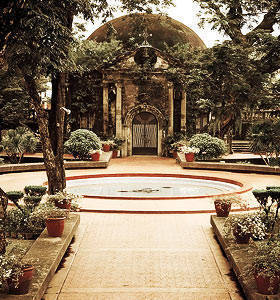 4. Paco Park
Need to know: Before becoming a popular venue for open-air concerts, Paco (formerly Dilao) was intended to be the municipal cemetery of the aristocratic families during Spanish times. Its Chapel of St. Pancratius, which Carlos Celdran describes as looking similar to "something that dropped right out of a Filipino horror movie" is a popular wedding venue.

Bet you didn't know: Paco Park was relatively well-preserved during WWII because the Japanese used it as an ammunition and central supply depot and, thanks to the thick, high adobe walls surrounding the area, a fort against invaders.

Famous deceased: Dr. Jose Rizal was interred here on the sly on the day of his execution before his remains were exhumed and relocated to its present location in Luneta Park. Also, fathers Gomez, Burgos and Zamora used to be buried here. Today, only the remains of Governor-General Ramon Solano are still in the Chapel.
ADVERTISEMENT - CONTINUE READING BELOW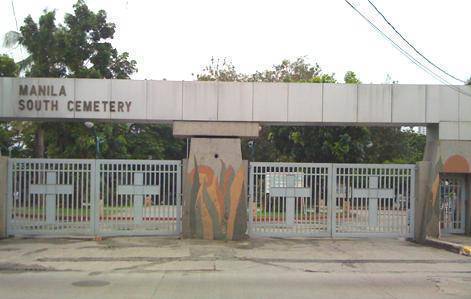 5. Manila South Cemetery
Need to know: This cemetery is within Makati but it is sitting on the territory of the capital of the City of Manila.

Bet you didn't know: It is actually under the jurisdiction of Manila. Hence, it is not uncommon to see posters for Manila candidates posted in and around the cemetery during elections. Security-wise, the Manila Western Police District is in charge but the Makati policemen of the Metro Manila Southern Police District oversees traffic management and rerouting around the periphery which is about the same size and shape as the University of Sto. Tomas.

Famous deceased: Former president Elpidio Quirino, whose tomb lies at the very center of the cemetery
ADVERTISEMENT - CONTINUE READING BELOW

6. Libingan ng Mga Bayani

Need to know: It used to be the Republic Memorial Cemetery at Fort McKinley and was given its present name by the late president Magsaysay in honor of all the Filipino men and women who died in service and later included National artists and other prominent figures.

Bet you didn't know: The Tomb of the Unknown Soldier is found at the center and which is where wreath laying ceremonies are held by Philippine government officials and visiting foreign dignitaries in recognition of all the unknown dead wherever they fell.

Famous deceased: Presidents Carlos P. Garcia and Diosdado Macapagal. Ferdinand E. Marcos almost became a tenant if not for some strong opposition from both private and public sectors. In fact, a site was already reserved between the gravesites of Gen. Enrile and Commodore Lim.
Rap master Francis M. was laid to rest at Loyola Memorial Park, Marikina, on March 11, 2009

ADVERTISEMENT - CONTINUE READING BELOW
7. Loyola Memorial Park (Marikina and Parañaque)
Need to know: During peak days in November, major food concessionaires and stalls are lined up in designated areas. In 2009, one of the bestsellers included a ubiquitous brand of soft ice cream, which sells cones at P10 each.

Bet you didn't know: Award-winning sculptor Eduardo Castrillo designed the imposing 27-meter high "The Redemption" made from cut and welded brass with a sculptured concrete base featuring 13 figures across 800-sqm of the Marikina cemetery. He completed the massive work of art in 1974 or eight years after the 8.4 x 7.8 x 6.8 meters "Pieta", which is found at the Loyola Memorial Park in Paranaque.

Famous deceased: Master rapper Francis M., child actress Julie Vega, and actress Nida Blanca (born Dorothy Jones)
8.  Manila American Cemetery and Memorial

Need to know: it is the largest of all overseas American military cemeteries.
ADVERTISEMENT - CONTINUE READING BELOW
Bet you didn't know: Architect for the cemetery was Gardener A. Dailey of San Francisco, who also designed most of the landscape development. Most of the white marble headstones were quarried in Lasa or Carrara, Italy but more than 100 were quarried and fabricated on the Island of Romblon. Some areas among the burial plots are merely grassed, without headstones. In general, this is because the underlying rock is so close to the surface as to make them unsuitable for burials.
Famous deceased: Of the 17,206 buried here, 28 are WWII Medal of Honor recipients, 570 were Filipino scouts and in 20 instances, brothers are laid side by side.
About 300,00 mourners gathered at Manila Memorial Park on August 5, 2009 for President Cory Aquino's funeral
9. Manila Memorial Park
Need to know: Included in the list price of every lot purchased is an amount set aside and deposited to a Trust Fund managed by the Rizal Commercial Banking Corporation (RCBC). Income realized from this fund will be used for the general care and maintenance of all Manila Memorial Parks long after the company ceases to exist.

Bet you didn't know: They pioneered modern cremation in the country in 1985.

Famous deceased: President Cory Aquino, Philippine senator Ninoy Aquino, actor Rico Yan, boxer Flash Elorde and beauty queen-and-actress Chat Silayan.
ADVERTISEMENT - CONTINUE READING BELOW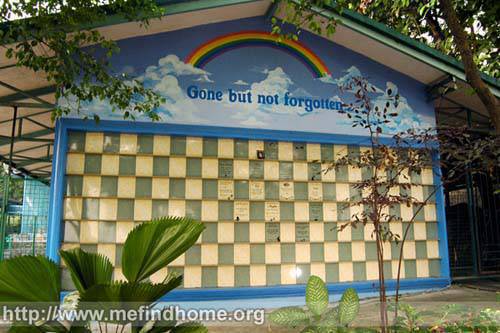 10. Pet Memorial
Need to know: Located along Katipunan Valley in Loyola Heights, Quezon City, the property is run by the Philippine Animal Welfare Society (PAWS) alongside its pet rehabilitation center. Here, pet owners are asked to make a donation of P500 (for small- to medium-size dogs) and P1000 (for bigger breeds) to cover the cost of digging a grave. This service is available to condo and apartment dwellers only. Meanwhile, those who want to leave an engraved message on the PAWS memorial wall will have to pay P2,000 per tile and those who opt to have their pet cremated will be referred to Dr. Manny Reyes (0917-5455945).

Bet you didn't know: The Manila Electric Co. (MERALCO) owns the land.

Famous deceased: If going by their owners' popularity, then Lucy Pevensie, deceased dog of Philippine Idol Finalist Drae Ybañez, is worth mentioning.


Photographed by Alfred Mendoza (Paco Park). Additional photos from mefindhome.org (Pet Memorial) and manila.gov.ph.  Special thanks to Carlos Celdran, Ivan Man Dy of Old Manila Walks, and Anson Yu.
ADVERTISEMENT - CONTINUE READING BELOW
Share this story with your friends!
---
Help us make Spot.ph better!
Take the short survey
More Videos You Can Watch
Load More Stories