Top 10 Milk Teas Places in Manila
SPOT.ph reviews the 10 best places to <em>boba</em> up.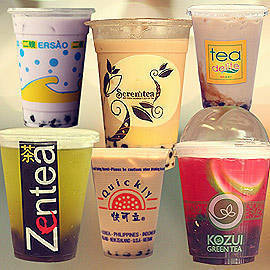 Milk tea is not a combination to be messed with. It's God's gift to mankind for bad days-and not-so-bad days (because it's just that good). Add to that our local sago, or boba as it's sometimes called, and you've got God's best gift to mankind. This Taiwan original got its name from the drink's frothy finish-foam forms when the teas are shaken to mix the tea with ice, thus creating "bubbles."  SPOT.ph sorts through the city's tapioca drinks for all you milk and fruit tea addicts and addicts-to-be.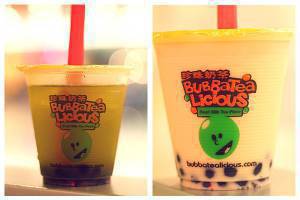 10. Bubbatealicious
Tea taste: The honeydew and kiwi tea, a bestseller, was more juicy than anything else but leaning toward the sickeningly side of sweet. Its royal milk tea was very faint in taste compared to the other stores-disappointing for milk tea fanatics-but possibly a good intro to the world of milk tea for beginners. Other flavors: wild berries, mango, and strawberry teas, etc.
ADVERTISEMENT - CONTINUE READING BELOW
Tapioca: More on the durog scale than the chewy
Add-on options: Sago only
Service: Fairly fast, though don't bother with questions about the product. Kaloka.
Price: For small drinks: P35-P55. For medium: P45-P65. Extra P5 for an upgrade to large. Relatively reasonable though you can get teas at a few of its competitors for the same price but in bigger sizes.
Where to buy: SM Megamall and Mall of Asia. For more inquiries, take a look at http://bubbatealicious.com.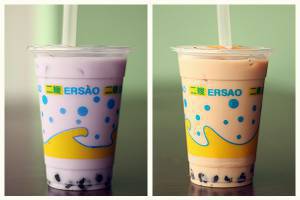 CONTINUE READING BELOW
Recommended Videos
9. Ersao
Tea taste: The pearl milk tea is a diluted version of itself. With the taro milk tea, you taste more of the taro and milk than the tea. Both were good, if seemingly heavy on the artificial stuff. You can also choose from flavors like almond, caramel, raspberry, orange, and green apple.
Tapioca: Durog
Add-on options: Sago only
Service: Fast since the teas come ready made. They deliver if you're in the area.
ADVERTISEMENT - CONTINUE READING BELOW
Price: For small drinks: P45-P50 for milk teas. For special blended drinks: P30-P45. Sago is included in the milk teas, but you have to pay P10 more to have them in the blended ones.
Where to buy: 93-C West Ave., Q.C. 376-6610; 668 Banawe St. Q.C., 408-9665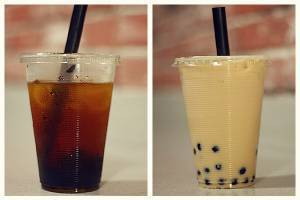 8. Honestea
Tea taste: Sweetened green tea it is, as its name says. It's what you might imagine tea with honey or syrup would be like. Their milk tea also comes recommended though it's stripped of any hint of the Asian flavor found in other milk teas.
Tapioca: Interchangeable between chewy and durog
Add-on options: Sago and black gulaman
Service: Good
Price: P35-P55 for one size only. Extra P5 for tapioca and P10 for gulaman.
Where to buy: G/F Cybergate Tower 3 Pioneer St., Mandaluyong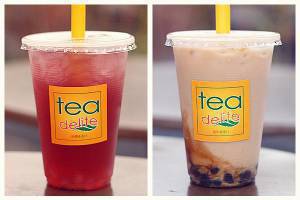 ADVERTISEMENT - CONTINUE READING BELOW
7. Tea Delite
Tea taste: Naicha milk tea (P40, L; P45, XL) can be described as the Filipino version of milk tea in terms of sweetness and chocolate-y goodness. Other teas consist of vanilla and caramel. They also carry straight and ingenious mix-and-match fruit flavors like Thrill, which is strawberry, blueberry, and grapes (P30, L; P35, XL). Some contain grenadine in the mix so kids (and those with kiddie tastebuds) will love it.
Tapioca: Sago was smaller in size than the standard.
Add-on options: Tapioca, nata de coco, and bubble burst, which explodes in your mouth. If you ever wanted to know what popped bubble wrap tastes like, this is your chance.
Service: Orders appear right away and their  servers were very attentive.
Price: You definitely get your money's worth.
Where to buy: Ash Creek Center, San Juan and near DLSU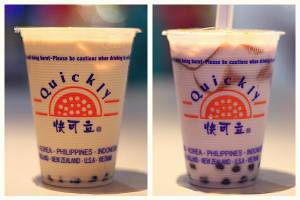 6. Quickly
Tea taste: Sweet but light. Less semblance of tea compared to others, but you can really taste the taro, which is great for ube lovers. The red milk tea has a tinge of something different than traditional milk teas (or even the Quickly stores overseas), but don't discriminate. It's still delish.
ADVERTISEMENT - CONTINUE READING BELOW
Tapioca taste: Their sago is usually not completely cooked. Also, the branches aren't consistent. Some constantly serve it chewy while others are always durog, so there's something for everyone's tapioca preference.
Add-on options: Sago, nata de coco, and pudding (choco, melon, strawberry, and taro flavored ones).
Service: No complaints except a few locations don't have all the flavors on the menu.
Price: An affordable price range: P40-P70.
Where to buy: Almost anywhere as this is the most accessible store with locations in Greenhills, Megamall, and Glorietta 4. For a complete listing, check out www.quickly.com.ph.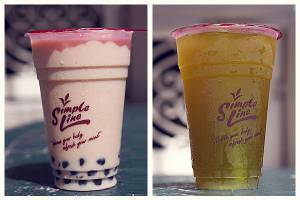 5. Simple Line
Tea taste: Black milk tea, one of its bestsellers, is the closest to the authentic milk tea you can buy from Chinatowns abroad. The melon-flavored tea, another bestseller, tastes more like cantaloupe than actual melon.
Tapioca taste: Between chewy and durog
Add-on options: Tapioca, gulaman, coffee konjac, and coco jelly
Service: Okey dokey
ADVERTISEMENT - CONTINUE READING BELOW
Price: Really great value for money, especially considering the drink sizes. For milk teas: P35-P70. For fruit-flavored teas: P40-P55.
Where to buy: 1212 V. Concepcion St. Sampaloc, Manila (near UST and delivers there only); 445 San Rafael St., San Miguel, Manila; 2581 Leon Guinto St. Malate, Manila; (0922) 883-9567 for inquiries.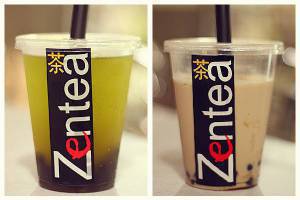 4. Zen Tea
Tea taste: Say "hello" to childhood. Their nai cha or pearl milk tea is like sipping Chocnut through a straw. Meanwhile, the yummy Highway tea (green apple and passionfuit) tastes like Sola or Snapple. On the menu, there's also malt milk tea and more fruit combos such as Highway (green apple, lemon, and passionfruit) and Tango (mango and peach).
Tapioca: Nice and chewy
Add-on options: Sago
Service: The place gets busy, but the service was still decent.
Price: P35-P70 but their large sizes are pretty small.
Where to buy: (0908) 869-ZENT for deliveries. Gen. Vicente Lim St., near Xavier School; Pearl Dr., Ortigas, near UA&P; 3/F RCBC Plaza Ayala cor. Rufino, Makati
ADVERTISEMENT - CONTINUE READING BELOW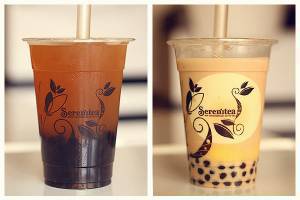 3. Serenitea
Tea taste: Okinawa with brown sugar is the No. 1 bestseller in our book (but it's technically No. 2 at Serenitea). The passionfruit green tea is also refreshing. New flavors like taro lover and mango fruit tea were unavailable at the time of this review. Sugar levels are adjustable (0, 25, 50, 75, and 100 percent). Anything below 75 percent though is already bitter tea.
Tapioca: Chewy and smooth in texture
Add-on options: Tapioca, crystals, black bricks, pudding, lime jelly, and Splenda.
Service: It's usually crowded, which holds up your orders. You can try your luck with their delivery.
Price: For milk teas: P80-99. For fruit teas: P70-P125. Not bad for the size of the beverages though it's an extra P8 for each topping and P5 for Splenda.
Where to buy: 1F G&L Bldg. J. Abad Santos St. Little Baguio, San Juan, 379-4166; 268 Aguirre Ave. BF Homes, Paranaque 794-3288; 74B N. Roxas St., cor. Banawe, Sto. Domingo, Q.C. 238-2545
ADVERTISEMENT - CONTINUE READING BELOW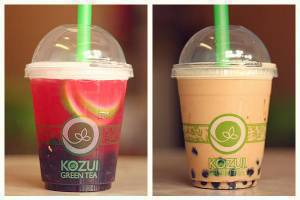 2. Kozui
Tea taste: Black ceylon milk tea was creamy and delectable, almost like a frappuccino with a hint of nutmeg (tall, P100; grande, P115). Other flavors: matcha green tea and roasted green. It's not for me, but if you're a fan of pomegranates, try their pomegranate tea, which uncannily tastes like the real fruit (tall, P90; grande, P125). Aside from the milk and fruit beverages, they have lemon green teas, which can be served hot or cold plus korichio or ice-blended drinks.
Tapioca taste: Chewy in a nice, maligkit way
Add-on options: Tapioca only
Service: They're one of the slowest but that may be because their teas are apparently brewed fresh.
Price: Pricey especially considering how small the drink sizes are.
Where to buy: 258 B Tomas Morato Ave. Q.C.; http://kozui.com/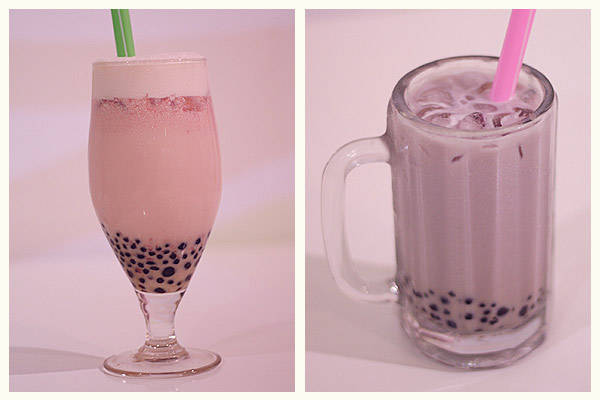 ADVERTISEMENT - CONTINUE READING BELOW
1. Bubble Tea
Tea taste: The taste of the taro milk tea was faint next to Quickly or Ersao, but both the taro and strawberry milk teas were sweet and delicious. You also can't go wrong with their version of passionfruit green tea. Drinks can be whipped up at 50 percent sugar level. They also have tea slush drinks in case you're more of a Slurpee person.
Tapioca taste: The best kind of chewy out of all the tapiocas. Plus, you can specify if you want them big, small, or a combo of both.
Add-on options: Sago, vanilla ice cream, egg pudding, Splenda, and this just in-mango bits.
Service: Good-unless you're in the SM Megamall branch. Since it's located on the lower ground floor, where events are held, it can get loud and the waitresses can't hear your orders.
Price: It's one of the most expensive, but the ingredients are supposedly from Japan. Milk teas: P80, Small (hot); P115, Medium; P125, Large.
Where to buy: SM Megamall, SM North EDSA, Tomas Morato, and opening soon in Wilson St., San Juan
Photos by Nissy.
Share this story with your friends!
---
Help us make Spot.ph better!
Take the short survey
Load More Stories