In the spirit of Halloween, bloody meat stew seemed like the perfect dish to review this week. Dinuguan is an exotic Filipino favorite that either makes your eyes pop when you see how it's made, or makes your mouth water when you smell the chili, garlic, and vinegar stewing. The famously dark dish owes its unique flavor to a spicy gravy of pig's blood as the  not-so-secret ingredient, which the unfamiliar might find horrifying. But to most Pinoys, this comfort food is a bloody delight.  SPOT.ph hunted down the 10 best spots in the city to get your Dinuguan fix.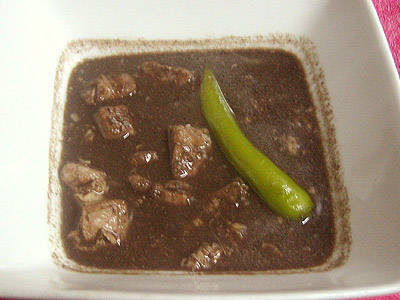 10. RED RIBBON
With branches all over the country
While hardcore dinuguan fans may not like Red Ribbon's Meaty Dinuguan (P85) because of its almost-soupy consistency, it does have its fans. Foodies who are watching their calorie intake will love this treat since it hardly has any fat. You'll taste a hint of ginger in the chunks of lean meat in the mix.
ADVERTISEMENT - CONTINUE READING BELOW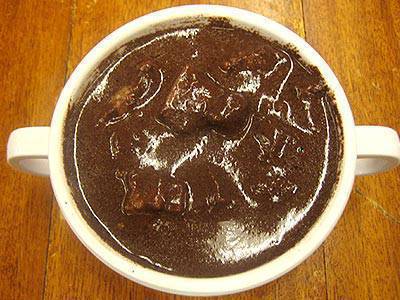 9. KAMAY KAINAN
With branches all over Metro Manila
Kamay Kainan's dinuguan is one of the staples in its daily (3 p.m. to 5 p.m.) eat-all-you-can merienda buffet (P115 per person). The dish, which contains fat-laden pork chunks, is spiced up with peppercorns and bay leaf. Yes, we all know too much fat is bad--but it seems to work in this case. Men seem to be the staunchest champions of this establishment's dinuguan. "It's the perfect pulutan. It goes well with beer," they say.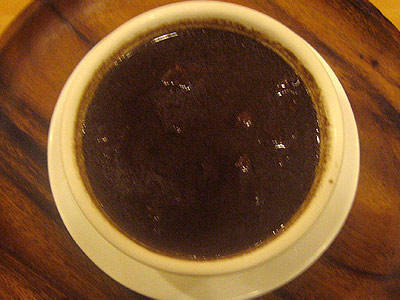 8. CHICKEN BACOLOD INASAL
With branches all over Metro Manila
Dinuguan ni Lola Chit (P107) has a slightly thicker consistency than that of Red Ribbon's. Its strong ginger taste blends well with the thick pork chunks. A few bits of pork fat are also part of the mix. It's well-seasoned, with just the right mix of salt and vinegar.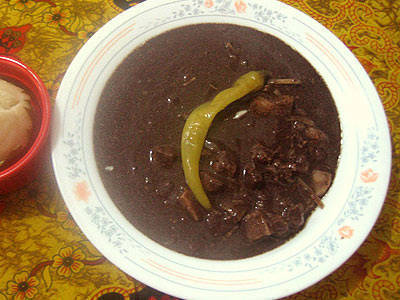 7. JAY-J'S INASAL
92 Mother Ignacia Street, corner Timog Avenue, QC with various branches
Tel. no. 374-3207 (Timog Avenue), 638-6410 (Pasig), 556-1308 (Pasay), and 938-3433 (Fairview, QC)
Open 10 a.m. to 6 a.m. the next day
A ginger lover must have come up with the recipe for this dinuguan  (P105, with puto). It's ginger all the way for this dish--a generous helping of thinly sliced ginger is mixed with pork chunks, minced innards, and fat. The ginger makes the thick stew soothing to the palate. Then again, it's not for you if you don't like ginger.
ADVERTISEMENT - CONTINUE READING BELOW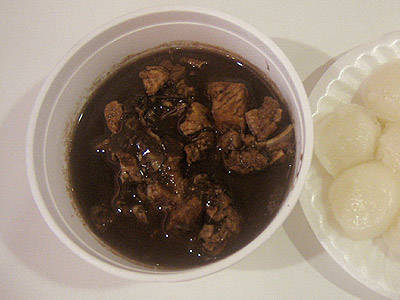 6. RAZON'S
With branches all over Metro Manila

Razon's Dinuguan (P115, with 10 pieces of Puto Calasiao) is made more flavorful with bay leaf. The dish contains sisig bits in its moderately thick stew. It has the right salty-and-sour blend that makes it a great comfort food. In any case, the puto served with it is already a treat.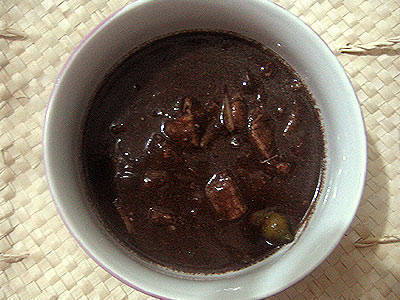 5. RODIC'S
Masaya Street corner Maginhawa Street, UP Village, Diliman Quezon City and Stall No. 9, University of the Philippines-Diliman Shopping Center
Tel. no. 436-4389
Open from 11 a.m. to 9 p.m. daily

Rodic's Dinuguan (P65, with rice) is only served on Saturdays and Sundays. That's a pity since they cook a delicious version of the dish. It has pork chunks, chopped innards, and bits of fat dunked in thick, tasty mildly sour stew.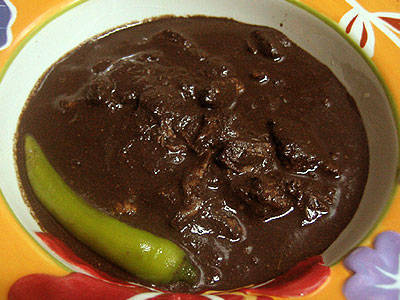 4. GOLDILOCKS
With branches all over the country

The bakeshop gives you bang for your buck with its Dinuguan (P59). The lightly sour, salty, and peppery stew contains pork chunks with fat. It tastes so good you won't even think of ordering puto anymore. Heck, this is the kind of dinuguan that calls for rice--lots of it.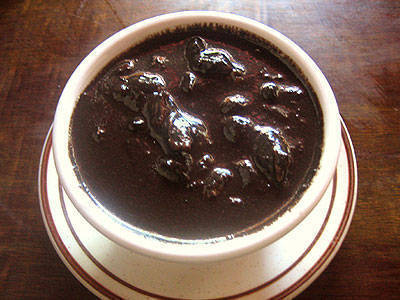 ADVERTISEMENT - CONTINUE READING BELOW
3. BANANG'S
E. Rodriguez Avenue, Quezon City (right across St. Luke's Medical Center)
Open from 6 a.m. to 10 p.m., Monday to Saturday

Neighborhood residents and hospital employees flock to this carinderia for its heavenly Dinuguan (P40). Its thick stew is extra tangy and flaunts very tender fatty pork chunks. We couldn't taste any other spices except for salt and vinegar. The serving may be small (about a cup), but you'll gladly buy another one.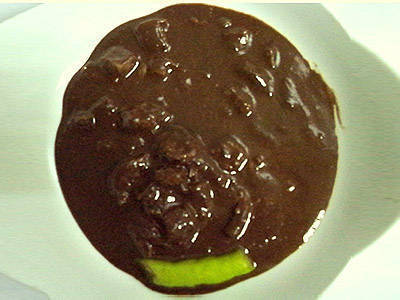 2. LYDIA'S LECHON
with branches all over Metro Manila

Lechon places are expected to serve great dinuguan-or so we've been told. Lydia's certainly didn't disappoint us. Its Dinuguan (P85) boasts of a thick stew that has the perfect blend of salt and vinegar. We also tasted a hint of ginger and bay leaf-though there were no traces of either in the serving. In that case, we give them props for being meticulous enough to get them out of the way.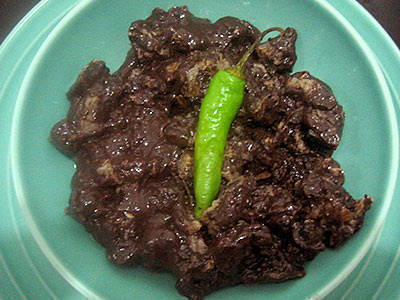 1. KANIN CLUB
UP-Ayala Land TechnoHub, Commonwealth Avenue, Quezon City
Open from 11 a.m. to 10 p.m. daily

The Kanin Club's bestselling Crispy Dinuguan (P272.65) is pure sin. It features sisig bits and Lechon Kawali mixed into an extra thick stew. Despite being mixed into a "bloody mess," the pork chunks remain very crispy. Some diners say, "It's like eating chicharon." Then again, this treat, which is good for two hungry people, is not chicharon. It's something else entirely. It's no wonder why it's reportedly the restaurant's "most copied dish." (It says so in the menu.) Forget about your diet when you order this.
Share this story with your friends!
---
Help us make Spot.ph better!
Take the short survey
More Videos You Can Watch
Load More Stories