10 Terrifying Things in Contemporary Pinoy Pop Culture Plus One
The Horror! The Horror! Our SPOT.ph blogger says the scariest of things are mostly just within our midst.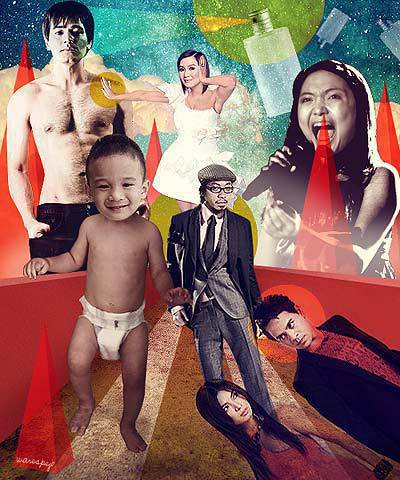 Terror is not just things with fangs and demon horns. The landscape of Philippine society and pop culture is plagued by monsters-- of all macabre shapes, sounds, and symmetries.
1. CREEPY CRAWLY: BABY JAMES
Confirmed: the horror has started early! He has inherited that terrible genetic predisposition to blab and the propensity to annoy without even trying. "I don't like Dingdong!" the brat growled into the microphone that he grabbed from his mother. Even without the pain of a Supreme Court order, Mom was prompted a few days later to explain at length (of course!) what the baby really "meant" by, "I don't like Dingdong." Suffice it to say, Planet Earth shuddered.
2. SUCKERS IN OUR MIDST: IMORTAL
Vampires--in the Philippine context. Who all look like they have stylists. Suddenly, Pinoy vampires don't look like George Estregan and Eddie Garcia anymore. And women are stretching their soft, smooth necks as offering to John Lloyd Cruz, even though Ruffa claims he's an invertebrate. In which case he belongs to the subclass Hirudinea  and his relatives, the leeches. But when it comes to pure terror, nobody comes close to...
3. THE MANAGER FROM HELL: ANABELLE RAMA
Nobody dares not to renew a contract with her--lest you, 'Day (or 'Dong), be accused of being talentless, washed out, and too greedy for money. Ask Heart Evangelista.
4. THE K-POP INVASION
The ghastly hair and the unimaginable vats of hair wax and makeup! The vaguely gay costumes! The confusing androgyny! The impossibly precise, assembly line-like choreography! The choruses we can't understand!
ADVERTISEMENT - CONTINUE READING BELOW
5. JUSTIN BIEBER
You know that scene in Total Recall where a fat lady's face squirms and breaks in half and out emerges Arnold Schwarzenegger? That is what that blasted "Baby, Baby Ooooh" song does to me. Coming in February: a spine-tingling biopic titled Justin Bieber: Never Say Never, which includes-gasp-never-bef0re-seen home footage. Ah, the travails of living to a long, remarkably fruitful age.
6. P-NOY AND THE ETERNAL SEARCH FOR  LOVE
He walks the earth in search of his bride (and lost hair) and there are reported sightings of him dining with prospective mates at several restaurants.  The latest: the woman officially tasked to choose his clothes, straighten his collar, comb his hair, and all other little duties that involve lots of gentle touching.
CONTINUE READING BELOW
Recommended Videos
7. VILLAGE OF THE DAMNED: COMELEC AND THE BARANGAY ELECTIONS-After the euphoria from the triumphant role of modern technology in May 10, this return to shockingly primitive methods--  including resolving election stalemates by tossing coins, drawing of lots, and Jack en Poy.
8. SATAN'S OWN BUSES
Cursed from the start-of the Aquino administration at least. They have fallen down ravines, crashed into each other, if not concrete barriers on Edsa and Commonwealth. They were blown up in Cotabato and became the ghastly settings for botched hostage rescue attempts in Manila.  The frightening part? The new government isn't even a year old yet. Should you ride another Jam Transit? When will the curse end?
9. VISIONS OF ETERNAL EVIL: MANOLING MORATO
The undying purveyor of fear and vile taste-with a long, dark history , starting with his days as censors chief to Sweepstakes head. It turns out he had given millions of pesos to the Prince of Cinematic Darkness himself, Carlo J. Caparas. The chilling task: to produce, write, and direct the series "Ang Pangarap Kong Jackpot" as part of the campaign to promote the lotto-something that looks like it no longer needs any more promoting.
ADVERTISEMENT - CONTINUE READING BELOW
10. THE VOICE OF TERROR: CHARICE PEMPENGCO
After lungs of steel and harmonic registers that crack the skies open, now she has an American twang.
11. THE SCENT OF SCANDAL: HAYDEN KHO LAUNCHES PERFUME LINE
Our head... bursting with punchlines, we don't know where to begin.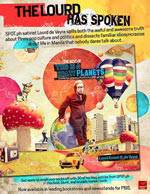 This is a Crazy Planets is available in newsstands, bookstores and supermarkets nationwide for only P195. 
Artwork by Warren Espejo.
Share this story with your friends!
---
Help us make Spot.ph better!
Take the short survey
Load More Stories