Profiling Bryanboy: 10 Reasons He Gets So Many Hits and Hates
SPOT.ph tries to figure out what makes the world-famous fashion blogger such a controversial hit--with fans and haters alike.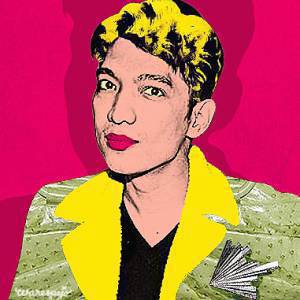 Bryan Grey-Yambao or Bryan Yambao became a famous fashion blogger using his nom de plume Bryanboy, which is also the title of his blog. In an article published on September 10, 2009, Malaysia-based The Star Online, described him as "a 22-year-old former web-developer turned full-time blogger from Makati City in the Phillippines." But, oh, he is certainly more than that. Bryanboy, now 23, is a phenomenon--and whether that's good or bad depends on who you're talking to. He has legions of fans--as well as hordes of haters. SPOT.ph plays pop profiler and tries to figure out what makes this self-styled fashionista such a controversial hit.
Disclaimer: We're quoting many of Bryanboy's blog entries for this article. He is fond of using many un-PC terms, words that would cause nuns to have heart attacks, and expressions that would make prudes swoon. Don't say we didn't warn you.
Who is the boy behind the dark glasses?
1. He loves scandal. In his January 6, 2003 blog post, Bryanboy declared, "Greetings from the Third World! My name is Bryanboy and I'm 17 years old (plus 7% sales tax). I'm the most gorgeous jailbait prostitute available from the land of the brown, l'exotique and the natives. My $5 blowjobs and my drugfucked, nails-on-a-chalkboard trannyific voice is so popular I just have to have a dedicated page for my podcasts. Believe it or not, I know there's a shitload of people out there who like to masturbate whilst listening to my awful voice. Don't ask me why. I am so gay that even normal gay people are scared of me. I've been told many, many times that I give gays a bad name." The mock-serious tone of this presumably satirical introduction is one way of standing out--especially in the world of blogs. Bryanboy knows that many people gravitate towards scandals or scandalous individuals. His existence proves it.
ADVERTISEMENT - CONTINUE READING BELOW
2. He's a Cusp sign. With March 21 as his birthdate, Bryanboy is a cusp sign; technically an Aries, with a little bit of Pisces. According to Always Astrology, "Individuals born on the Pisces-Aries cusp are direct and to the point. This may lead to admiration or misunderstanding. They often see nothing wrong with anything they do or say, and refuse to compromise for others. They often get their way through sheer persistence. They don't like being analyzed, by others or by themselves. Unless they can find a way to see themselves objectively, however, they may have difficulties in life."
CONTINUE READING BELOW
Recommended Videos
Bryanboy touches base with designer Marc jacobs, who created a bag named after him.
3. He's self-deprecating. In his June 12, 2007 blog post, where he talked about the Prada Prototypes Auction, Bryanboy revealed, "I'm on a very tight budget (dirt poor galore) and there's not much I can do if an item reached my ceiling point." He went on to joke, "Will someone please find me a sugar daddy?" According to The Self-Esteem Shop, "Comedians use self-deprecation self-deprecation to illicit laughs. Other people use it as a coping mechanism."
4. He makes it seem that he's revealing a lot--but he's not. In his March 31, 2007 blog post, Bryanboy mused, "Am I terrible for worrying about what to wear because I plan (not yet confirmed) on going to this year's Philippine Blog Awards tonight when my mum's having surgery later this afternoon? Hysterectomy or something. Pre-cancer if you must know. Blah blah blah, yaddi yaddi yadda. Enough about her and more about me." To most family-focused Filipinos, this statement may seem heartless. But, hey, you have to give props to the guy for not moping about his problems. (At least, not in his blog.)
ADVERTISEMENT - CONTINUE READING BELOW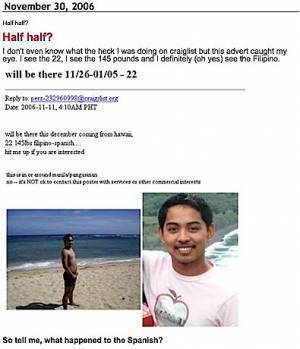 Bryanboy's got a nose for being nasty to some poor, unfortunate creatures. (Screenshot from Bryanboy.com)
5. He's full of contradictions. While Bryanboy aims to project beauty without being beautiful himself, he brings out his knives when he comes across poor, unfortunate souls who--perhaps, inadvertently--aren't too adept as describing themselves. In his November 30, 2006 blog post, Bryanboy writes about a personal ad--which was posted by a 22-year-old guy who claimed to Filipino-Spanish--that he found on Craigslist: "I don't even know what the heck I was doing on [Craigslist] but this advert caught my eye. I see the 22, I see the 145 pounds and I definitely (oh yes) see the Filipino." Bryanboy ended the post with this rhetorical question: "So tell me, what happened to the Spanish?"
Bryanboy hangs out with his fellow fashion bloggers and designers Domenico Dolce and Stefano Gabbana.
6. He's smart about branding himself. Bryanboy knows how to sell himself--from his trademark pose (standing with hips thrust to one side and holding a handbag in an outstretched arm) to the photos of his fans holding handwritten signs declaring their love for him. It would seem that he's built his following from sheer force of will.
ADVERTISEMENT - CONTINUE READING BELOW
7. He's got weight issues. Although he has an extremely slim figure, Bryanboy seems to be constantly worrying about his weight. In his September 9, 2006 blog post, he writes, "Time flies so fast it's not funny at all. I have 3 months to lose weight, have an abortion to get rid of my grotesque fat ass and bulging gut, save $$$, lose weight, get a liposuction (calling the attention of Dr. Belo, please please please get rid of all my fat for FREEEEEEEEEEEEEEEEEEEEEEE hahaha), lose weight, get a nosejob (ok I'm kidding), save $$$, buy new winter clothes and lose weight." Psychologists normally attribute the obsession over losing weight to social pressure and poor body image. But it's hard to believe that Bryanboy is feeling any pressure or that he's insecure about his appearance since he gamely poses for pictures all the time.
Bryanboy interviews controversial supermodel Naomi Campbell.
8. He's hard to find. Though Bryanboy seems to be all over the place, it's hard to find any other specific information about him. (Google was not our best friend in this case.) We don't know where he went to school, where he lives, how many siblings he has, or where he worked before he gained fame as a fashion blogger. Does this mean that he's really a very private person masquerading as a party animal?
9. His numbers say different things. Using the numerology application on PaulSadowski.com, we got Bryanboy's life numbers based on the three variations of his name. For "Bryan Grey Yambao", we got this result: "Your number is 1. [This] denotes the skilled executive with keen administrative capabilities. The negative attributes of [this number] are egotism and a self-centered approach to life." For "Bryan Yambao," we got this spiel: "Your number is 9. Your talents center in humanistic interests and approaches. Undeveloped or ignored, the negative side of [this number] can be very selfish and self-centered." Then, finally, for "Bryanboy," we got this: "Your number is 3. [You are destined] to sell yourself or sell just about any product that comes along. The negative side of [this number is] superficiality."
ADVERTISEMENT - CONTINUE READING BELOW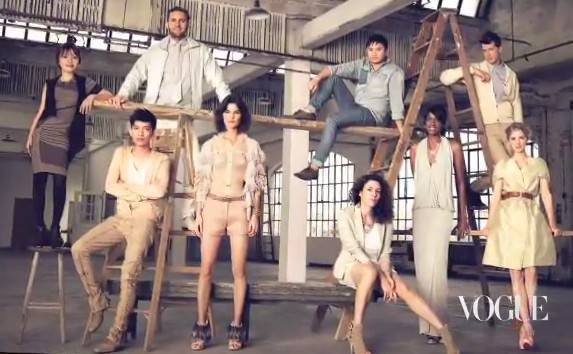 Bryanboy is featured alongside other style bloggers in the March 2010 Power Issue of American Vogue with Tina Fey on the cover. At the time, a number of fashion magazine editors were questioning the legitimacy of fashion bloggers. (Screenshot from Vogue.com)
10. He can cause (online) wars. For all his fame and foreign fans, it seems that Bryanboy has some enemies, too.  A series of pseudo-exposés have also been written about him, most notably, "About a BBBoy," revealing snippets of Bryanboy's alleged secret life--from his supposedly less-than-glamorous origins to his high-risk activities. In the past, Bryanboy was also supposedly unmasked as the author of the now-defunct Chikatime, a blog devoted to gossip about Manila's jet-setters and fashion insiders. Though the said site became a sought-after guilty online pleasure, some pundits pointed out that it was actually a "cyberbullying tool." Indeed, it's hard for those who are not in Bryanboy's circle to keep track of who's on his side and who's out to get him. Hopefully, he knows who's who. (Then again, maybe he could care less since he's already got a Marc Jacobs bag named after him and Fendi reportedly paying homage to his trademark pose.)
ADVERTISEMENT - CONTINUE READING BELOW
Art by Warren Espejo.
Share this story with your friends!
---
Help us make Spot.ph better!
Take the short survey
Load More Stories