Tweets of the Week: Liz Uy, Divine Lee, Maria Ressa + more
The Twitterati on the Philippine Fashion Week, Halloween, vacation trips, and more!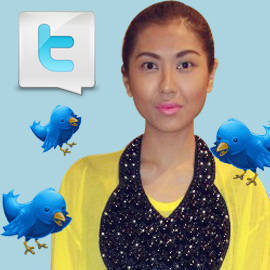 Liz Uy
Liz Uy, stylist:
- Done!!! Hope you liked the Jellybean show. Styled by yours truly! <3
-  Fashion week is officially over! Escaped the chaos. Happy halloween everyone!
- Fun couple! @DivinemLee @victorbasahttp://plixi.com/p/53906961
- Tim Yap is twitter bird or twitter birdsss!!! @iamtimyaphttp://plixi.com/p/53906276
- DORA @iamsuperbianca super kyoot!!!!! http://plixi.com/p/53905690
-  3 margaritas please! Quesadilla and burrito nadin!http://plixi.com/p/53846977
-  RT @mondgutierrez: @lizzzuy as Maleficent! #halloween2010http://plixi.com/p/53843569

Divine Lee, real estate heiress:
- I'm in wharton by @rajolaurel men's wear :) Girls can really invade their bfs closet nowadays :)
- Mens wear is in! :)http://plixi.com/p/53200216
- I'm so proud of my mama @rajolaurel :) more than the great clothes... May career ka sa pagka song bird! Tarush!
- Haha! @victorbasa using my eye mask. Bongga noh? "Tulog ang lola mo" haha!http://plixi.com/p/53327736
Bubbles Paraiso, actress and model:
- Neil the Beach boy, @143redangel the cowgirl and I'm a french maid :phttp://plixi.com/p/54104113
- Hello Kitty (@maxenemagalona), Neo from the Matrix (@PaoloParaiso), and Cowgirl (@143redangel)http://plixi.com/p/54105543
- Trivia: my costume came from @143redangel and her vest came from me! Hahahahaha!! Last minute kasi costume party namen....
Rajo Laurel, designer:
- Greetings from Paris!!! Thank you all for coming to the show! I appreciate you all!!!
- I am now in Avignon in the heart of Provence! I love our hotel! OMG! Its so historical, dating back to 1580! it is called Hotel d'Europe
-  Hello everyone! Enjoying my sweet vacay in the South of France! Were at an estate now in front a fire! J'dore! &wine! This is the life!
ADVERTISEMENT - CONTINUE READING BELOW
Annabelle Rama, talent manager:
- http://twitpic.com/32ejas - Its my birthday. Masaya ang byuti ko at kasama ko si Eduardo at mga anak at apo ko na pupunta ng
- Macau
- Marami pala ang gustong makakita sa byuti ko sa macau at hong kong dapat pala nagdala ako ng minus 1 para makakanta para sa kanila 
- http://twitpic.com/32i7ai - At the Macau airport with @iloveruffag
Mo Twister, radio DJ and TV host:
- it's Halloween! A day when parents urge their little boys to dress like little girls, and little girls to dress like whores.
- why dress up this Halloween when I can just let the inner monster in me out?
- i knew someone who would rather abandon you than to apologize for something. if only certain politicians had such pride in something.
CONTINUE READING BELOW
Recommended Videos
Ramon Bautista, filmmaker, professor, and commercial model:
- RT @rjled @ramonbautista Dear Lord, have you seen the cover of UNO Mag's Nov issue!?http://www.unomagazine.com.ph/2010/10/ramon-bautista-uno-cover/
-  trick or treat - US halloween version ng "teh, teh, akin nalang yan teh"
Ellen Tordesillas, blogger:
- Would like to give Mai Mislang a copy of guidelines on social media. Read "Snooty and arrogant" http://www.ellentordesillas.com/?p=13567
Maria Ressa, TV journalist:
-  We build meaning in our lives through commitments-to the people you love, to your work, to an ethical order, to religion.What gives meaning?
- My last day at work. Endings and beginnings are exciting times.
- My team's despedida avp. Will miss them. Told them not dying, just leaving company. Now we can jst be friends!http://on.fb.me/cBkY8A
Quark Henares, director, writer, and band member:
- The Social Network is hands down the best movie of this year. Here's my love letter to its director http://bit.ly/cRfvCx
-  i am thankful to whoever invented friends. they're the most delightful people in the world.
ADVERTISEMENT - CONTINUE READING BELOW
Artwork by Warren Espejo. Photo from StyleBible.ph.

Share this story with your friends!
---
Help us make Spot.ph better!
Take the short survey
Load More Stories