Ivan Man Dy's 10 Must-Visit Food Streets in Binondo
Binge-eat in Binondo following the picks of Ivan Man Dy of Old Manila Walks.
Popular for "Old Manila Walks" tours and his five minutes of fame as the food guide to Binondo in Anthony Bourdain's Philippine episode of No Reservations, Ivan Man Dy has become a semi-celebrity of sorts. A volunteer docent who also wanted regular exercise, he took his passion for Filipiniana, Manila, and heritage advocacy a notch higher and started Old Manila Walks.
Ivan Man Dy tours Anthony Bourdain in the Philippine episode of No Reservations
Says Dy of his walking tours, "These places--Intramuros, Binondo, San Miguel, Quiapo, the Chinese Cemetery--they've been there forever but people kind of forgot about them except when they had visitors or needed to buy something...We [just] rehashed the old and turned it into something hip again."

Food and must-try dining spots are also a large part of his tours. But when it comes to picking out his favorite Chinese restaurants in Manila, Dy says his moods and cravings dictate them. "I tend to choose those that serve traditional and value-for-money [food]. I think Chinese restaurants have this unspoken  burden of providing food which the Tsinoy community refers to as 'SKK' or 'Shiok Ko Kiok' which literally means "cheap and more than its value," and I stick to that formula most of the time.  Personally, I really appreciate a good shabu-shabu and noodle house."

His "Big Binondo Food Wok" tour has become popular for those seeking out good eats. Check out Ivan Man Dy's list of 10 Binondo streets to head to for the ultimate food trip (also included in the Old Manila Walk's Big Binondo Food Wok map):


1. T. Alonzo Street

Hit Alonzo Street for Salido Restaurant's siphon-brewed coffee and pugon-roasted pork asado, which they've been serving since the 1930s. For hot noodles, try Ling Nam Noodle Parlor located on the same street and lap up steaming hot bowls of freshly-cooked noodles.
Salido Restaurant is at 2/F 593 T. Alonzo Street, Binondo Manila
Ling Nam Noodle Parlor is at 616 Alonzo Street, Binondo, Manila. Tel. No. 733-5231. Open from 5:30 a.m. - 9 p.m. daily


2. Rosario Street (Quintin Paredes)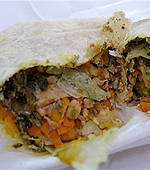 Hankering for fresh lumpia? Po-heng Lumpia House serves 45-peso fresh lumpia served with peanut sauce. The place, devoid of airconditioning, is located inside an old building with a courtyard.
Po-heng Lumpia House is at 521 Quintin Paredes, Binondo, Manila. Tel. No.  241 -8789. Closed on Sundays, open from 7 a.m. to 7 p.m.
ADVERTISEMENT - CONTINUE READING BELOW
3. Carvajal Street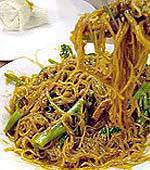 This narrow street is closed to traffic and has numerous fruit and vegetable vendors. Here you can find Quik Snack, a popular spot for cakes, fried lumpia and noodles--a must-try!

Quik Snack is at 637 Carvajal Street, Binondo, Manila. Tel. No. 242-9572. Open from 8 a.m. - 6 p.m., closed on Sundays.


4. Ongpin Street


Several Chinatown spots can be found on Ongpin: Chuan Kee for meals served turo-turo style, and Eng Bee Tin for their famous hopia. One of the oldest restaurants in Binondo-- Ongpin Mañosa Restaurant--is also on Ongpin, and is famous for its large bowls of Maki (P100 for the large bowl), a brown soup with chunks of pork and onion leeks.
Also on Ongpin Street is the President Grand Palace Restaurant. An institution in Chinatown, the restaurant re-opened with a more contemporary dining space but still churning out Chinese food classics for which the spot is known for.


Chuan Kee is at 650 Ongpin St. corner Nueva St., Binondo, Manila. Tel. Nos. 242-9759, 241-9999. Open from 6 a.m. - 10 p.m. daily.
Eng Bee Tin is at 628 Ongpin St. Binondo, Manila. Tel. Nos. 242-9765, 241-9999. Open from 7:30 a.m. - 8:30 p.m. daily.

Ongpin Mañosa Restaurant is at 926 Ongpin Street, Binondo, Manila
Open 10 a.m. to 9 p.m., Monday to Saturday, closes earlier on Sundays

President Grand Palace Restaurant is at 746 Ongpin St., Binondo, Sta. Cruz, Manila
Tel. No. 244-5886


5. Salazar Street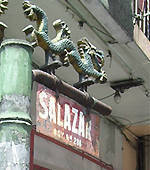 If you're looking for pastries, delicacies and Chinese food items, Salazar Street is the place to go to. Stock up on pineapple cakes, curry puffs and other Taiwanese candies at Shin Tai Shang.
Shin Tai Shang is at 815 Salazar Street, Binondo, Manila. Tel. No. 244-0325


Masuki (formerly ma Mon Luk), located on Benavidez Street, is known for its mami, siomai and siopao. Even with its limited menu, the no-frills spot continues to draw in the crowds who grew up with their well-loved siopao and mami.

Masuki is at 931 Benavidez Street, Binondo, Manila. Tel. No. 244-0745
Panciteria Ramon Lee on Ronquillo Street has been serving pancit, fried chicken and lumpiang shanghai since 1929. The restaurant built its reputation on simple yet tasty panciteria bestsellers: Lumpiang Shanghai, Camaron Rebusado, Lengua Baboy, Crispy Fried Chicken (the house specialty), Pancit Canton and Shanghai Fried Rice.
Panciteria Ramon Lee is at 540 Ronquillo Street,  Manila. Tel. No. 733-0642. Open from 10 a.m. - 10 p.m. daily.


8. Masangkay Street

ADVERTISEMENT - CONTINUE READING BELOW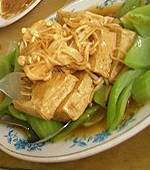 A stone's throw away from President's Tea House is Quan Yin Chay, famous for its vegetarian fare. Simple vegetarian food comes with hot tea and a meal only costs a little over P150.

Quan Yin Chay is at 821 Masangkay Street, Binondo, Manila. Tel. No. 243-3356. Open from 6 a.m. - 9 p.m. (Mondays to Saturdays)


9. F. Torres Street


Veer away from Chinese food at Ambos Mundos, where Spanish and Filipino dishes take centerstage. One of the oldest restaurants in the Philippines, the interiors lend an Old World vibe where you can feast on their Paella Ambos and Lengua Estofado.

Ambos Mundos is at 750 Florentino Torres Street, Sta. Cruz, Manila Tel. No. 734-1160
10. Nueva (Yuchengco) Street

Chinatown experts may point you in the direction of Nueva Street, where Sincerity Café is located. Load up on their popular fried chicken served with two sauces (ketchup and chili).

Classic Chinese treats can also be found at Ho Land Bakery, where hopia and other Chinese pastries are meant to be toted home.

Sincerity Café is at 497 Yuchengco Street, Binondo, Manila. Tel. No. 241-9990

Ho Land Bakery is at 555 Nueva Street, Binondo, Manila




Check out oldmanilawalks.com for tour schedules. Photographs by Jenny Orillos (Quik Snack), Sincerity Facebook account, Masuki's Multiply account, Argent Dulce of White Box Studio (Salido Restaurant), Karla Vanessa Redor of FoodTrippings.com (Po-heng Lumpia House), Armi Lantano (Salazar Street sign), and Ces Arcilla (Quan Yin Chay).
Load More Stories