Tweets of the Week: Miriam Defensor-Santiago, Michelle Madrigal vs. Aubrey Miles + more
The feisty senator takes a fall and lives to Tweet about it, <em>Survivor</em> sirens go at it online and more!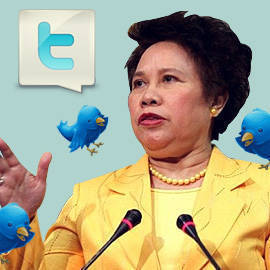 Senator Miriam Defensor-Santiago
Michelle Madrigal, actress, on Survivor Philippines and co-castaway Aubrey Miles:
- sorry to disappoint you guys but i just had to say what i really feel.
- @clahboom wala akong sama ng loob.ayaw ko ng ganun.sinabi ko lang kung ano ang hindi ko gustong nangyari sa survivor.
- Sooo easy to judge..mga wala naman kayong alam.oh well! things people say para lang may masabi.
- Wala po akong kaaway..just saying na maraming taong ganyan.wala naman alam pero nakikisali sa issue para feeling nila part sila☺
- @jon_tibuok haha true. Whatever it is I believe that we're not suppose to talk abt r personal stuff on tv.specially if its abt ur past.
- @jon_tibuok relationship.Respect lang.even if people asks u abt it. U can always say no comment.I'm sure u wanna say smethin but better not.
- goodnight everyone! what's done is done. u can't take it back. lets just move on & be happy =)
ADVERTISEMENT - CONTINUE READING BELOW
Aubrey Miles, actress:
- i just watched micth's interview.i have nothing to say to her,wat she did was a release from her pent up emotions.nothing personal,what for?
- my only goal is to play and win so im not focusing on other things.believe me,wala akong galit at sama ng loob,im very happy im still in.
- @jon_tibuok im sorry for msging u here again.i hope everything's ok.i saw mitch intervw i hope she's not mad.walang personal sa akin,what 4
- @bubblesparaiso yes i saw micth interview here,i hope she's ok.i didnt know ganun na pala ang feeling nila sorry for sharing
- @queenbltzr thanks for the good words..sana ok na ang lahat.i will never hate anyone bcoz of survivor..pero hayaan ko na matatapos din yan
CONTINUE READING BELOW
Recommended Videos
Bubbles Paraiso, actress:
- damn. ofcourse everyone voted off @mitch_madrigal. they made her a total outcast! :( haaay.
- i dont get why they had to vote off Mitch. i mean c'mon! shes not a threat, she wouldve been a good alliance. haaaay. #survivorphilippines
Mikaela Martinez, model, on her Bangkok trip:
-Good morning Bangkok! :-) Didn't waste any time, went shopping right after I checked in last night. More shopping today!!
- Would u get ur hair done in a salon that looked like this? Haha. It's the best one in Bkk, been here before! http://plixi.com/p/56428900
- Exotic Food called LOT DUAN in Bangkok. It's cocoons!!! Eeeek. I can't eat it. CANNOT! http://plixi.com/p/56439109
- The Bangkok night life gives me the creeps. Too many boobies.
- Last day in Bangkok- last few shopping spots & i'm flying back. Missing the Pacquiao fight :( BOO! Will not log on 'till I watch!
ADVERTISEMENT - CONTINUE READING BELOW
Vicki Belo, cosmetic surgeon of the celebrities:
- Mommy diönisia is unconscious. . I don t know if its cuz she prayed too much or she s having an attack
- She has not regained consciousness. Please pray for mommy d.
- Mommy d awake . Just feeling weak . Kept here in the hospital for more tests. Thanks for prayers
- Mommy dionisia has a chronic heart condition in which her heart stops beating for awhile. Thats why she usually doesn t watch Manny s fight s because she gets too stressed. Her doctor said she could watch this time but it was too much for her to watch her son get hit. Such is a mothers love for her son .
- Mommy had a ct scan because she felt throbbing pain on right side of her head. She was feeling very weak until a suprise visitor appeared to cheer her up. Mr derek ramsay. Her eyes lit up and gave a big smile
- Manny and jinkee were so sweet. Manny was quite sore in the ribs after the fight. His hands were swollen so jinkee was feeding him. They seemed oblivious to the crowd around them
Senator Miriam Defensor-Santiago on falling  down onstage in Turkey:
- Don't lose your confidence if you slip Be grateful for a pleasant trip And pick yourself up, dust yourself off and start all over again...
- Video of me falling on Istanbul stage: http://www.youtube.com/watch?v=dSUz6IzU_zg
Carlos Celdran, performance artist, activist, and Forbes Magazine's Names You Need to Know in 2011 nominee, on the Philippines' new tourism slogan:
- does NOT like the new "Pilipinas Kay Ganda" DOT slogan for tourism. It would work for local Filipinos but um. foreign tourists will say "What the **** does that mean?" HELLO???!! Let's all #HelpDOT come up with a better slogan before it's too late. Seriously, Secretary Lim. WTH?
- will be going to the DOT bloggers launch later on at 6PM to give them a piece of his mind about the lame new slogan "Pilipinas Kay Ganda". I certainly hope other bloggers do the same.
- is recommending his own slogan: "The Philippines. It's all about you."
My defense: This slogan highlights our friendliness/openness/graciousness.
This slogan emphasizes that Filipinos are a diaspora and in every country of the world.
This slogan shows that there is a little something for every taste here in these islands.
The local market version: "Pilipinas Para sa 'yo"
What's your suggestion?
ADVERTISEMENT - CONTINUE READING BELOW
Gabe Mercado, comedian:
- A great Philippine Tourism ad? You'd have to go back to the mid 80's. http://www.youtube.com/watch?v=94Rybd65XuA&feature=related
Dyan Castillejo, sports reporter, Tweets details of the Pacquiao vs. Margarito fight:
- margarito looked like he almost went down in the 4th! manny attacking, right eye margarito bleeding and closing
- super round for pacquiao whenmarga comes in pacquiao retaliates with fire! great movement pacman excellent footwork he gets out of ht
- fighting heart margarito but pacman is too strong and fast, fans are loving the fight
- margarito a punching bag for pacman now in the 10th!
- final round 12 here we go ! pacman impressing
Karen Davila, TV journalist, Tweets statements of former U.S. President Bill Clinton:
- Bill Clinton "interdependence means we can't escape each other, even if we built walls around our country"
- Clinton "the world is entirely too unequal to sustain and uplift everyone in the Phils, or uplift education, business"
- Clinton, 2nd point: "The world we live in is too unstable to be completely sustainable" ex. US financial crisis, housing collapse
- Clinton, 3rd point "I agree that climate change is real, the way we make energy is not sustainable. The model of Phils is impt"
- Clinton cites example on national pride"In Rwanda every adult takes 1 saturday a month to clean the streets"
- Clinton: "Filipinos have done great all around the world, but I think you ought to try & get more people to come home"
- Clinton on PNOY's challenge "getting overhang of financial crisis, sustain 5-6 yrs of growth to build infrastructure"
- Clinton "get all girls, boys in school, give them access to job market, the birth rate tapers off"
- Clinton on impressions of PNOY "I like abt him he's got lots of energy, I like people excited abt their jobs."
- Clinton "you'd want a president that's smart enough to know what's going on, energetic enough to act on it & can answer 'how' question."
- Clinton says, "power has made me more humble...made me sober & had to wake up every morning how my decisions affect people around the world"
- Clinton "one of the benefits of being fmr Pres, U can say what you think, but no one cares what U think! Except if ur wife is sec of state"
ADVERTISEMENT - CONTINUE READING BELOW
Artwork by Warren Espejo. Photo taken from the official Miriam Defensor-Santiago website.
Share this story with your friends!
---
Help us make Spot.ph better!
Take the short survey
Load More Stories