P-Noy's dating, Pacman gets sued, Aubrey Miles slams Jon Hall + more lowlights
P-Noy's free, Pacman's got problems, Aubrey Miles has it in for Jon Hall, and more lowlights.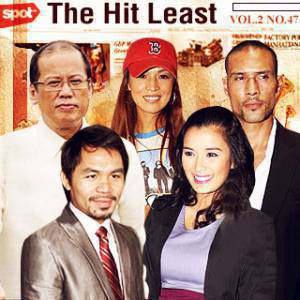 1. OPTICAL MEDIA BOARD RAIDS QUIAPO FOR THE NTH TIME, CONFISCATES PIRATED DVDS. Have you guys ever heard of Sisyphus?
2. KATRINA HALILI AND HAYDEN'S MOM IRENE KHO MEET AGAIN. We're pretty sure that this particular Halili-Kho video won't go viral.
3. DEPARTMENT OF TOURISM'S "PILIPINAS KAY GANDA!" SLOGAN UNDER FIRE. This slogan is what you get when you mash up Pilipinas Win na Win and Umagang Kay Ganda.
4. AUBREY MILES ACCUSED OF BADMOUTHING EX AND FELLOW SURVIVOR CASTAWAY JON HALL, WHO'S NOW WITH MICHELLE MADRIGAL. Don't look at us, we're just helping one of them make the most out of 15 minutes.
5. CATHOLIC CHURCH BANS MASSES IN MALLS. If it doesn't involve condoms, it takes them 1,000 years to do something about it.
6. UP MANILA STUDENTS WEAR "SHORT SHORTS" TO PROTEST EDUCATION BUDGET CUT. At this rate, they'll be naked next year.
7. WOMAN GETS ATTACKED BY BOMB-SNIFFING DOG IN MAKATI MALL. Would you like it if a stranger started feeling you up while you're working?
8. PACMAN'S US CONCERT IS SOLD OUT, BUT A RECORD COMPANY'S SUING HIM FOR $10 MILLION FOR FAILING TO RECORD AN ALBUM. Stick to boxing--where you can beat up people without getting sued. (And who's stopping you from singing in the ring?)
ADVERTISEMENT - CONTINUE READING BELOW
9. PRESIDENT NOYNOY AQUINO ADMITS HE'S DATING HIS STYLIST LIZ UY, SAYS HE'S STILL RECOVERING FROM HIS BREAKUP WITH SHALANI SOLEDAD. This spiel could put an insomniac to sleep.
10. NOVEMBER 15 TRANSPORT STRIKE LEADS TO SUSPENSION OF CLASSES IN SAN JUAN AND QUEZON CITY. And it's so much fun when the suspension is announced when the kids are already in school.
Art by Warren Espejo.
CONTINUE READING BELOW
Recommended Videos
Share this story with your friends!
---
Help us make Spot.ph better!
Take the short survey
Load More Stories