FOOD REVIEW: Wee "NomNomNom" Kee
SPOT.ph's food reviewer gives his thumbs up to Wee Nam Kee's simple but flavorful food.
Wee Nam Kee
Ayala Triangle Gardens, Makati City
Tel. No. 846-8924
Open from 10 a.m. - 10 p.m. daily
For many, Singapore is synonymous with chicken rice. Everyone there eats it, and it's truly delicious in its simplicity.
I lost my Singaporean chicken rice virginity to Wee Nam Kee, through my friend Harvey in Singapore. He took me there even if it was a bit out of the way for him simply because it was his absolute favorite, and upon shoving their food into my mouth, I could see why: their food was fresh, full of flavor, and obviously sourced with the best ingredients they could find, plus, it was very reasonably priced. Since it was also located right across a Catholic church, you can bet that a gajillion kababayans have probably stuffed themselves there as well-even former presidents!
Now, unless you've been hiding under a rock or you couldn't really care less about food, I surmise that you've probably heard that a franchised outlet of Wee Nam Kee has opened alongside some other restaurants in Ayala Triangle. How this happened, I'm not quite sure: WNK in Singapore is a humble (yet justifiably famous) open-air establishment, the last kind of food outlet that you would expect to expand out of Singapore. But it took the persistence of one lone Pinoy customer who ate there all the time to drag them out here to feed us (Take a bow, Linfred!).
Since they opened, I had been waiting to try it out, except that I knew the hungry hordes would be lined up outside, so I chose to wait til it got a little quieter-until I got a call from my friend to join him for lunch there with the owner. Well, gee, why say no to that? So off I went with C, only to find that it was WNK's media launch. Good thing we went early. In no time at all there was a sea of people rushing in. And, as it turned out, my friend wasn't going to show up and neither was I going to sit with the owner. But hey, at least it was a chance to try their food (and yes, for free, at that!)
ADVERTISEMENT - CONTINUE READING BELOW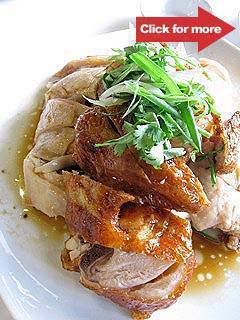 CONTINUE READING BELOW
Recommended Videos
Chicken Rice at Wee Nam Kee. Click for more photos.
But before that, a word about chicken rice: for those of you who haven't had it, it's basically boiled or steamed chicken, sometimes served with a bowl of broth (the same one used to cook the chook in), and always with some chicken rice (made with chicken broth and chicken fat as well,  which is why it isn't as virtuous as it sounds!), and a trio of all important sauces: ginger, chili, and kecap manis, a thick, slightly sweet soy sauce. Preparing this is not as simple as dumping some chicken in boiling water--there are techniques to achieving a juicy, perfectly cooked version, and that's just pertaining to the meat. Of equal importance is the rice and the ginger and chili sauce. The most important thing of them all is that you get the best possible ingredients you can find. Mix and match your sauces to your liking, and devour accordingly. You can see why this dish works-simple flavors are always satisfying.
ADVERTISEMENT - CONTINUE READING BELOW
Now I've spoken to some Singaporean chefs about this, and asked what the secret is to preparing this deliciously deceiving Plain Jane dish is, and a lot of them claim that their source for chickens should be impeccable-our Filipino chickens are supposedly not good enough, and that only their Singapore sourced fowl will do.
I am happy to say that the Manila branch of WNK has debunked that theory, as their chickens are all sourced locally from farmers (not huge companies) who dress the chickens themselves. The son of the owner of the original WNK, who also doubles as Manila's manager for now, is proud to explain that actually everything they serve is sourced locally-this piece of information alone already garnered my respect. Rather cool of them, as they could very well fly everything in if they wanted to, but they know if they work hard to maintain quality, and source everything locally, they can keep their costs down-keeping us ravenous Pinoys happily within our budgets!
Their menu reads quite well, with a chockfull of familiar Cantonese treats: sizzling tofu, hot and sour soup, fried spare ribs, hot prawn salad, shu mai, ha kao, and noodles (which I would think is a good reason to come back and try).
The star of the show, naturally, is the chicken rice. For today's meal we got two kinds of chicken: a classic steamed version, and a roasted one. The roasted one wasn't bad, if slightly drier than the other-I'd get this if I were in the mood for something different. The classic version was done very well-the breast was juicy, the ginger sauce was stellar-not too pungent and strongly flavored, the chili sauce had nice heat (if a little polite), and the rice was not drowned in too much chicken fat. I was told that the owners wished our chickens are a bit fattier - something they're working on with their purveyors - but all in all it was already delicious to me. A good job, considering you could order a set for one is P168. Not bad at all, and a much better option than a fast food burger.
ADVERTISEMENT - CONTINUE READING BELOW
A plate of humble kangkong came flash sautéed in some sambal sauce (a belacan, I think: chilies and some shrimp paste, which is a Malay staple) --- this, to me, was good enough to eat alone as your main dish. (But hey, I'm a kangkong lover.)

Last but not the least came a secondary star, the Scottie Pippen to the chicken rice's Michael Jordan: a plate of cereal prawns. This is almost always a sure fire crowd pleaser-fresh prawns flash fried in chilies and garlic then topped and tossed with cereal. Some versions of this that I've tried kept the cereal whole-you could see whole oats, and it provided texture. WNK's version crushes the cereal (could it be Frosted Flakes?) and although I've tried better versions, it's a decent dish nonetheless (and one of their pricier ones at that, at P375 for 4 prawns).

At any rate, WNK is a most welcome member of our restaurant landscape. My wishes for them: 1. They stay open later (they close at 10 p.m.) so you can go there after some drinking (not that I drink much...no, really!) and 2. They open a bigger branch. It can get quite cramped.
Right about now is a good time to go there-bring your friends, then go to the park and ogle at the beautiful lights that Ayala and company have put up for your enjoyment. I'm eager to go back as a regular customer. Welcome to Manila, Wee Nam Kee-I wonder what's next.. Panda Express?  (Oh, I love intrigues).
ADVERTISEMENT - CONTINUE READING BELOW
RATING: 3.75 SPOTS ....
Photographs by JJ Yulo

Share this story with your friends!
---
Help us make Spot.ph better!
Take the short survey
Load More Stories