Tweets of the Week: Heart Evangelista, Solenn Heussaff, Carlos Celdran + more
Heart owns the runway at Inno Sotto's fashion show, Solenn says she'll run naked if she makes it to <em>Survivor's</em> top 3 and more!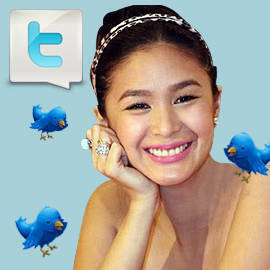 Heart Evangelista
Heart Evangelista, actress, on being Inno Sotto's muse for his "Thirty. Twenty.Ten" fashion show:
- I never got to tweet my inno sotto experience...here it goes_my dream,an honor,all for love,magical something ill never forget:)thanks inno♥
- So excited for my inno sotto gown for tatler tom night:)
Solenn Heussaff, model, VJ, and Survivor Philippines celebrity castaway:
- we said we will run naked if we're in top 3 not top 4;) were crazy! Hehe
- @infinitydwells evry one is "plastik"kc every one votes out someone. No one is innocent... its really a mental game. Hirap to explain ;)
- Tatler ball :) http://twitpic.com/38i0zw
- Bffs at tatler http://twitpic.com/38ju8i
Shalani Soledad, Valenzuela City Councilor and Willing Willie host:
- somethings may change but my motivation will always be GOD, love and country!
- For all the wonderful and encouraging words I've received - THANK YOU!! means a lot to me.
ADVERTISEMENT - CONTINUE READING BELOW
Mo Twister, radio DJ and TV host:
- Sex is perhaps the single most powerful force in the universe.
- awesome! Willie R and Shalani are holding hands on TV. Shalani gives advice to contestant "dapat faithful ka sa girlfriend mo" ...hmmm...
- now Willie is professing his feelings for Shalani in a heart-felt message. #willingwillie its hilarious!
- Just saw a guy dressed up as Harry Potter lined up at the cinemas. It's too bad he will never feel the warmth of a woman.
Bianca Gonzalez, TV host:
- just got myself ten lotto tickets! woohoo! may a super deserving person win! what would you do if you won the half a billion pesos??!! :)
- oh wow! pcso says no one won tonight's 6/55 lotto draw! how crazy will the jackpot prize be now? i'll bet again for sure!
CONTINUE READING BELOW
Recommended Videos
Carlos Celdran, performance artist and activist, on the "Pilipinas Kay Ganda" tourism slogan and Manny Pacquiao's stand against the Reproductive Health Bill:
- says Fine! I will apologize for all the ragging I did today on #HelpDOT re: PKG. SORRY. I know. My humor is sharp.... http://fb.me/NrguCkfH
- say O. Ito nalang: "PiLiPINahz K GaanDaH. Jejejeje."
- @entengromano Haha. I know you are. Twitterlandia is a small world. No worries. The jokes will die down soon. :o) Don't make patol.
- thinks that everyone can be an artist. They just need an opportunity to prove it.
- is glad that DOT is owning up to PKG but I'm not buying Campaigns & Grey's disclaimer. Seriously, how a stage... http://fb.me/LhMMCM0M
- Pilipinas. Ganda mo. Award.
- is wondering what YOU all think of Pacquiao opposing the RH Bill. I think it's pathetic. But I still think he is a great boxer.
- thinks Manny should not get in over his head and stay out of politics. Stay in the ring, Manny.
- thinks Manny Pacquiao is the best boxer in the world. And perhaps the stupidest man in Philippine Congress.
- thinks Manny Pacquiao should open a Sports Foundation for the Poor. Build stadiums, rings, courts, and fields in your name, Manny. Leave honour in the name of Philippine Sports. NOT Philippine Congress.
ADVERTISEMENT - CONTINUE READING BELOW
Vicente "Enteng" Romano III, former Department of Tourism Undersecretary for Planning and Promotions:
- #helpDOT tnks for pointing out problem with http://beautifulpilipinas.com. Will move to another name. Will also correct typos.
- @carlosceldran thanks carlos for d apology, even as others say, u don't hv to. Appreciate it. Need all support we can get.
- #HelpDOT http://on.fb.me/ab2DDo - pls read sec lim's speech. It may not change ur mind about PKG, but it wil answer many f ur questions
- @carlosceldran @carlosceldran - yes, i'm listening intently. putting together something that will hopefully harness volunteerism in #helpDOT
- http://on.fb.me/9JaKFj here's one way to #helpDOT.
- #helpDOT http://on.fb.me/fiRwj0 I resign.
Pepe Diokno, writer and filmmaker:
- Prob w/ DOT's new slogan is it's baduy. There's no other word for it but baduy. Baduy. Baduy. #PilipinasKayGanda
- Here's one of my favorite tourism campaigns of all time. "Inspired by Iceland" http://youtu.be/npawmHVaf-E
Kim Atienza, TV host:
- 4k walk today! my physical, mental and spiritual health is anchored on my daily walks. thank you lord!
- 1k twought : the past is past, ngunit titignan pa rin upang di maulit ang mali. http://twitpic.com/38zyf4
- 2k twought : Hindi komo malaki ang gulong, malayo ang itatakbo. nasa diskarte yan! http://twitpic.com/38zzp7
- 3k twought: i am not a fighter but a lover. pareho din ang resulta madalas, wala pang damage. http://twitpic.com/3903ku
- 4k twought: pag square, boring! break those walls, step out! http://twitpic.com/39079z
- 4k finished, thank you lord for my health! sarap!
ADVERTISEMENT - CONTINUE READING BELOW
Dinky Soliman, Department of Social Welfare and Development Secretary:
- Just finished the annual planning mtg of DSWD! We are ready, able and raring to go to expand our poverty reduction programs.
- Great finish 3k I joined da million hectare marathon many pipol investing n da future
Artwork by Warren Espejo. Photo by Noel Orsal of PEP.ph.
Share this story with your friends!
---
Help us make Spot.ph better!
Take the short survey
Load More Stories