My Amnesia Girl: Thanks for the memory...loss
The cute onscreen couple John Lloyd Cruz and Toni Gonzaga saved the show, says our SPOT.ph blogger.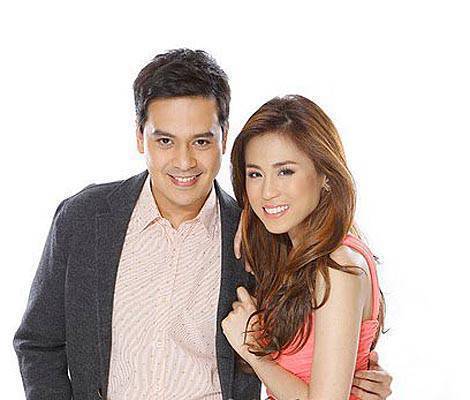 John Lloyd Cruz and Toni Gonzaga headline Star Cinema's latest rom com
I came out of Star Cinema's latest romantic comedy My Amnesia Girl almost wishing I had amnesia myself so that I wouldn't have to remember the movie and write about it. Alas, I saw it-and what was seen cannot be unseen. I'm being overly dramatic, I know.  This is the same way I felt after I saw Brilliante Mendoza's award winning Kinatay, albeit for different reasons.
My Amnesia Girl opens quite promisingly with a nicely blocked sequence: the camera roams the crowded city streets filled with people going about their day. The movie's topic is a universal favorite, but especially close to the fatalistic hearts of the contemporary Filipino audience: finding true love in a random world. Do you ever wonder about the love of your life who might be crossing the street as you don't notice because you're too busy watching the traffic light? (Hmmm. This is potentially tragic. Next time I will try to watch both traffic light and pedestrians although I already spend an inordinate amount of time watching people on the street, wondering about their lives.)

Anyway. An air of cuteness-mostly supplied by the lead actors who are masters at looking cute and acting cute-pervades the entire movie which is essentially about second chances at love. Director Cathy Garcia-Molina has made a career out of these love-team driven commercial box office hits, and it seems Star Cinema has another one on their hands. In this one, a typical Pinoy male named incongruously after Greek god Apollo (John Lloyd Cruz) falls in love with the quirky and adorable Irene (Toni Gonzaga). When he breaks her heart by ditching her at the altar, Apollo doesn't expect Irene's blank reaction when he bumps into her years later at the cold section of the supermarket, of all places. She claims not know Apollo because she suffers from amnesia. Apollo takes this as an opportunity to ingratiate himself back into the arms of the unsuspecting Irene-only to find out that she does not suffer from amnesia at all. Sounds a bit messy no?

I can say it's honestly cute in some places and cheesy in others. The dialogue is funny in certain parts. For mainstream rom coms, we do not dare hope for some kind of deeper artistic meaning or social commentary. Folks are watching My Amnesia Girl for sheer entertainment and a few moments of escape. Never mind about the wildly uneven cinematography and the glaringly awful sound of this movie, or the terrifically long montages, or the bad wig.

Thankfully they picked Toni Gonzaga, a young star known for her gorgeous hair, great legs as well as her wit and comedic timing. Toni is a joy to watch when she's being her endearingly kenkoy self, charming the audience with her mobile face and expressive eyes. I've always been a Toni fan because she's smart, funny, and cute in a Korean pop star kind of way. Unfortunately they make all the leading ladies cry too much on screen, and Toni Gonzaga isn't effective when she's crying. She's at her best when she allows the vulnerability and humor to shine through without the usual bag of tricks employed by other young actresses: histrionics, preening, overacting.  Meanwhile, John Lloyd is extremely capable as a leading man, supplying enough kilig for all the colegialas and lolas who adore him. There is an apparent fondness between these two stars and I'm looking forward to their future work, together or not. They literally saved the show.
ADVERTISEMENT - CONTINUE READING BELOW
Check to see where the movie is showing.
Photographs from My Amnesia Girl's Facebook account
CONTINUE READING BELOW
Recommended Videos
Share this story with your friends!
---
Help us make Spot.ph better!
Take the short survey
Load More Stories