M Cafe
Greenbelt 4, Makati Ave. Makati City
Open Sundays to Tuesdays, 8 a.m. to 11 p.m.; Wednesdays 8 a.m to 12 mn; Thursdays to Saturdays 8 a.m. to 3 a.m.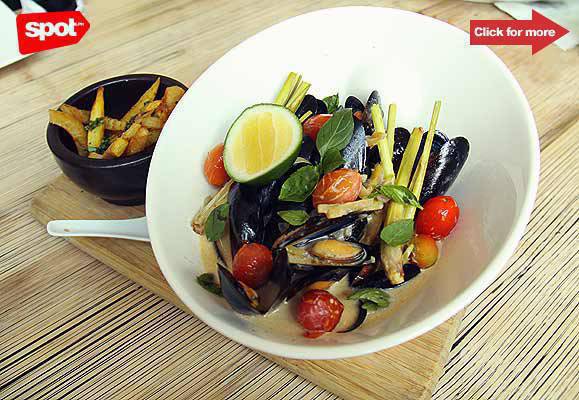 Blue Finland Mussels in Red Curry Broth + Kamote Fries. Click for more photos.
One thing you can count on when dining at M Cafe: surprises are part of the ever-evolving menu. The restaurant famous for once spawning fusion favorites like adobo foie gras recently made room for new tricks up Chef Kalel Chan's sleeve. Chan, who also helms Chelsea, Momo, and Mr.Jones credits two things to M's new roster of Asian-inspired dishes--growing up with a Ling Nam-trained cook at home, and "an obsession with dim sum."
The Foie Gras "Xiao Long Bao" (P495) is not your average dumpling-a rich, bite-size dumpling stuffed with balsamic vinegar, fresh ginger shreds, and a subtle foie gras flavor that creeps up on you. "It's not necessarily fusion, but we're just adding western ingredients to original Chinese dishes," says M Café owner Martin Wisniewski. "It's really all about the ingredients this time."
ADVERTISEMENT - CONTINUE READING BELOW
In true M Café tradition, an adventurous new dish that doesn't go overboard is the Chinese Soy Pandan Fried Chicken (P450). Served with sticky pork and mushroom machang rice and sweet soy anise gravy, the entrée features a mélange of textures and flavors that complement each other seamlessly. The Salt and Pepper Szechuan New Zealand Lamb Ribs (P595) is also a must-try, if only for its nicely marbled cut of meat and crispy skin.
Like most dishes at M, the difference lies in the details. Take the mint leaves casually mixed in the "Laotian" Crispy Beef Salad (P288), or the chunks of sweet Chinese chorizo hidden in the Smothered Garlic Spicy Jumbo Prawns (P695). Then, there are the new dishes that revive classic flavors, like the Oven Roasted Labahita fillet + aligue cilantro butter sauce (P395), served with fresh fish that tempers the richness of the aligue quite nicely, and slices of calamansi for a distinctly Pinoy taste. Meanwhile, The U.S. "Char Siu" Beef Ribs (P595) is a crowd-pleaser for carnivores-a generous serving of tender, sweetly-flavored meat is served with cua pao pouches, pickled cabbage, and sweet ground peanuts.
For dessert, try the Leche Flan "Turon" (P275), or the Chocolate-Stuffed Black and White Butchi + Gelato (P250) to cap off the meal.
Photos by Warren Espejo
Share this story with your friends!
---
Help us make Spot.ph better!
Take the short survey
Load More Stories