20 Toys For the Big Boys
Manly man presents for your brother, boy bud, boyfriend, dad or hubby.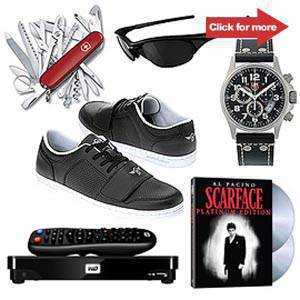 Scarface DVD set, Victorinox watch, Oakley shades, Creative Recreation Sneakers, and more gifts for manly men. Click for more photos.
It's been said that men don't know what to buy for themselves, so we thought we'd bring you a gift guide that makes it easy to play Santa to brothers, dads, boy buds, boyfriends and hubbies alike. Check out these gift-worthy presents for the manly man this Christmas. 'Tis the season for giving--let's hear it for the boys!
Load More Stories