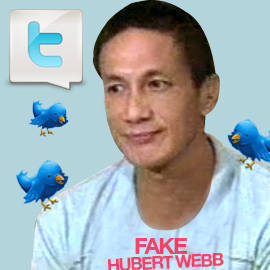 @iamhubertwebb, fake Twitter account of Hubert Webb, recently acquitted in the Vizconde Massacre case after 15 years of incarceration:
- on way to Vira Mall to trade-in my beeper
- Guys, Freedom Party for me tonight! See you at Mars disco!!!!!
- Damn! Need to buy batteries for my Discman. It's skipping again.
- Wait, how do you put a CD into this iPod thing?
- Guys, who has Season 2? I didn't get to complete my Friends VCDs.
- Who's this Manny Pacquiao guy? For me, pound for pound, Mansueto "Onyok" Velasco's still the champ!
- Thanks for the RTs guys! If you have longer messages for me, you can send me messages on my Edsamail.com
- Let's not forget, justice still needs to be served. Let's take it to the streets and be heard. EDSA DOS NA 'TO!
- Why's everyone telling me to check out Fort? What's in Fort Santiago?
- Need to get to this Farmville. Do I have to pass through South Superhighway?
- Yes! They upgraded my beeper to a cellular phone! StarTac! What a good deal.
- Hey, what happened to the ACA video 'round the corner? Wanted to get the new TGIS movie.
- Gonna plan an eyeball for my MIRC chat mates!
- Back in the game. Yaya's ironing the long backs. Word.
- Blue Ice on the house guys! See you at Mars!
- Boom! http://i2.photobucket.com/albums/y14/emong3/HATCH%20AFTR/e1f380c3.jpg Webbmobile's revvin' again bro!
- Moving this party to Euphoria.
- Wala na rin Euphoria??!!! Fine. Limits disco nalang.
- Aaargh! Even Limits is gone? (Well, not so surprised.) Fine, slow jams na lang.
- Jazz ryhthms or Ryhthm & Booze. If u guys are still game, Cali Shandy's on me.
- On my way home, I can't seem to find DMZ on the radio?
- What does this text mean?! It's just letters!!! - "wr n u? m hr n."
- DAMN!!! radio won't be the same without the Triggerman
- would be so cool if someone invented a computer that was flat like a notepad! And then! you could touch the screen to press buttons & type!
- Preparing for my Puerto Azul R&R: Maui & Sons CHECK, Ocean Pacific CHECK, Basia remixes CHECK.
ADVERTISEMENT - CONTINUE READING BELOW
Artwork by Warren Espejo. Screenshot from 24 Oras.
Share this story with your friends!
---
Help us make Spot.ph better!
Take the short survey
Load More Stories