Your Ultimate Guide to SPOT.ph's 21 Gift Guides!
SPOT.ph solves your last-minute gift woes with over 400 fab finds to gallery-shop from!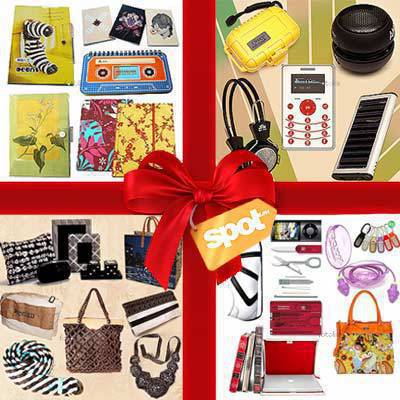 In case you haven't noticed, in the past weeks, SPOT.ph has been dishing out this season's must-buys-from budget-friendly finds to sky-is-the-limit gifts. With Christmas just days away, we bring you the monster of all gift guides with a giant list for your last-minute shopping needs.
Gadgets

Top 10 Gifts Under P1000 for Gadget Freaks
Dirt cheap electronics and accessories gadget lovers will go gaga for.

Top 10 Most Coveted Gadgets of 2010
The best of the best of supercool gizmos to lust after.
Kids

10 Best Toys to Give This Christmas According to K-Zone
K-Zone magazine lists 10 most-coveted toys for kids.
Boys to Men
25 Spoof Shirts to Add Zing to the Season
"The Kamote Kid" by Spoofs, "Survivor Malacañang" by Happy Days, and more!

20 Toys For the Big Boys
Manly man presents for your brother, boy bud, boyfriend, dad or hubby.
Food & Drink

The Sweetest Things: 10 Food Gifts to Give
Last-minute gift panic? Skip the fruitcake and get them salivating with these sugary sensations.


50 Gourmet Holiday Hampers
Hamper Holidaze! The perfect gift for the gourmands on your list.

25 Good Value Wines Under P500
BYOB on a budget? No problem with SPOT.ph's list of good libations.
Budget Buys

25 Great Gifts P100 and Under Part 1
Fab 'n' frugal stocking stuffers, Kris Kringle goodies, or "it's-the-thought-that-counts" budget buys!

25 Great Gifts P100 and Under Part 2
We did the shopping for you! See more "it's-the-thought-that-counts" budget buys!

35 Unique Bazaar Finds
Eiffel-Tower-esque electric fans, "rice cooker" coin banks, and more!
Books
ADVERTISEMENT - CONTINUE READING BELOW

20 Hottest Books to Give Away this Christmas
LOL reads, nightmare-inducing horror series, action-packed novels, fashionista guides, and more.

The 10 Best Pinoy Books of 2010 You Should Read-and Give Away
These top-shelf reads by the local literati deserve a spot on your shelf--or under the Christmas tree.


Organizers and Desk Decor


Top 20 Power Planners for 2011
Your guide to all the planners out there, from the quirky and sleek to the charity-centric and proudly Pinoy.

20 Gift Ideas for Workaholics
Score brownie points with the deskbound job addicts in your life.

50 Cute Notebooks to Give Away This Christmas
Stock up on pretty notepads and gift-worthy journals for every scribe and budget.
Cause-oriented

Top 10 Gifts That Give Back
Feel great about giving--these charitable gifts all help a worthy cause.

25 Eco-friendly Gifts to Give this Christmas
Hark the herald Earth Angels sing: Great green finds to bring joy to the world.
Specialty Gifts

Top 10 Gift Certificates to Give (and Receive!)
Here, our top picks for the 10 best GCs to give (and receive) this Christmas.

Top 20 Gifts for Commuters
Light saber umbrellas, stealthy laptop sleeves, "rollable" shoes, and more!

20 Fashionalista Finds
SPOT.ph reveals 20 brands worthy of fashionalista fame and lots of Pinoy Pride presents this season.
Artwork by Warren Espejo.
Load More Stories