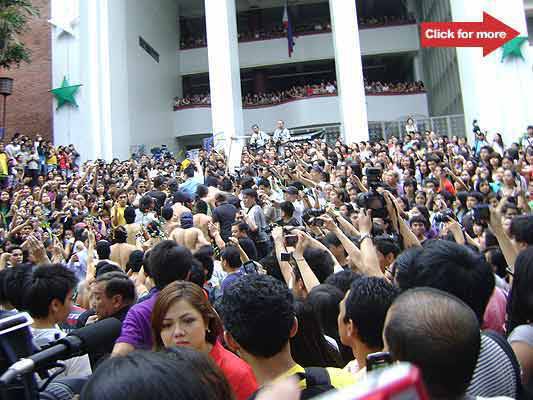 Hundreds of people gathered at the UP campus for a different kind of "bird" watching. Click for more photos.


A naked man holding a rose just sounds so cliché-ish.

But in the case of UP Diliman, where this naked man has his head in a ski mask and his face covered by a golden mask--this is not a cliché, this is tradition.

This is the Oblation Run where 25-30 members of the Alpha Phi Omega (APO) fraternity run in their birthday suit in the same way that the UP Oblation statue stands tall, proud, and naked with just a fig leaf covering his private parts.

APO first did this run in 1977 to protest the banning of the movie "Hubad na Bayani," which depicted human rights abuse during martial law. The Oblation Run is done every December to coincide with the founding anniversary of the APO.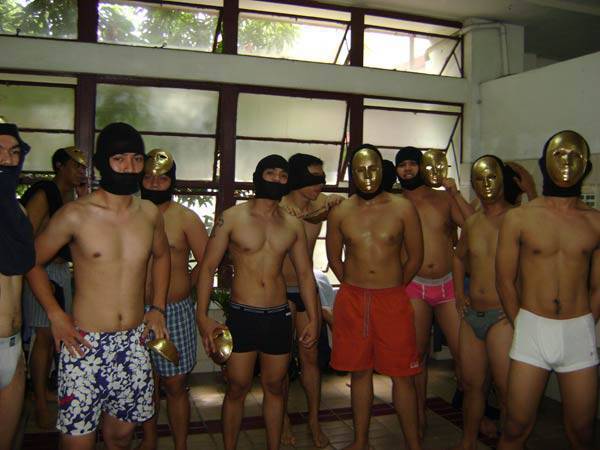 Contrary to popular belief, all oblation runners are not neophytes but members of the fraternity
ADVERTISEMENT - CONTINUE READING BELOW
In the 33 years since they have been doing this, APO fratman Tiago Undecimo says that now there are moms and some dads in the audience to cheer on their sons. "Some of the dads also did the Oblation Run during their time and some of the moms are members of our sister sorority so it's great for them to see their sons carry on the tradition."

Undecimo who himself did the run a few years ago, said "It's really an ultimate honor and an experience of total freedom."
Taking a peek at the preparations backstage where one of the men's bathrooms was used as a dressing room, we checked to see how the runners prepare for baring their all and if there are any
kind of jitters, or...performance anxiety.

A group of lean, half-naked bodies greeted us. We asked if any of were virgin runners. "No!" they shouted in unison. As the runners are all members (and not neophytes, contrary to popular belief), for many, this was not their first run.
Victor Tito Mayor APO Batch '64 was backstage, too. He came all the way from the States with his wife to congratulate his fellow brads. "I wish they had this during my day. I would have surely done the oblation run," he said, nostalgia evident in his voice.

"This is what this university is all about...freedom of expression and standing up for something," the Mayor said.
For the APO, the Oblation Run in the spirit of "offering oneself to others" has always used the event to make a statement about current issues facing the country. This year was no different except that this time, they were making a statement about the 2010 Bar Exams bombing in Taft which injured 42 people and caused two young students to lose their legs. Members of the Alpha Phi Omega were pointed as the suspects for the bombing.
CONTINUE READING BELOW
Recommended Videos
James Pellosis, APO Prime Chancellor said, "We used to run for various causes, this is the first time that we are running to defend ourselves. The real perpetrators have not been caught and yet we are
being pointed to as being guilty. We want justice for APO and justice for the bomb victims."

Previous Oblation Runs were for HIV and AIDS awareness, climate change, and the condemnation of the Maguindanao massacre.

The runners made a grand entrance this year riding into the street in front of the Palma Hall building in a green fire truck (who knew that fire trucks came in another color apart from red?); their presence announced by a siren.

They ran up the AS steps, holding up placards, giving out roses to female members to the audience which was met with giddy shrieks of delight and occasional blushing.

At the end, the boys went back to the APO tambayan and sang their song. Some still had a rose or two in their hands, holding them up in a cry that was both of proud celebration and a yearning for justice.
Photos by Ana Santos and Kevin Sandiego.

Share this story with your friends!
---
Help us make Spot.ph better!
Take the short survey
Load More Stories