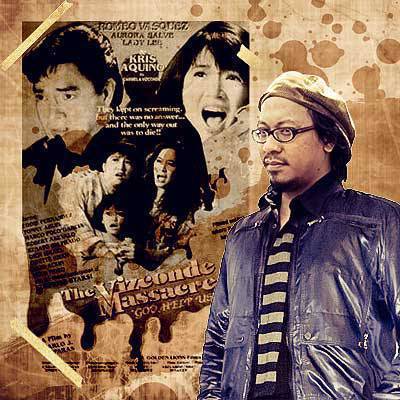 Just a day after the Supreme Court acquitted Hubert Webb et al, the issue of a bio pic inevitably popped up. "Just ask my dad," Hubert said.
"More than a movie, I want his life story to be made into a book. Because his life is extraordinary and inspiring," said Freddie Webb, former basketball star and sitcom personality and senator of the Republic. A book? Maybe. But a movie? Unless Mike de Leon is directing... hell, no.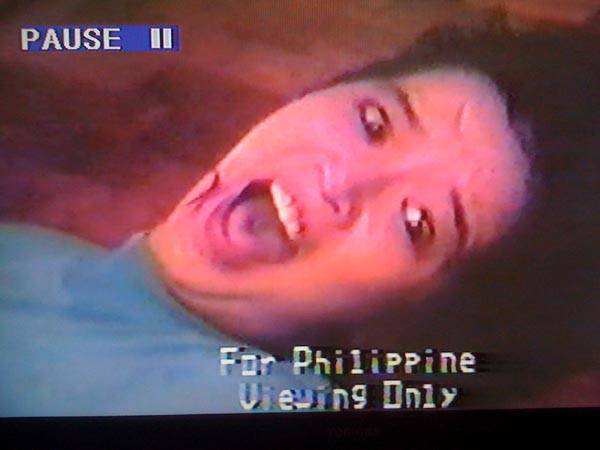 Lauro Vizconde said that the recent acquittal "killed" his family for the second time. Maybe you can argue that it happened as early as 1993-with the movie Vizconde Massacre Story (God Help Us!) produced and directed by Carlo J. Caparas, National Artist for Film and Visual Arts (according to the worst B-horror movie of all, the Gloria Arroyo Administration. God Help Us!). It was the biggest film of the year. Moviehouses were packed to the rafters, encouraging Caparas and wife/co-producer Donna Villa to inflict again to the slobbering public The Untold Story: Vizconde Massacre II (May the Lord Be With Us!). For the 1993 movie, it's either people were just perversely fascinated to know how every blood-soaked detail of the massacre or they just wanted to see Kris Aquino being dragged across the floor by the hair.
ADVERTISEMENT - CONTINUE READING BELOW
Understandably, these movies failed to win any acclaim from film critics, but Caparas and Villa were certainly hurting all the way to the bank. Shortly before Webb's SC acquittal, it was reported that Caparas and Villa said that they wanted a part 3, to give closure to this lurid, almost two-decade old melodrama. And as for exploitative? Who sez they were exploitative?
The star of the first Vizconde movie: Kris Aquino. See, the woman's reputation as the Queen of Horror may have dark, hairy roots here. Lauro Vizconde is played by Romeo Vasquez, who resembles the ill-fortuned widower the way Vice Ganda resembles Scarlett Johanssen. Aurora Salve is Estrellita while Lady Lee is Jennifer.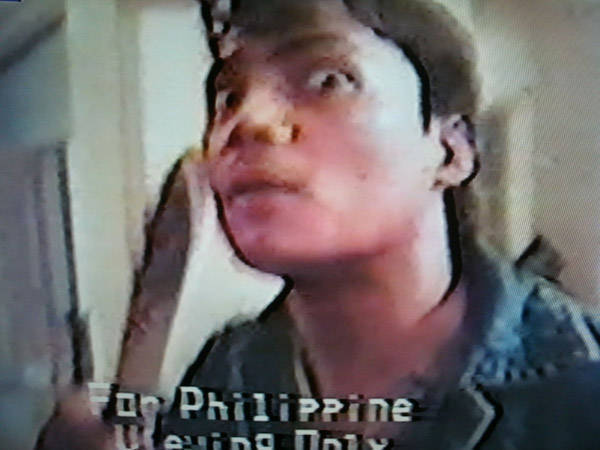 As for Hubert Webb? Father Freddie was right when he said recently that Caparas did not identify  Hubert as the killer or for that matter who the killer was. But in the movie, the perpetrators were portrayed as mestizos and rich kids. Hint, hint. For the verisimilitude killers' characters, motives, and actuations, the director took liberties. But it does not appear that the movie intends to provide objective narration of the events of 1991 as much as it tries to evoke a certain psychological mood, or perhaps reflect the state of mind of Lauro Vizconde in particular.
CONTINUE READING BELOW
Recommended Videos
Disturbing, too, is Caparas' cinematic strategy of juxtaposing his scenes with actual video footage of the Vizconde family, for instance, the one with Kris Aquino interspersed with the real Carmela's debut. Caparas would later employ this devastating strategy in his later opuses, particularly in the Cory Quirino Kidnap Story. To make things creepier, they shot the film in the actual Vizconde house.  It must be quite an unpleasant experience for Mang Lauro to bear the re-enactment of the butchery.
But the sequel is another story. The first Vizconde movie's opening credits roll to an ominous tenor: first-person camera POV searches the house a la Poltergeist and Night of the Living Dead, with matching deep heartbeat SFX and horror-movie symphonic drones. All throughout the film, you will mostly hear alternating strains of Bernard Hermann's disturbing score from Psycho and Ennio Morricone's theme from Once Upon a Time in America. See, back in the early '90s, copyright was still a non-issue. And in true Caparas fashion, the scoring is, as they say, wall-to-wall. Meaning, the shit don't stop.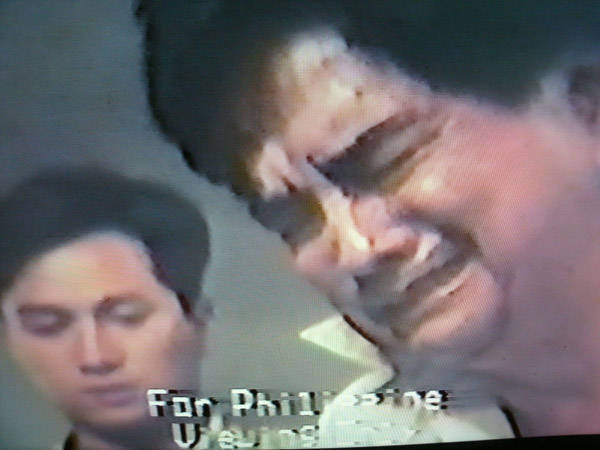 ADVERTISEMENT - CONTINUE READING BELOW
Also, in true Caparas fashion, subtlety is not exactly a virtue here. The opening scene finds Lauro Vizconde in a room purportedly in America (and so as not to make any confusion in geography,  the production designer covered the windows  in snow). He gets a call from his cousin in the Philippines, who tells him to come home ASAP: Lauro is not yet informed of his family's horrifying fate but is told that his father had died. It is only during a van ride in Manila when he reads a People's Tonight headline: "VIZCONDE MASSACRE!" Cue, Psycho theme. He breaks down. Later he further exhausts his lachrymal glands upon entering a room with three coffins. "Baaaakit niyo ako iniwan?"
The rapist John Regala wears a belt with a buckle that says "SEX" in case we miss the point that he's a sex-starved druggie. And also just in case we don't get the hint that he's a drug addict, he is shown playing billiards with his friends while attempting to snort a whole bag of cocaine-in a manner that would shame Al Pacino in Scarface. And to drive home the point that he is an evil and dangerous man, his appearance is always punctuated by the opening riffs of Metallica's "Creeping Death."
The rape and massacre scenes are no less in-your-face. Wide-angle lenses evoke feelings of disturbance and claustrophobia. And John Regala plays it to the hilt, sweating, growling wagging his tongue, and making exaggerated snorting sounds, again, in case we miss the point that he's a coke-head. There's a scene where he rudely barges into the Vizconde house, offers a chocolate bar to little Jennifer and says, "Kahit nasa States ang Daddy mo, hindi ka makakatikim ng ganitong klaseng tsokolate... Alam mo ba yun? Dahil... may cocaine ito!" Afterwards, he sniffs Estrellita and whispers, "Alam mo, Mommy... ang seksi mo. Hmm... ambango mo." In one instance, he rolls down his car window and crushes a lit cigarette on his tongue. Whoop, bad ass!
ADVERTISEMENT - CONTINUE READING BELOW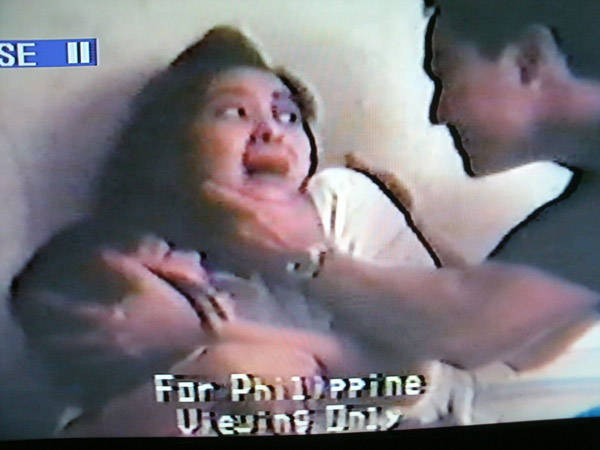 This would have been effective comedy, if only the real stuff wasn't so gory. There are points in the movie that make you go, "WTF?" Kris Aquino/Carmela says, "Over my dead body. Mamamatay muna ako bago niya ako ma-rape!" Cue: theme from Psycho.  Jarring zoom-ins to the rhythms of slashing violins, until the jump-cuts freeze to the face of Kris, with an early prototype of her trademark mono-dimensional half-scowl half-"I-ate-a-bad-oyster" expression.
Caparas likes to slip in the occasional flashbacks, dream sequences, and hallucinations where Carmela/ Kris Aquino would talk to him, her voice booming with an unreal reverb ("Daaaad... may boyfriend na ako..." she reports from the afterlife). And there's a genuinely disarming interlude-replete with dramatic voiceover-- involving re-enactments of two equally controversial crime cases: 1.)Teehankee's shooting of Hultman, which features a then unknown and un-buff Piolo Pascual and 2.) Rolito Go's shooting of Eldon Maguan, which simply features unknowns, period.
ADVERTISEMENT - CONTINUE READING BELOW
But if there's one that sent me weeping-in laughter-it's the bizarre séance session led by Odette Khan, which might have come across as absurd except that it really happened. It's true. Mr. Vizconde did consult psychics, including Jojo Acuin, Psychic (So says the char-gen). But the manghuhula episode came with an eerie Theremin score reminiscent of Mars Attacks! There's also a charming sequence where Gabby Concepcion-as one of the many revolving sets of suspects-cries torture and protests being force-fed cat shit.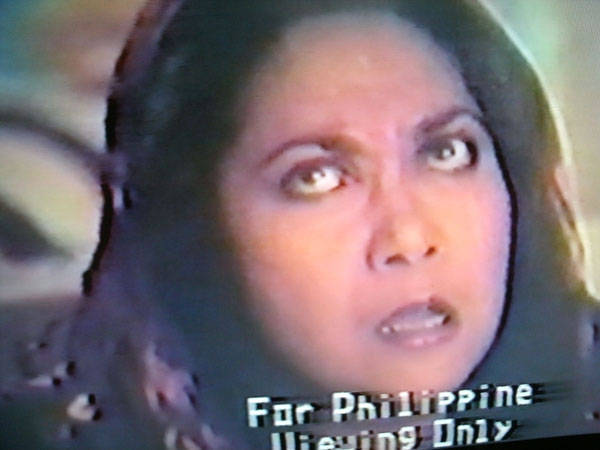 Near the end, there's another dream sequence involving Mang Lauro wearing all white, wandering in a lunar landscape, which is definitely lahar wasteland in Pampanga. "Jenny... Estrellita.... Nasaan na kayo?!" Suddenly, they emerge in the distance, also in all-white, then they vanish. "Isama niyo na akooo!" Lauro pleads, then wakes up. Which is also what you as a viewer would hope to do from this weird movie.
But The Vizconde Massacre Story (God Help Us!) has its creepy moments. For instance, every time the movie shifts to actual pictures of the bloody corpses. Violence with a clapboard can't compare to reality. Or maybe there's something about old, grainy home videos. Kris Aquino is dancing the waltz, then we dissolve to clips of the real Carmela's debut. She walks to the cake. Her guests follow and surround her. They are all wearing black. Then the shot freezes and this text-I shit you not-- flashes: YOU WILL NOTICE THAT ALL THE PARTICIPANTS WORE BLACK DRESSES AS IF THE BIRTHDAY CELEBRATION OF CARMELA VISCONDE (sic) WAS TO BE HER FUNERAL.
ADVERTISEMENT - CONTINUE READING BELOW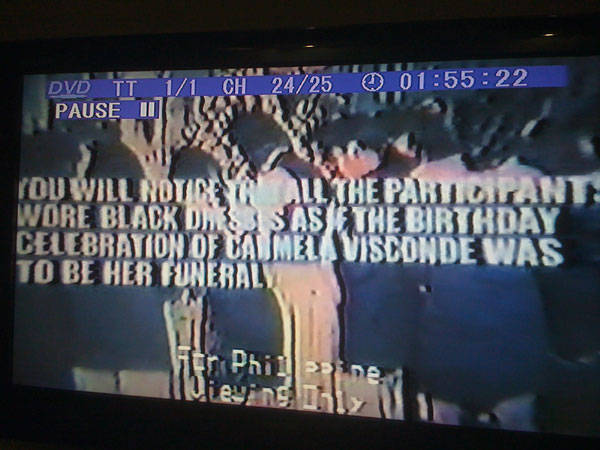 From The Vizconde Massacre Story (God Help Us!) the lessons and messages are multitude. Chief among them are the notions of justice and its everlasting elusiveness. But the moral of the story seems to be: unless you want to be the victim of a gruesome crime, tell your guests not to wear black to your party next time.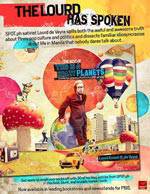 ADVERTISEMENT - CONTINUE READING BELOW
This is a Crazy Planets is available in newsstands, bookstores and supermarkets nationwide for only P195. For more information, click here.
Photos by Lourd de Veyra
Share this story with your friends!
---
Help us make Spot.ph better!
Take the short survey
Load More Stories