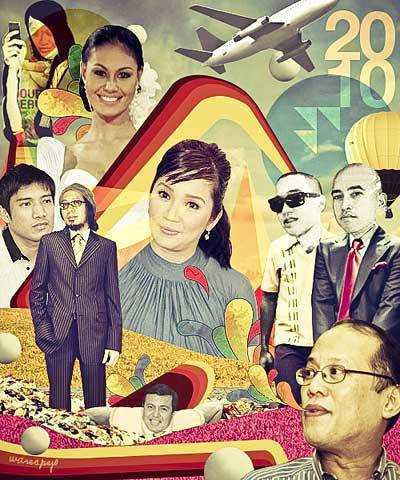 It's felt like a damn long year--- the May elections seemed like they happened decades ago. But at that time, it seemed like the world to us. We behaved hysterically as if the fate of the nation rested on a change of Malacanang tenants, lyrics of campaign jingles, and what Baby James had to say during the campaign trail. Those were dark times. And they felt interminable. Would the next year be any better? As the saying goes, "you can never can tell." But if the bad vibes persist, at least we can find comfort in the fact that according to the Mayans, everything ends on 2012.
In the meantime, allow us to refresh your memory.
1. Jejemon-A strange, delightful linguistic trend that was voted Word of the Year at  the University of the Philippines' Sawikaan 2010. But with attention spans getting shorter by the cellphone model, it looks like things are bound to get worse. And graying, cranky, hemorrhoidal academics are powerless to stop the widespread elimination of vowels,
2. Pimentel's "insertion"- A senator of the republic cracking the worst punchline heard in the history of Philippine politics. But of course, nastier observers say Mar Roxas had it coming: you can't just post saccharine tweets about your honeymoon and get away with it. But those were harsh, pre-election campaign times and, in the upper house, intemperate language substituted for bullets and punches.
3. Kris-James split-Announced with perfect timing: just a few days before his brother's inauguration as the fifteenth president of the Republic. And the less said about the subject, the better.
ADVERTISEMENT - CONTINUE READING BELOW
4. Bad boys: Jason Ivler and Ivan Padilla-Rich, good-looking boys with bad temper, a penchant for getting in conflict with the law, and access to firearms. Both brimming with guts and balls bigger than Mount Bulusan. But in Padilla's case, way too much scrotum when he announced his next target on Facebook.  As for Ivler, it was just a bizarre case of too much mommy.
5. Ascunsion Torture Video- A holdup suspect curled on the floor, naked. Tied around his little birdie is a string pulled with brutal glee by his interrogator.  Sent millions of Filipino men instinctively clutching their little jun-juns in sheer terror.  The most disturbing thing we've seen this year that did not happen on a Luneta bus or issued by the Supreme Court.
6. "Major, major"-Thank God, Major Major The Movie never happened. But at least, its legacy would hopefully inspire the next generation of manly men like these.
We love you Venus Raj!
7. The Presidential Issues: smoking and the threat of excommunication-- Dragged the president's cancer-stick habit down to the issue of morality and discipline, as if nicotine intake had a direct influence on a leader's ability to govern. As for the threat of excommunication, it was a mere matter of a bishop's comment blown out of proportion. But you know how media likes to amplify things to epic levels.  But the debates have been mercifully brief. And now, on to more significant presidential matters: his love life.
8. Pilipinas, Kay Ganda- The price paid by the excessively eager: national censure and comparisons to a Ricky Reyes Salon ad copy.  At least, the brains behind this fiasco had the decency to resign.  Di gaya ng iba diyan...
CONTINUE READING BELOW
Recommended Videos
9. "The wine sucks"-All of a sudden, there are oenophiles in the presidential staff.
10. Villar's "Dagat ng Basura" jingle-Some things stick to the national consciousness long after they have inflicted massive trauma. We thought it would never end. But you can't put a monstrously infectious melody down. So, for old time's sake... one, two, three... hit it!
Dagat ng Basura jingle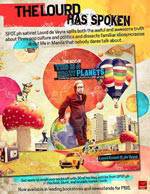 This is a Crazy Planets is available in newsstands, bookstores and supermarkets nationwide for only P195. For more information, click here.
Artwork by Warren Espejo.

Share this story with your friends!
---
Help us make Spot.ph better!
Take the short survey
Load More Stories