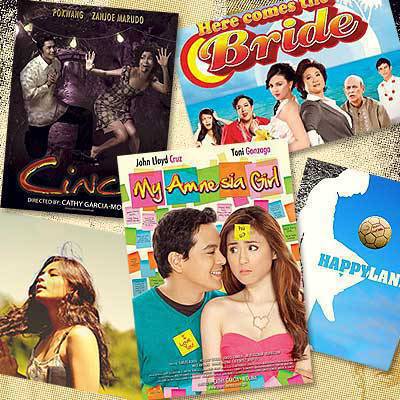 Here we are, coming to a close. This year was a good one for Filipino cinema. I'm not into top tens, but here's my list anyway-in no particular order:

1. Here Comes the Bride
Lo and behold, a smart Filipino comedy. Directed by Chris Martinez, Here Comes the Bride and its ensemble cast (Eugene Domingo, John Lapus, Angelica Panganiban, Jaime Fabregas, and Tuesday Vargas) made me chortle all the way home from SM Mall of Asia. Dripping with talent, the cast is a well-curated collection of talented actors who are all great comedians in their own right. Chris Martinez applies a taught quality to the way he tells a classic story of body-switching and role reversal, so this comedy never drags and is full of little hilarious moments that happen when the screenplay and the actors are perfectly in sync. Bravo.

2. Ang Damgo ni Eluteria Kirschbaum
I saw Ang Damgo--directed by Remton Siega Zuasola, the new name on everyone's lips--at the Cinema One Originals festival, which this year was held at the excellent Shangri-la Cineplex. Everyone has been raving about this charming Cebuano film about a girl's last hours before she leaves for Germany to become a mail-order bride, and rightly so. I could go on and on about how the whole film is all in one take, etc. etc. but enough of that. I will say that Eluteria will go places and do good things, especially for regional cinema. Good for you, 'day!

(Also, I think lots of exciting things will come from regional cinema in 2011.)

3. My Amnesia Girl
ADVERTISEMENT - CONTINUE READING BELOW

I lined up on opening day at the Glorietta cinemas for this Star Cinema blockbuster. Why? Because I'm a Toni Gonzaga fan. Who isn't? The proof is in ticket sales. Directed by Cathy Garcia-Molina, this formulaic-yet-quirky romantic comedy was in theaters for, like, four weeks and made a ton of money. As I write this, I think they are still out there, competing with the big Hollywood sequels like Harry Potter, Narnia, and Tron Legacy. Toni Gonzaga, with her accessible wit, long legs, and shiny hair is definitely the Leading Lady du jour (And John Lloyd Cruz is a very reliably bankable leading man). I am wholeheartedly glad for Toni because she's smart and classy, and yes, funny.

4.Salawahan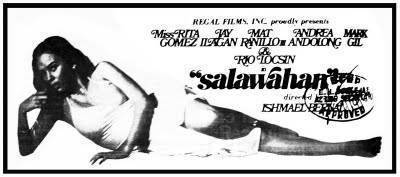 Salawahan poster from video48.blogspot.com
Through the efforts of the committed members of SOFIA (Society of Filpino Film  Archivists), the gems of Filipino film are not forgotten. Aside from their monthly screenings at the CCP, this year there were a couple of Ishmael Bernal comedies screened at The Living Room, in Malate, Manila. Carlos Celdran has dubbed it "Speakeasy Cinema": everyone brings a bottle, we bust out the peanuts and sit back and immerse ourselves in Bernal's peerless wit and substantial style. In November, the late '70s sex romp Salawahan, starring Jay Ilagan, Matt Ranillo, Sandy Andolong, Rio Locsin, and Ms. Rita Gomez, was screened. The dialogue, the fashion, the sexual politics-everything about this film is from a time and place that doesn't exist anymore but will always be pristinely preserved in Bernal's comedies.

5. Happyland
CONTINUE READING BELOW
Recommended Videos

Directed by Jim Libiran, this film about barefoot kids playing football in Tondo was finally premiered at the Cinemanila International Film Festival held at Robinson's Galleria. It's been a constant battle for Jim and the Happylanders to get this film made, but the Tondo boys know how to play to win. Jim Libiran intends to take the movie on the road and hold football clinics all over the country with the Futkaleros. Now that the Philippine team are the heroes of the hour, maybe we will realize that Filipinos are better suited to play football more than basketball (which requires height) after all. Football's popularity is growing in the Philippines-which a short time ago, used be the only country in the world that didn't really care about the World Cup. With this newfound football fever, an inspiring film Happyland will easily find its feet.  



6. Di Natatatapos ang Gabi
Imagine David Lynch-inspired film shot in Baguio. Ato Bautista's melancholic and violent film with Neil Ryan Sese, Mercedes Cabral, Sue Prado, and Roy Alvarez is ambitiously dark and textured. Bautista pulls it all off: this is Filipino film noir set against the foggy Baguio landscape, shot in five days on a shoestring budget. It shows dexterity and guts in filmmaking. Bautista coaxes great performances from his cast, particularly from Sue Prado and Roy Alvarez, who is utterly menacing as a crooked cop.


7. Mayohan

Gorgeous Lovi Poe, love child of the late great Fernando Poe Jr. is finally having her day. After paying her dues as a starlet on television variety shows and soap operas, doing the required amount of singing, dancing, and hosting, she is becoming recognized as an actress with lots of potential. Lovi won the Best Actresss award at Cinemanila 2010 for her role in Dan Villegas and Paul Santa Ana's Mayohan. Beautifully shot in Infanta, Quezon, the loveliness and innocent sexuality of a girl on the brink of ruin is perfectly captured in this subtle love story of a young boy who falls in love with the village beauty.


ADVERTISEMENT - CONTINUE READING BELOW
8. Cinco
Puso, the final episode in the horror omnibus Cinco directed by Cathy Garcia-Molina, was the perfect vehicle for popular host and comedienne Pokwang. It turns out she's quite an effective actress even in a horror/drama plot. She plays an ugly carnival worker who falls in love with the hunky Zanjoe Marudo and uses a love potion on him. Of course it all goes horribly wrong and before you know it, Zanjoe is a zombie in love. It's pretty funny and sad, a sensitively observed and gorgeous kitschy horror flick. I was invited to the premiere night at SM Megamall and I'm still reeling from that night.


9. Kasal o Sakal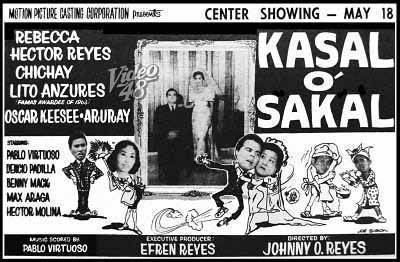 Kasal o Sakal poster from video48.blogspot.com

I'm so glad I caught this 1960s comedy of errors directed by Johnny Reyes. The Society of Filipino Film Archivists presented it in their "Overlooked Films, Underrated Filmmakers" series which screens one film per month at the CCP's Tanghalang Manuel Conde. Chichay plays a foxy widow who marries a much younger man, who turns out to be the son of her middle aged son-in-law. In this film, Chichay dresses like Audrey Hepburn (think little black dress, opera gloves, French twist, and a cigarette holder) and prowls like any modern day cougar. The 1960s architecture, the great outfits, and the zany plot make this film immensely fun and funny.


ADVERTISEMENT - CONTINUE READING BELOW
10. Impossible Lovers
The director, Raya Martin, calls this his "most hardcore film" and it was only after watching it that I understood why. For ninety minutes, I sat freezing in my chair at the viewing room of  Fully Booked, Bonifacio High Street, waiting desperately from moment to moment for something to happen between the two characters in Impossible Lovers. They sit on a couch, one asleep and the other staring into space. Essentially nothing happens. They are trapped in their inaction forever, uncertain of how to transform themselves into something more than two people sitting on a couch. After sitting through this film, I was a bit saddened by this frozen tragedy. Sometimes, nothing really happens.
Heart Evangelista in Inno Sotto's Muse



Because fashion will always be close to my heart, I wanted to include this short film directed by Albert Martinez made for Inno Sotto's thirtieth anniversary as a designer. It looks more like an overblown and super glossy television commercial with gorgeous Heart Evangelista at the center of this nine minute film. She has the look and demeanor of an Inno Sotto muse, beautiful, classy, and super de buena, the antithesis of skank. They dress Heart up in lots of Inno Sotto couture and create an escapist romantic fantasy around her character. It's got glamour and fashion! It's got a syrupy soundtrack (by Louie Ocampo)! It's got Brazilian Japanese heartthrob Daniel Matsunaga! Someone narrates with a British accent! Do we need anything more?  I hope Heart gets more interesting projects like this one.

(I can't wait to see Rosario at the forthcoming Metro Manila Film Festival, which might be the only movie I actually watch this year. Albert Martinez directs.)

***
Happy Holidaze!
ADVERTISEMENT - CONTINUE READING BELOW
Main image from the Mayohan Facebook page
Share this story with your friends!
---
Help us make Spot.ph better!
Take the short survey
Load More Stories