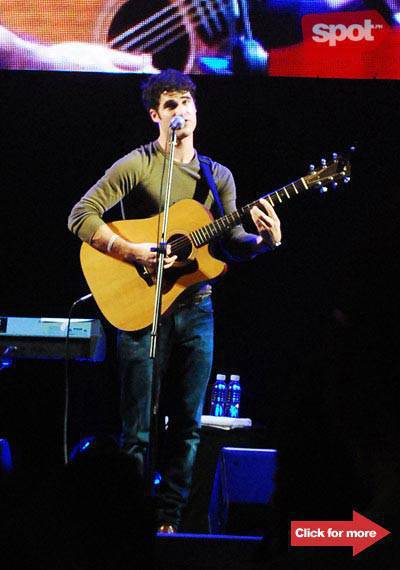 Click for more photos.
In front of hundreds of spectators, Darren Criss of Glee and A Very Potter Musical immediately started off his second show in Manila last night, as soon as he stepped onto the Trinoma Activity Center stage. "Let's get down to business," the Irish-Filipino artist sang, covering "I'll Make a Man Out of You" from the soundtrack of Disney's Mulan.

The actor-singer-composer-songwriter owned the stage that night, as he entertained the crowd for about an hour by himself, alternating between playing the guitar and the keyboard. The show was the essence of casual, Criss admitting when he played songs wrong, making up a part of the playlist on the spot, and forgetting his own lyrics (which he is charmingly known for).

He treated Gleeks to two of the three songs he performed in the TV musical show; he picked up the guitar for "Soul Sister," and for the encore, he teased the audience with a few notes on the keyboard before playing "Teenage Dream."
Darren Criss sings "Goin' Back to Hogwarts."
He showed plenty of love for StarKid fans, playing songs from its theater productions like "Granger Danger," "The Coolest Girl" and "No Way." And, because he said he heard some of the audience members singing a bit of "Goin' Back to Hogwarts" before the show, he performed practically the whole song. (The official track is almost 10 minutes long.) "There's a reason I don't do that that often but I hope you enjoyed it," he said. Judging from the roaring response from the audience-which includes at least two bubbly groups dressed in Criss' signature pink-they probably found it totally awesome.

Criss also played all of his self-written songs in the EP Human released this year: "Sami," "Not Alone," "Human," "Jealousy" and "Don't You."

Any fan of his would know-and anyone who isn't would be pleased to know-that Criss likes his Disney songs. So it was only natural for him to throw into his packed playlist "Part of your World" from The Little Mermaid and "Go the Distance" from Hercules.

Capping off a surprisingly long show, Criss sent his love and season's greetings to Filipinos with "Have Yourself a Merry Little Christmas."
ADVERTISEMENT - CONTINUE READING BELOW
Darren Criss sings "Teenage Dream" and "Have Yourself a Merry Little Christmas."
Also read: "Half-Pinoy Darren Criss of Glee on his "bizarre kinship" with the country, his favorite Filipino dishes and more"
Photos by Jean Natividad.
Share this story with your friends!
---
Help us make Spot.ph better!
Take the short survey
Load More Stories