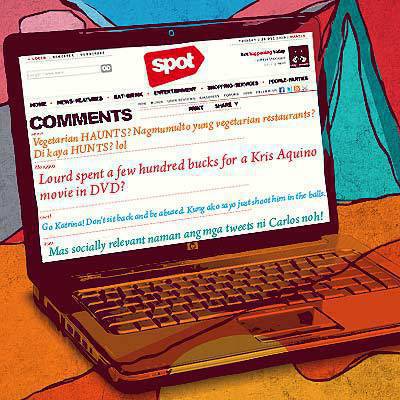 SPOT.ph's readers are a passionate bunch and are quick to share their insights and reactions to our stories. Readers' comments show just how outspoken the SPOT.ph community can be--whether bravely using their own names or hiding behind pseudonyms to assert their views, violent reactions or launch a whole discussion or heated debate with other readers.
We've listed our top 50 favorite comments of the year--statements that challenged us, made us think or had us falling off our seats in laughter:
50. " Every time na magbabasa ko ng Spot top 10 list lagi nalang "bakit wala nito?," "bakit wala niyan?," "nasan si ganito?,"nasan si ganyan?" Oh please, people. Gumawa nalang kayo ng sarili niyong top 10 list."
LAGINGMAYKULANG on DJ Sam YG's Top 10 Sexytime Songs

49. "If more Filipinos will invite foreigners to visit the Philippines (or being part of the solution), instead of throwing mud at their own country (or being part of the problem), I believe more tourists will come to the Philippines."
PROUD TO BE PINOY on DOT targets 3.3 M tourist arrivals in 2010 despite hostage crisis and travel warnings

48. "Pinoys. The Bitter Men Of Asia."
BATUNGBAKAL on Maggie Wilson to her pre-nup video critics: "If (you) can't take the heat, don't watch it!"

47. "Mas socially-relevant naman ang mga tweets ni Carlos noh!"
MAF on Top 30 Tweets of the Year

46. "Unfortunately, I see in 2011 more of Kris Aquino & Baby James, Annabelle Rama, Boy Abunda, Dionisia Pacquiao and other personalities who constantly inflict themselves on us."
SOOTHSAYER on 10 Reasons to Say Goodbye to 2010

ADVERTISEMENT - CONTINUE READING BELOW
45. "Go, Katrina! Don't sit back and be abused. Kung ako sayo just shoot him in the balls."
LEN on Katrina Halili refuses to accept public apology of Hayden Kho, says, "He's like a demon!"

44. "Isn't this the plotline for The Devil wears Prada??"
NICO on Vogue Paris Editor-in-Chief Carine Roitfeld resigns after 10 years

43. " Congratulations in the proper usage and insertion of the term "simulacrum" in this essay. I myself am always looking for an opportunity to use that word."
CARLOS CELDRAN on Fine Young Criminals

42. "I say let the jejemons be, do the jejemon haters fear that someday the jeje's would invade their local Starbucks while they type on their laptops just to check the latest updates on Facebook for hours."
PEEPING TOAMS on Attack, Jejemons, Attack!

41. "This is not the Middle Ages everyone has the right to speak his opinion, including Lourd. I don't know the person personally (except he is in a band) and I don't think you have the right nor everyone else's including me to keep their pieholes shut and keep their opinions for themselves. You don't believe in right of free speech do you?"
SECULARHUMANIST on Daring Acts of Blasphemy


40. "It is not all about you Kris...don't make us feel that we owe you for being honest. TMI (too much information)!"
WALA LANG on Boy Abunda: Kris Aquino and James Yap are having marital problems


39.  "She [Shalani Soldedad] has served her political usefulness and will be quietly airbrushed out of history. It would be embarrassing in future to have her in the official inauguration photos."
JO on Is Shalani Soledad skipping Noynoy Aquino's inauguration?

CONTINUE READING BELOW
Recommended Videos
38. "But come to think of it: Would it actually matter if the tweet came from someone who's not as important as her or whoever she is. If it came from some random stranger or the boy next door, it wouldn't be such big deal."
JANE on P-Noy speechwriter Mai Mislang not invited to APEC meeting in Japan

37. "Wow! This article has all the characteristics that defines soap opera: Cast of Characters, Love, Hate, Anger Betrayals, Paranoia, Jealousy, Rich People, Poor People, Smart, Dumb, Cheesy dialogues, Mysterious Strangers (with aliases) Ongoing drama, etc. Who needs the TV soaps?"
RESTLESSINBOSTON on Lourd de Veyra campaigns for the separation of Kris and State

36. "I like Kris, but the irony is so glaring. She's begging everyone to give Noy the gift of privacy until January. Isn't she the one talking?"
ANGELBYDAY on Kris Aquino confirms P-Noy is dating stockbroker Len Lopez

35. "How brazen of this Webb to think his life can be made into a movie???"
JUSTICE_EQUALITY on Hubert Webb willing to have movie made about his life if proceeds used to educate people

34. "Lourd spent a few hundred bucks for a Kris Aquino movie in DVD?"
WHATSTHEFREQUENCY on Relax...It's Only A Movie
33. "Guillermo Tolentino will be turning in his grave. Not one streaker resembles the statue he created."
IGERAMOS on Photo Gallery: Fratmen Streak For Justice at Annual UP Oblation Run

32. "People who didn't find this funny were the people who were described in the page."
TROLLMON on The Philippines is "Pedo Heaven," "Golddigger Hotspot," says Encyclopedia Dramatica

ADVERTISEMENT - CONTINUE READING BELOW
31. "I'm moving out of BF Homes. My daughters are not safe around here."
CONCERNED MOTHER on Hubert Webb, 5 others in Vizconde massacre case acquitted

30. "LAWYERS: Whoever tells the best story wins."
GM on Hubert Webb, 5 others in Vizconde massacre case acquitted

29. "Wow, people. Bitch alert. Do we really need to rain on other people's parades?"
JEAN on  Maggie Wilson to her pre-nup video critics: "If (you) can't take the heat, don't watch it!"
28. "It's funny at best... besides, these Top 10 things are to be taken with a grain of salt. It's for fun; it's not to be taken as the truth."
SARANGHAE on Top 10 Terrifying Things in Contemporary Pinoy Pop Culture
27. "Lea Salonga says F*CK! I love it! Hahahahaha."
JOANNA on Tweets of the Week: Maggie Wilson, Solenn Heussaff, Aubrey Miles + more

26. "This thread alone defines how dynamic Manila is."
COMMON on Manila is No.9 in The Atlantic's "30 Most Dynamic Cities in the World"

25. "Hindi naman tayo bumoto ng robot na 24/7 pagtatrabahuhin. Even US presidents are scheduled to take breaks at Camp David."
BARBIE on PNoy spotted having merienda with stockbroker Len Lopez in Rockwell

24. "If you guys were my boss (those who wanted PNoy to work 24/7 and pry on his "private" time), I'd quit."
COMMON on PNoy spotted having merienda with stockbroker Len Lopez in Rockwell

23. "My God, what a cry baby! Rep Golez is like a toddler throwing a tantrum to get his way."
CHAI ON Rep. Anthony Golez warns P-Noy about impeachment risk if RH Bill is passed

ADVERTISEMENT - CONTINUE READING BELOW
22. "Holiday or otherwise, he's the president. He ran for the toughest job in the country. Ang dami daming problema ng bayan maghoholiday pa sya. He's not running a private company. He's running a country."
MISS KATE on PNoy spotted having merienda with stockbroker Len Lopez in Rockwell

21. "Not being gender-biased here, but I've noticed that the people most vocal in the Anti-RH bill are men...They don't even have the ability to give birth, but they stand all so high and mighty about this and that."
ANON1234 on Anti-RH Bill Rep. Anthony Golez: Pulse Asia survey results only mean 7 out of 10 Pinoys uninformed about dangers of RH bill; calls pills and IUDs "abortifacients"

20. "Oh God, what a drama queen. Boohoo the world thinks I am a millionaire. My life is over!"
GET A LIFE on Tim Yap apologizes for erroneously claiming Inquirer reporter Miko Morelos won P741 M lotto jackpot; Morelos "fears for his safety"

19. "Isn't it also the public's fault for caring what Kris does? Why should we care what she has to do or say or is screwing??? If the public didn't care, then she will not be so newsworthy."
ADRIAN CUENCA on Lourd de Veyra campaigns for the separation of Kris and State

18. "If only FIFA would allow deadly kung-fu strikes between players while dribbling the ball towards the goal - a la Shaolin Soccer - then Filipinos will definitely be hooked."
WHATSTHEFREQUENCY on Lourd de Veyra on Why Pinoys Find Soccer "Booooring!"

ADVERTISEMENT - CONTINUE READING BELOW
17. "I can't believe how ignorant some of the comments here are. First of all, just because a film is animated, it doesn't mean it can't be a good film."
J-R on Top 10 Movies of 2010

16. "I have feeling that those people siding with the husband or the mistress are not even married."
ERIN on Wife attacks husband's alleged mistress in Manila mall


15. "Paano lulutuin e Google ang naglabas nyan? Di ba? And Marian Rivera and Angel are not music artists that's why they're not on the "local artist" list."
PAM on Manny Pacquiao, Charice, jejemon phenomenon, election results top 2010 Google search queries

14. "Come to think of it, she's more clever, more sly and more deceitful than the original dictator himself."
BONGBONG on Gloria Macapagal-Arroyo's new hairstyle makes heads turn in Congress
13. "Lumiliit na talaga ang mundo. Ang dami na nga ng mga tao, dadagdagan pa ng mga alien na 'yan."
KORORO on NASA reveals discovery of "alien" microorganism in Mono Lake, California

12. "Ang daming ipokrito at ipokrita dito. Laging sinasabi, enough of Kris, pero lahat namang article tungkol kay Kris binabasa nila." 
LEEONYENOWE on  Boy Abunda: Kris Aquino and James Yap are having marital problems

11. "A deluge of comments from all ye morally upright, all-knowing citizens, eh? Funny how easy it is for most viewers to pass judgment on these people without knowing them and the personal stories they have."
FIA on Wife attacks husband's alleged mistress in Manila mall

ADVERTISEMENT - CONTINUE READING BELOW
10. "Noynoy actually follows his own rules. But is there no way for him to ensure that the people under him do the same? If he can't get Binay in line with this then what power does he really have as President?"
KAT on Binay convoy captured on TV violating traffic rules

9. "When are we going to learn? Class struggle nalang lahat. Sige maglabas nalang ng 10 ugliest celebrities, 10 most stupid losers, dropouts, etc. Since Pinoys love Schadenfreude anyway."
IGERAMOS on 10 Prettiest Chefs in Manila

8. "Hello it's a list of fictitious TV robots...let's say that again "fictitious robots." Isn't there something more important for commenters to argue about? It's like getting upset in a debate over who would win in a Terminator vs. Alien battle."
GOJIRA on Top 10 Stupidest TV and Movie Robots


7. "I am shocked with the flippant use of the word "MILF" by SPOT. I consider myself liberal; however, you usually see this acronym only in pornographic sites."
MARJ on Top 10 Prettiest Pinay Politicians

6. "How about top 10 dumb-ass comments on SPOT.ph? This story has at least 30. Hello, it's a story about chefs in Manila who happen to be cute. Not straight, unmarried chefs/models with abs, culinary degrees, and Michelin-rated restaurants. Can't you just enjoy a fun idea?"
ALL RIGHT on Top 10 Cutest Chefs in Manila

5. "The pertinent question in all this is: would you rather have freedom of speech, or condemn and prohibit people from expressing opinions contrary to yours? Lighten up, people. Kung mag comment mga tao dito akala mo pinapatay si Kris ni Lourd. Haven't you heard of satirical commentary?"
TEACHER on Lourd de Veyra campaigns for the separation of Kris and State

ADVERTISEMENT - CONTINUE READING BELOW
4. "Oh, I beg to disagree with you, Tita Aida. Having the most number of college grads per square miles doesn't always translate to being the smartest city. There are others things that makes one smart apart from graduating from college."
UNICAHIJO on Filipino man marries male partner of 15 years at San Francisco Lutheran Church


3. "The Ayalas should be lauded for their efforts, but the government--local or national-- should never forget that it is their duty to improve our cities. Because our citizens and businesses pay those taxes for the government to do its job, and not rely on the private sector."
URBANPLANNER on Fernando Zobel de Ayala unveils plans for "The New Makati," will infuse P20B in 2 years

2. "Vegetarian HAUNTS? Nagmumulto yung vegetarian restaurants? Di kaya HUNTS? LOL."
ANIMAL LOVER on Top 10 Vegetarian Haunts

1. "A toast to the city we love, no matter how baho, filthy and polluted. But we still love her, we never left and still work and live here. Because our friends are here. We share a collective memory, which we friends can only fathom and understand why we persist living in this city."
IGERAMOS on On the Spot: Carlos Celdran


SPOT.ph wants to know: What was your favorite comment of the year?
Share this story with your friends!
---
Help us make Spot.ph better!
Take the short survey
Load More Stories